paid content
 for

Make This Moroccan Chicken Tonight Using A Just Single Sheet Pan
New York Times Best Selling Author
By Danielle Walker
New York Times Best Selling Author
Danielle Walker is a two-time New York Times Best Selling author and photographer of cookbooks "Against all Grain" and "Meals Made Simple."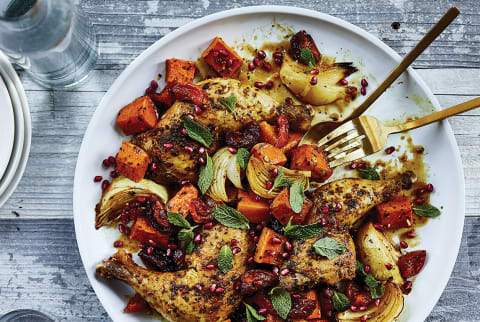 Image by Aubrie Pick / Contributor
January 10, 2019
At the helm of Against All Grain, arguably one of the most popular grain-free recipe websites, is a self-trained chef turned NYT best-selling cookbook author. If you or your kids eat gluten-free, you've probably memorized (or at least bookmarked) Danielle Walker's genius recipes because, how could you not? The mom of three is all about making inspired yet insanely easy meals using her proven techniques for removing allergens without sacrificing flavor, so you can enjoy your most favorite foods any day of the week.
All recipes have classifications for egg-, tree-nut-, and nightshade-free dishes, plus designations for the Specific Carbohydrate Diet (SCD) and Gut and Psychology Syndrome (GAPS). This is the cookbook you'll reach for time and again to make delicious, comforting, and allergen-free recipes that everyone can enjoy.
Moroccan Chicken Sheet-Pan Supper
Serves 4 to 6 | Egg-Free, Nut-Free, SCD
"I'm a huge fan of sheet-pan suppers, but sometimes the meals lack flavor, or worse yet, all of the flavors blend together on the baking sheet and everything tastes the same. Don't worry; this is not one of those dishes! I love Moroccan flavors, and they are easy to replicate with just a handful of dried spices you likely already have in your pantry. The dried fruits and vegetables really stand out on their own, making this a winning dinner." —Danielle Walker
Ingredients
1½ cups mixed dried fruit (such as dates, apricots, figs, and cherries)
2 tablespoons dried parsley
Fine sea salt
½ teaspoon ground cumin
½ teaspoon ground cinnamon
½ teaspoon sweet paprika
¼ teaspoon cayenne pepper
¼ teaspoon ground turmeric
¼ teaspoon ground ginger
4 tablespoons extra-virgin olive oil
1 tablespoon freshly squeezed lemon juice
4 cloves garlic, crushed
6 chicken leg quarters (drumstick and thigh)
1 large yellow onion
1 medium butternut squash, peeled, halved, seeded, and cut into 2-inch cubes
Freshly ground black pepper
¼ cup fresh mint leaves, for garnish
2 tablespoons pomegranate seeds, for garnish
Method
Place the dried fruit in a bowl and add enough hot water to cover. Soak for 10 minutes to rehydrate the fruit. Drain the water and cut the fruits in half if they are large.
Preheat the oven to 400°F.
In a small bowl, combine the parsley, 1 tablespoon salt, cumin, cinnamon, paprika, cayenne, turmeric, and ginger. In a large bowl, combine 2 tablespoons of the oil, the lemon juice, 2 cloves garlic, and 3 tablespoons of the spice mixture. Add the chicken pieces and toss, rubbing the chicken to coat each piece well. Arrange the chicken pieces, skin side up, on one side of a large rimmed baking sheet.
Cut the onion into ½- to ¾-inch wedges, leaving some of the core attached so the slices stay intact. In the same bowl that held the chicken, toss together the butternut squash, onion, the remaining 2 cloves garlic, the remaining 2 tablespoons oil, and the remaining spice blend. Season with salt and black pepper and toss again. Arrange the vegetable mixture in a single layer on the other side of the baking sheet.
Roast the chicken and vegetables for 20 minutes, then carefully sprinkle the rehydrated fruits around the baking sheet. Continue to roast until a thermometer inserted into the thickest part of the chicken leg registers 165°F and the butternut squash is tender, about 25 minutes more.
Serve the chicken with the roasted vegetables and fruits. Sprinkle the mint leaves and pomegranate seeds over the top.