3 Delicious Cauli-Powered Recipes To Enjoy During Cauliflower Season
mbg SEO Editor
By Eliza Sullivan
mbg SEO Editor
Eliza Sullivan is an SEO editor at mindbodygreen. She writes about food, recipes, and nutrition—among other things. She studied journalism at Boston University.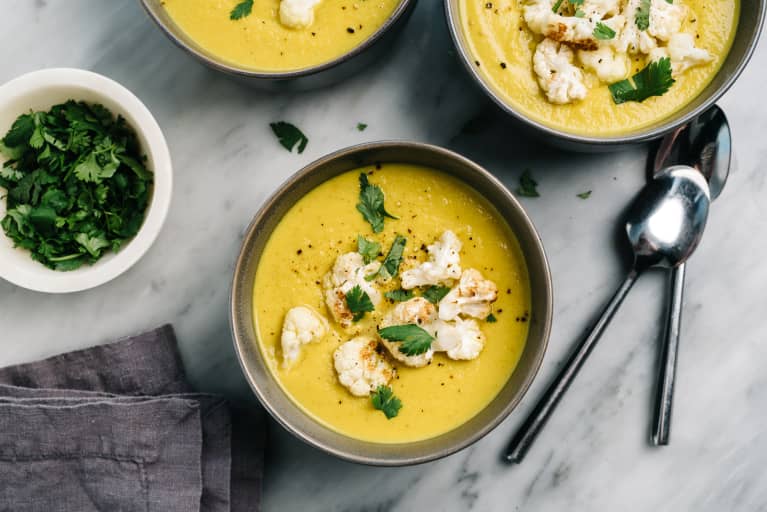 Our editors have independently chosen the products listed on this page. If you purchase something mentioned in this article, we may
earn a small commission
.
Exciting news: It's officially peak cauliflower season—which means it's time to stop buying frozen cauliflower products (though we love cauliflower gnocchi as much as the next person) and to start shopping fresh local cauliflower. While technically it's in season from June, according to the Food Network it hits its peak this month (September) and continues onto November. In the fall you also start seeing more of the bright-colored caulis—purples and yellows.
These recipes are from the September edition of the farm-to-table cookbooks that make up the Loaves and Fishes Farm Series, a collection of cookbooks organized by the owners of the gourmet food store in the Hamptons. Sorted by month, the books are packed with recipes that highlight the farms local to the shop.
We love cauliflower for lots of reasons: It's a great base for a variety of flavors and can be used in a variety of cuisines, and recent years have show it's able to be turned into veggie versions of some of our favorite carbs, too. It's also a cruciferous veggie, which means it can help improve blood sugar management, support gut health and heart health, and it may even have cancer-preventing properties.
These three recipes are great ways to celebrate this miracle vegetable accordingly, especially while it's in season.
Mediterranean Cauliflower Salad
8 cups cauliflower florets
¼ cup plus 2 tablespoons olive oil, divided
Kosher salt and freshly ground black pepper, to taste
3 small shallots, sliced
2 bay leaves
1 pinch saffron
2 cup pitted green olives, halved
1 cup golden raisins
Preheat oven to 450°F. Toss cauliflower florets, ¼ cup olive oil, and salt and pepper together and spread on a sheet tray. Roast for 20 minutes until caramelized.
Meanwhile, sauté shallots and bay leaves in remaining olive oil until translucent, about 5 to 6 minutes. Add in saffron, olives, and golden raisins and cook until warmed through.
Remove bay leaves. Season with salt and pepper, toss with roasted cauliflower, and serve.
2 tablespoons olive oil
5 small shallots, sliced
10 cloves garlic, chopped
Kosher salt and freshly ground black pepper to taste
2 heads cauliflower, cut into florets
4 cups unsweetened almond milk (or any kind of milk substitute that you prefer)
3 cups water
Heat olive oil in a large sauce-pot on medium-high heat until shimmering.
Add in shallots and cook for 5 minutes, until translucent.
Add in garlic and a large pinch of salt and cook for another 5 minutes, stirring occasionally so the garlic doesn't burn.
Add in cauliflower florets and cook for another five minutes, until slightly caramelized.
Add in milk and water and cook for 15 to 20 minutes, until cauliflower is tender.
Transfer the mixture to a blender and purée until smooth.
Season with salt and pepper and serve topped with hazelnut picada (below).
Hazelnut Picada: Ingredients
1 cup raw blanched hazelnuts
1 cup bread cubes (such as baguette or sourdough)
3 tablespoons extra-virgin olive oil, divided
½ cup chopped Italian parsley leaves
1 clove garlic, grated
Grated zest of 1 lemon
1 tablespoon freshly squeezed lemon juice
Kosher salt and freshly ground black pepper to taste
Preheat over to 350°F.
Toss hazelnuts and bread cubes with 1 tablespoon of olive oil on a sheet tray and bake for 12 to 13 minutes, until hazelnuts are toasted. Let cool.
Meanwhile, combine parsley, garlic, lemon zest and juice, and remaining olive oil in a medium-size bowl. Roughly chop cooled nuts and toss into the bowl. Add in croutons, toss all ingredients together, and season with salt and pepper.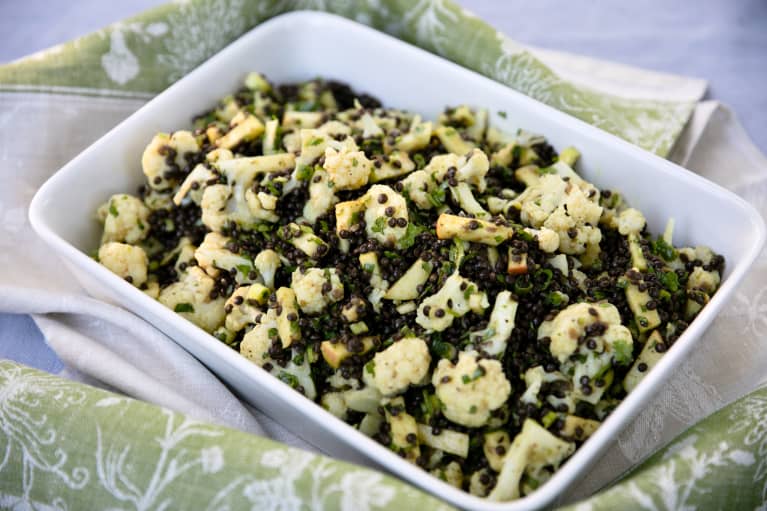 Cauliflower With Curried Lentils
1½ cups French or beluga lentils
1 head cauliflower, cut into florets
2 tablespoons olive oil
Kosher salt and freshly ground black pepper to taste
1 Granny Smith apple, diced
¼ cup chopped cilantro
3 scallions, sliced
3 tablespoons apple cider vinegar
2 teaspoons maple syrup
1 tablespoon Dijon mustard
1 tablespoon freshly squeezed lime juice
2 teaspoons Madras curry powder
1 teaspoon ground cumin
1 teaspoon kosher salt
¼ teaspoon ground cardamom
¼ teaspoon cayenne pepper
¼ cup olive oil
Preheat oven to 400°F. Whisk all dressing ingredients together to make dressing.
Rinse and drain lentils. Pour into a medium-size pot and fill with enough water to cover the lentils by about 2 inches. Bring to a boil, then reduce to a simmer.
Cover and cook for 15 to 20 minutes, until tender. Strain lentils in a colander and rinse with cold water to stop the cooking process. Pour into a medium-sized bowl and set aside.
On a sheet tray, toss the cauliflower with olive oil, salt, and pepper; spread them out; and roast for 15 to 20 minutes until tender and slightly caramelized. Add cauliflower to the lentils and add apple, cilantro, scallions, and dressing. Toss to combine, and serve at room temperature.