9 Easy Slaw Recipes That'll Be The Star Of Any Weekend Barbecue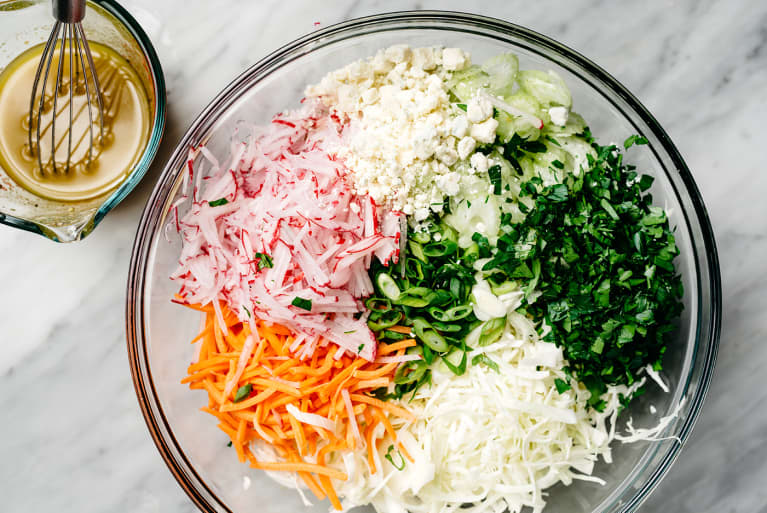 Finding a perfect side dish for a barbecue might seem complicated, but the classics exist for a reason—and coleslaw is a classic. But an update on the standard recipe might be exactly what your late-summer barbecue is looking for.
A good way to still pack in nutrients, without making a salad, a slaw is a deceptively simple use of veggies. And while most recipes will begin with cabbage and carrots, plenty leave those ingredients behind in favor of superfoods like kale, beets, and even apples. It's easy to find a recipe that will fit your tastes.
Not only that, but a slaw can be a multipurpose prep. It makes a perfect side for a barbecue or can be used as a topping for tacos or even as a fresh component for a grain bowl. You can make it in advance as a part of meal prep, and it makes a great option to bring to a weekend barbecue.
At this point in the (very late) summer, you may be pretty tired of plain coleslaw—but this raw slaw recipe will convince you to give it another try. Made with a mix of superfoods like kale, beets, and cabbage, this recipe can be adapted for vegans and has a bit of spice in the dressing thanks to sriracha: It's definitely not boring.
Since most slaws include a cabbage component, and Brussels sprouts are sorta like tiny cabbages...this recipe uses those controversial little veggies as the main base of the mix. The other key component is watercress, a peppery green that pairs perfectly with the sprouts and a miso lime dressing. Top it with peanuts and you've got a surefire winner for a unique slaw.
3.
Beet Green & Cabbage Slaw
Buying beets with the greens attached shouldn't mean tossing those greens in the garbage (or the compost!). This super-simple slaw pairs the sliced greens with cone-head cabbage and Swiss chard. The ingredients for the dressing are quite possibly ones you'll have in your pantry, too—saving you the need to buy extra ingredients that you might not use again, yet another way to limit waste.
This slaw recipe is unique in one crucial way: It's entirely cabbage-free. Made with fresh kohlrabi, carrots, pole beans, and English peas, it'll be a colorful addition to any table. Other than the unique veggie mix, this slaw is pretty classic: a dressing of mayo and vinegar is flavored with celery seeds and lightly sweetened.
Seeking a slaw without a mayonnaise (vegan or otherwise) component? This "clean" slaw uses a mix of citrus, vinegar, mustard, and oil for a well-balanced mix that brings the veggies to life. It also includes herbs like cilantro in the mix for an ever more flavorful side.
Your classic slaw gets an Asian-inspired dressing update with peanuts, rice vinegar, tamari, and white miso for this recipe. Simply toss the ingredients for the dressing in a blender or mini food processor before adding to a mix of cabbage and carrots.
Looking for a topping or side to go with your favorite barbecue dish? This slaw has a citrus dressing that's thickened with avocado instead of mayonnaise, which means you'll probably want to make the dressing close to serving time. Serve it over grated cabbage, carrots, radishes, and red onion.
While most classic slaw recipes include carrots, this recipe uses them as a main component alongside fresh apples and, of course, some cabbage. For a more fall twist, it includes walnuts and dried cranberries and a dressing of champagne vinegar and rice vinegar.
While you're hitting the produce section for the ingredients for a slaw, may we also suggest you pick up some fruit for dessert? It turns out, grilling fruit may be the perfect start for a "last weekend of summer" dessert—especially paired with some dairy-free ice cream.