Close Banner
Advertisement
This ad is displayed using third party content and we do not control its accessibility features.
Why You Should Always Toast Your Spices Before Cooking & How To Best Do So, According To A Chef

Chef and restaurant-owner
By Akhtar Nawab
Chef and restaurant-owner
Akhtar Nawab is the chef-owner of three restaurants. His cookbook, Good For You, all about his unique take on healthy food.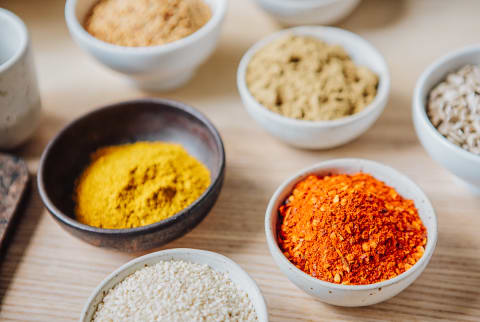 Image by Lumina / Stocksy
We carefully vet all products and services featured on mindbodygreen using our
commerce guidelines.
Our selections are never influenced by the commissions earned from our links.
There are probably some places in cooking where you can cut corners. I'm pretty down with improvising and being flexible with recipes. But one step I don't want you to skip is toasting spices—and this goes for both whole and ground spices. I don't mean to be difficult, but I have to insist. Here's why.
Why you should always toast your spices.
Toasting your spices is critical to getting maximum flavor from the ingredient. All spices have essential oils tucked inside them, and to release them, they have to be activated with heat. When you warm those spices and start to toast them, that's when those oils get released and the aroma and flavor come alive. If you want your spices to reach their full potential, this is an essential step.
Also, a note here that fresh spices really make a difference. I recently got back from India and brought a bunch of spices back, and I forgot just how ridiculously fresh they are there and how decisive, potent, and flavorful they can be. It makes such a difference. Try to get your spices from a spice store if you can, a place like Kalustyan's or Sahadi if you live in the New York City area.
Otherwise, as a general rule, whole spices will stay fresh for about four years, ground spices for three to four years, and dried leafy herbs for one to three years. If you can't remember the last time you bought a fresh jar of oregano, it may be time to get a new one!
The best way to toast spices.
While the toasting rule applies to both whole and ground spices, you should toast them in separate pans. Use a nonreactive sauté pan that conducts heat evenly, such as stainless steel or heavy cast iron, to ensure even roasting. Heat up the pan over medium heat, about the level you might use to fry eggs.
Add the spices, and once the spices warm up, after 2 to 3 minutes (sooner for ground spices than whole), you will start smelling them. That's when you have to make sure to keep moving them in the pan constantly for about 45 seconds more so that the spices don't burn. Once the spices are very aromatic, you're done. Get them off the heat.
With ground spices, you can even take the pan off the heat once they start to smell and just keep pushing the spices around the pan to make sure they toast up evenly; the latent heat should be enough to do the trick. Whatever you do, make sure there's no smoking going on; if that happens, dump what's in the pan and start over using slightly more gentle heat.
Alternatively, you can toast spices in the oven. This is convenient if you already need to have the oven on for the rest of the recipe. Use an oven preheated to 350°F and stir the spices around on a baking sheet once in a while, as the edges may burn. The spices should be toasted within 5 to 8 minutes.
Either way, be sure to let your spices cool completely on a plate before grinding. You don't want to grind them while they're still hot because the essential oils are more active and the nature of grinding brings out heat. It will force the spices into a paste rather than a powder, which is not what you're looking for. We want powder, so let them cool.
Reprinted from
Good for You
by Akhtar Nawab with permission by Chronicle Books, 2020.

Akhtar Nawab
Chef and restaurant-owner
Akhtar Nawab is chef and owner of Alta Calidad, Alta Calidad Taqueria in New York and Otra Vez in New Orleans, and advisor at Prather's on the Alley in D.C. The Kentucky-bred chef of Indian heritage began his career in the kitchen at acclaimed restaurants like Gramercy Tavern, Craftbar and Craft, the latter of which received three stars from The New York Times and won the James Beard Foundation's "Best New Restaurant" Award during Nawab's tenure. He has been featured in various publications, including Food & Wine, Bon Appétit and Eater, and has appeared on Food Network's "Iron Chef America."