A 7-Spice Blend Recipe For Better Gut Health From A Spice Expert
mbg Spirituality & Relationships Writer
By Sarah Regan
mbg Spirituality & Relationships Writer
Sarah Regan is a Spirituality & Relationships Writer, and a registered yoga instructor. She received her bachelor's in broadcasting and mass communication from SUNY Oswego, and lives in Buffalo, New York.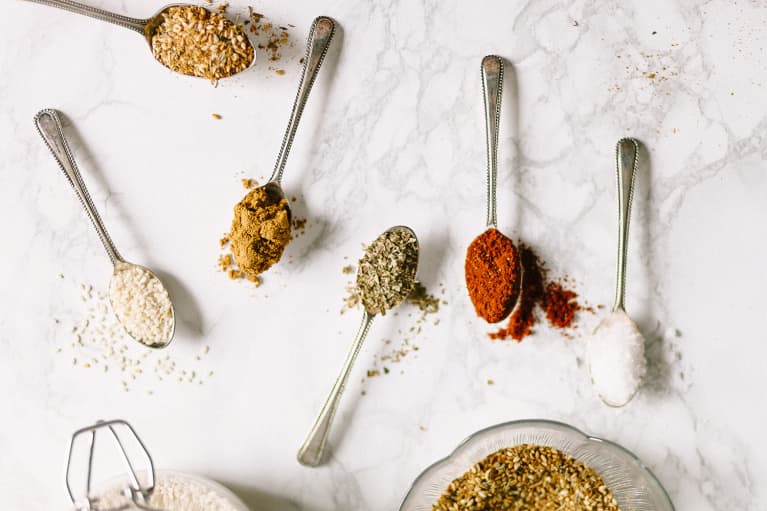 Last updated on January 3, 2021
When it comes to whipping up healthy dishes, we're always looking for new ways to boost our gut health, fight inflammation, and, of course, get our vegetables in. But how about tackling all three at once? It's totally doable—and with this spice blend from author and spice expert Kanchan Koya, Ph.D., it's pretty tasty, too.
If you frequent the well-being world and are savvy to all the latest info out there, you've probably heard a fair bit about gut health and inflammation lately. They're intrinsically linked to each other, with gut health influencing inflammation—and vice versa.
And not only that, but both are linked with longevity. A healthy gut and lower levels of inflammation have been consistently linked with greater longevity across multiple studies, with research demonstrating how inflammation can drive diseases.
So without further ado, here's Koya's gut-health-boosting and anti-inflammatory spice blend you'll never want to go without.
Koya recommends mixing this blend up well and storing it all together. You can use it on veggies prepared however you like—consider pairing with the healthiest oils to roast veggies. This blend can also be used to add savory, warming flavors to soups as well. And, of course, you can experiment and try it out on other foods too.
Once you've got your blend ready to go, don't forget these storage tips, such as keeping your spices out of direct heat and light. Still looking to grow your spice (and spice blend) collection? Stock up on spices for energy and even healing.