Why This Spice Expert Wants You To Add Sumac To Your Spice Rack

mbg SEO Editor
By Christina Coughlin
mbg SEO Editor
Christina Coughlin is an SEO editor at mindbodygreen. She graduated from Georgetown University in 2019 with a degree in psychology and music.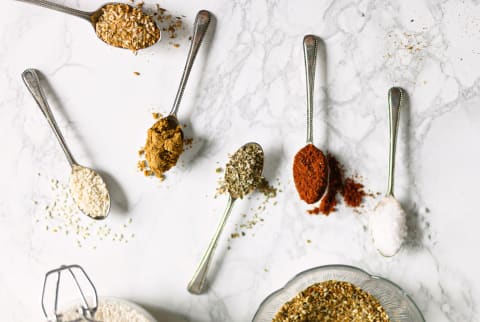 Image by Darren Muir / Stocksy
February 3, 2020
It's time for spices to get the recognition they deserve. Feeling low-energy? Add some cloves to your tea or cider. Want to boost the flavor of a boring salad? Sprinkle on some coriander. Looking to curb inflammation and stabilize blood sugar? Cinnamon is your guy. Needless to say, adding spices to your favorite dishes is worth it, due to their plethora of health benefits and flavor profiles (plus, they'll make your whole home smell heavenly).
And if you're looking for a new seasoning to add to your collection, spice expert Kanchan Koya, Ph.D., has the answer. When we asked Koya what spice she wants to see people using every day, she didn't even hesitate: Sumac, she says, is a spice worth including on the rack.
What is sumac?
According to Koya, sumac has been used in Middle Eastern cuisine for centuries but is a "relative newcomer" in the West. Coming from the sumac bush commonly found in East Asia, the spice is produced when the bush's deep red berries are dried and ground up.
Along with its beneficial phytonutrients and antioxidant compounds (called anthocyanins), sumac can be used as a powerful anti-inflammatory. Koya says these properties are indicated by the spice's "beautiful burgundy-purple color."
Anthocyanins have been used to treat a variety of health conditions1, including high blood pressure, colds, and viruses. In a 2014 study2, sumac was found to be effective in treating patients with type 2 diabetes, helping to lower blood sugar levels.
How do you use it?
For how to use the spice, Koya recommends sprinkling it anywhere you can. As a topping, she suggests using sumac to season your hummus. On main dishes? Any and all salads, fish, chicken, and even eggs. "It's lemony, zingy, earthy, fruity notes will elevate any dish," she says.
For more ways you can add sumac to your plates, check out our favorite sumac-seasoned salad, plus some easy Instant Pot recipes that incorporate the aromatic spice. According to Koya, there's no harm in spicing up your life.
Want to turn your passion for wellbeing into a fulfilling career? Become a Certified Health Coach! Learn more here.