Close Banner
Advertisement
This ad is displayed using third party content and we do not control its accessibility features.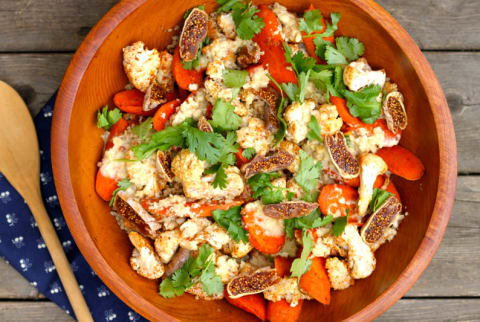 Spices are the under-appreciated superfoods of the kitchen, delivering a host of antioxidants and anti-inflammatory compounds. Crack open your spice cabinet and give your tastebuds a treat with this gluten-free, vegan and veggie-packed salad.
Moroccan-Spiced Cauliflower & Carrot Salad
1 head cauliflower, cut into florets
3 large carrots (3/4 lb), sliced on a diagonal
1 tsp avocado oil or coconut oil
1 cup cooked quinoa
4 dried figs, sliced
1 cup cilantro, roughly chopped
1/4 cup raw cashews
1/4 cup boiling water
2 tbsp each orange juice and lemon juice
1 tbsp extra virgin olive oil
2 tsp pure maple syrup
1 tsp each fennel seed, cinnamon, sumac, smoked paprika, cumin and sea salt
1. To prepare salad: Preheat oven to 375 F. Toss cauliflower and carrots with the avocado oil or coconut oil. Roast for 35 to 40 minutes until tender and golden brown. Transfer to a large bowl and toss with remaining salad ingredients, leaving a few fig slices and cilantro leaves for garnish. Meanwhile, prepare the dressing.
2. To prepare dressing: Add all ingredients to a high-speed blender or mini food processor and puree until smooth. Add to salad and toss to combine. Serve room temperature or cool, garnished with reserved fig slices and cilantro leaves.
Allison Day
Allison Day is the author of the vegetarian and gluten-free cookbook Whole Bowls (2016), as well as a food blogger and photographer. Join Allison on Yummy Beet for more tasty vegetable-focused recipes.