Witch Hazel Toner: How You Should Actually Be Using It, According To Derms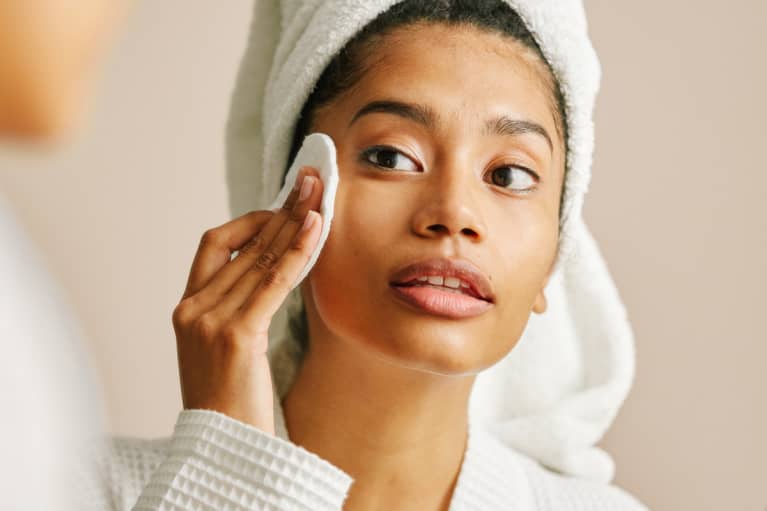 When we think about natural skin care remedies, there are a few ingredients that are top of mind: apple cider vinegar, tea tree oil, coconut oil, and so on. Witch hazel certainly falls under this list as it's a beloved active for oil- and acne-prone skin. How and why did it gain such a reputation? Allow us to explain.
"Witch hazel is a botanical anti-inflammatory that is often used in the skin care industry. It is a liquid extracted from parts of a flowering plant called the witch hazel plant," says board-certified dermatologist Rachel Nazarian, M.D. "Topical witch hazel is an antioxidant and an anti-inflammatory, and because many acne lesions are inflammatory, witch hazel has been used to decrease the redness and inflammation on the skin."
So what are the specific properties that make witch hazel so popular as an anti-inflammatory acne-fighter? "It has tannins naturally, which make it an astringent and contains anti-inflammatory properties that may help acne," says board-certified dermatologist Morgan Rabach, M.D., and co-founder of LM Medical NYC. Tannins have been shown in research to be beneficial for the skin barrier, too, so it's not just anecdotal evidence to support these claims.
Those with oily- and acne-prone skin tend to respond to witch hazel for its anti-inflammatory and sebum-control properties. Those with dry, sensitive skin, however, do not: "It has a slightly acidic pH, which can be irritating, and it's important not to irritate sensitive skin too much," says Nazarian. This poses a problem for those with sensitive, yet acneic skin (a more common combination than you might expect); people with this skin type may be tempted to use the liquid to treat their breakouts; however, it's likely too drying and may cause increased redness, inflammation, and flakes.
So how can you tell if it's a good ingredient for you? First, spot test on your arm. This is a good rule for any skin care product, but it tends to be even more important for stronger actives (like acids, enzymes, and astringents). Then, slowly introduce the product to your skin care routine. Start with a few times a week and build as tolerated. Always stop if your skin gets red or too dry—and "if you notice any stinging or burning, discontinue immediately," says Nazarian.
Three easy things to keep in mind as you use the all-natural product:
1.
Find a pure, natural option.
Many of the commercial witch hazels are blended with ethanol (or a type of alcohol used in skin care and beauty products). Avoid these. "Look for witch hazel in its pure form and not mixed with ethanol, which is overly irritating and drying to the skin," says Rabach. Often if a brand is alcohol-free, it will say so on the label, but you can peek at the ingredient list to see if it's formulated with alcohol, too.
2.
Use it as a spot treatment.
"Use it sparingly as a spot treatment for acne," says Rabach. After washing your face, soak a cotton swab or reusable cloth pad with the liquid and gently dab it on unbroken blemishes every other night until healed. By "unbroken" we mean: Do not apply witch hazel on pimples that have been popped or picked at (it happens to the best of us), as these are technically considered open wounds. As Rabach reminds us: "Witch hazel shouldn't be used on open wounds or sunburns."
3.
For very oily skin, consider it your toner.
One of the most popular uses is as a toner. If you want to take this route, Nazarian recommends finding one that's buffered with other hydrating ingredients, like aloe vera, rose water, hyaluronic acid, or antioxidants—as well as skipping the alcohol base, as noted above. This makes it more tolerable for the skin and won't completely strip your barrier of good oils. Then use it as you would any other toner: Post-wash, gently sweep it over the skin using a cotton or reusable pad, and follow with your serums and creams.
If you are considering witch hazel for your skin, be sure to only get a high-quality, natural option—and avoid any alcohol additives. Then you can either use it as a spot treatment or an allover toner, just be sure to monitor your skin for signs of irritation as the astringent liquid may be too harsh for some skin types.