Heads Up: This Surprising Ingredient Can Actually Make A Sunburn Worse

mbg Beauty & Wellness Editor
By Jamie Schneider
mbg Beauty & Wellness Editor
Jamie Schneider is the Beauty & Wellness Editor at mindbodygreen. She has a B.A. in Organizational Studies and English from the University of Michigan, and her work has appeared in Coveteur, The Chill Times, and Wyld Skincare.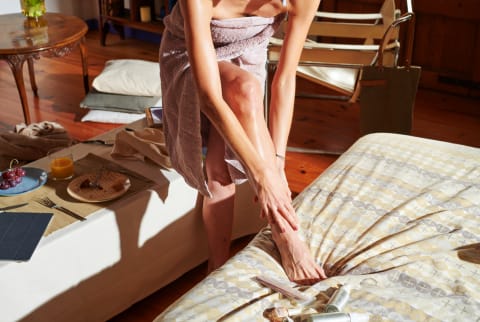 Image by Guille Faingold / Stocksy
July 3, 2021
Our editors have independently chosen the products listed on this page. If you purchase something mentioned in this article, we may
earn a small commission
.
As much as you practice safe sun (right?), you can still wind up with a burn from time to time. Those UV rays are no joke, especially during this sizzler of a summer.
When you do get sunburned, tons of ingredients can calm down the crispy, itchy, tender, uncomfortable skin: Aloe is perhaps the poster child for aprés-sun care, but you can also turn to colloidal oat, chamomile, green tea, and even plain ol' ice water if you're in need of some quick relief. Some even gather heavy-duty moisturizers, like coconut oil, to slather on once the sunburn starts to peel.
Advertisement
This ad is displayed using third party content and we do not control its accessibility features.
Careful with that last category. Yes, replenishing moisture is important post-sun, but you might want to think twice before dousing yourself in coconut oil—apparently, it can make inflamed skin feel worse.
Why you might not want to use coconut oil on fresh sunburns. 
We should make a distinction: Coconut oil is great for dry, flaking, itchy skin. The fatty-acid-rich oil nourishes and smooths the skin, and research shows it can help increase moisture levels in the skin1, as well as improve skin barrier function2. So if you have a days-old burn that's starting to peel? Go ahead and slather on the thick oil—it should feel sublime.
However, for fresh burns (i.e., angry, tender skin)—coconut oil can do the opposite of soothe: Because it's quite the heavy occlusive, the oil can actually trap the heat in your skin. "Just as you would not want an occlusive on a stovetop burn, it is not recommended after a sunburn," agrees board-certified dermatologist Ava Shamban, M.D., founder of Ava MD Dermatology, the SkinFive, and The Box by Dr. Ava. "It will, in fact, act as a trap, keep in the heat, and can cause more pain or damage."
A little science jargon for your Saturday: With sunburns, your skin is quite literally hot for several hours after the fact. As those skin cells are damaged by UV radiation, your blood vessels dilate as the skin tries to heal. "Skin temperatures rise and a severe, acute cutaneous inflammatory reaction occurs," says Shamban. "Skin may take several hours—a half a day or even more—to cool down." During that time, you and your burn would be much better off applying a cooling, anti-inflammatory number, like aloe, colloidal oat, or even a cool water compress.
"Later, once the healing process is complete and skin temperatures hit normal [levels], coconut oil's moisturizing benefits can help replenish the phase two healing [process]," Shamban continues. At this point, sealing in moisture with an occlusive (like coconut oil!) is key for preventing peeling and dryness.
Advertisement
This ad is displayed using third party content and we do not control its accessibility features.
The takeaway. 
When it comes to after-sun care, there are many ingredients for the job; coconut oil can work wonders for flaking and dryness, but you might not want to apply it right after stepping out of the sun. Because of its occlusive properties, it can trap in all that heat and potentially make the burn feel worse.