Close Banner
Advertisement
This ad is displayed using third party content and we do not control its accessibility features.
If You're Going To Redesign One Part Of Your Home, Make It This One

mbg Sustainability + Health Director
By Emma Loewe
mbg Sustainability + Health Director
Emma Loewe is the Senior Sustainability Editor at mindbodygreen and the author of "Return to Nature: The New Science of How Natural Landscapes Restore Us."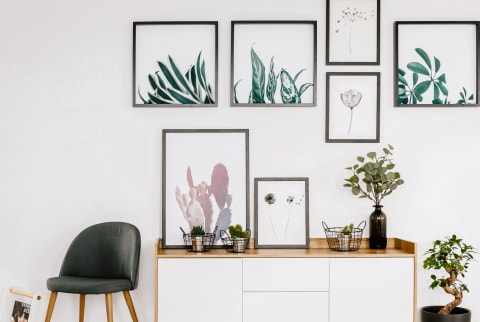 Image by Katarzyna Bialasiewicz / iStock
Everyone maneuvers through their home in their own unique way: Chefs linger in the kitchen, bookworms have a favorite cozy chair, freelancers have a special relationship to their desks. But if there's a space at home that we all experience with the same frequency and intensity, it's the area directly across from the bed.
Typically the first place you see when you wake up and the last you take in before bed, it might be affecting you more than you think: "That space bookends your experience of the day. What you choose to put there or not put there can impact your energy," Elana Kilkenny, an intuitive counselor and interior designer, tells mbg.
When you charge your home with a certain intention, it can have a reverberating impact on your life long after you step outside the front door.
I, for one, remember months spent looking at a blank white wall before bed before finally hanging up a few photos. I chose images that made me smile and reminded me of all the things I have to be grateful for, including but not limited to a picture of my favorite city in the world and one of my roommate's dog (hi, Pip!). I'm not a morning person, and I can honestly say that this gallery wall has helped me start the day on a slightly brighter note. It's a prime example of what Kilkenny shows clients using sacred home design: When you charge your home with a certain intention, it can have a reverberating impact on your life long after you step outside the front door.
"There's nothing inherently wrong if you don't have anything inspiring there, but it could be helpful to put something that can help shift your energy or remind you of something you're working toward," she says.
If you're someone who, like me, has trouble leaving the comfort of bed in the morning, try picking something that inspires or motivates you. If you have trouble sleeping, you might want to go with décor that is more neutral and peaceful. Once you have that starting point in mind, the sky's the limit! Here are some décor ideas to get you started.
How to spruce up the area directly across from your bed.
Add plants.
Houseplants symbolize growth, and as long as they're healthy, they can be a powerful source of motivation. As feng shui master Dana Claudat recently wrote on mindbodygreen, "When you see and feel the energy of plants and trees growing around you, I believe it inspires dynamic growth in your life too."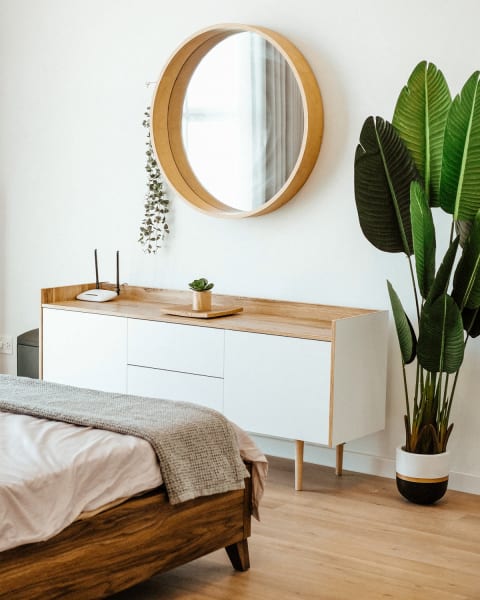 Image by Minh Pham / Stocksy
Hang new artwork or reframe your current collection.
Think about what you want to call into your life, and choose art that reflects it. It could be a beautiful landscape image to inspire more traveling or a handwritten word that reminds you of your intention for the year. If you love your current artwork but feel stuck somehow, it might be time for a literal reframe. Give your art a new home, and make sure the pieces are 3 to 6 inches apart and 8 inches away from furniture (the measurements that designers have dubbed the most visually pleasing).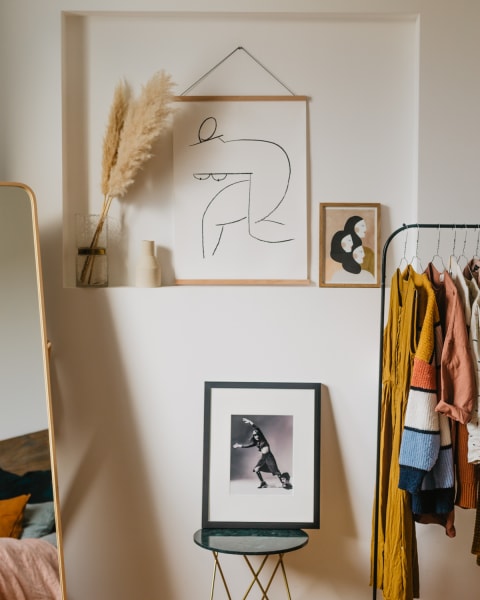 Image by Yasmine Boheas / Unsplash
Create a space to support your morning practice.
Meditating first thing in the morning can help you get in the right mindset for the day ahead. If you're someone who likes to rest your gaze on something as you meditate, such as a candle, why not place that across from your bed? That way, you'll be guided into your practice as soon as you wake up. Same goes for you, nighttime meditators.