I'm Doing It — I'm Dropping Everything & Trying #VanLife With My Family Of 5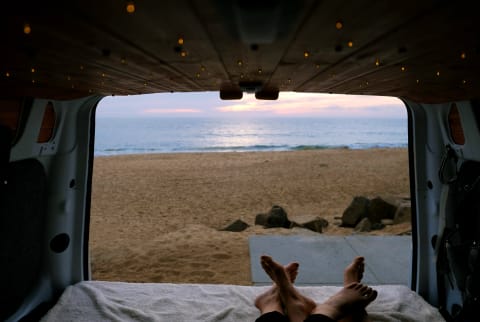 Image by RZ Creative Productions / Stocksy
February 18, 2019
Ever dream of freeing yourself of all the clutter you've accumulated over the years, taking the kids out of school, and getting out of the 9-to-5 rat race to enjoy life a little more? Me too. For the past 10 years, my husband Joe and I have wanted to move out of New York and explore more of our beautiful country.
As survivors of a gas explosion that consumed all our belongings, Joe and I have long known that material possessions don't equate to joy. But even with that understanding, life has a way of pushing you to buy more.
Advertisement
This ad is displayed using third party content and we do not control its accessibility features.
Eleven years ago we bought a house. Soon after, we had three kids and two cats. And then it happened. We started to talk about what we wanted the next years of our lives to look like—and it looked like a road trip around the country in an RV.
But simply picking up and leaving is never an option, and we've had to be mindful of our children and their emotional and physical needs (hello, school!) as we bring this dream to life. Here are the five most important things we've had to consider.
1. How to fund the trip.
It took us seven years to grow our residual income in order to fund our trip comfortably. The biggest expenses to consider on the road are the RV payment, gas, food, entertainment, internet access, cellphones, and campground fees. When deciding what we wanted to spend our money on, we chose to focus on the bare necessities first and add on fun trips from there. Bring on Disney World!
2. How to home-school.
The good news is that our kids attend a local Montessori school where the philosophy is "follow the child." The idea is that if your child has an interest in a particular subject matter, your job is to let them fully immerse themselves in it. We're going to honor this as we blend experiential learning and formal schooling for our year on the road.
Here's the nitty-gritty of what it will look like: We agreed as a family to have school four days per week for three hours/day from 9 a.m. to 12 p.m. We will be covering the basics…reading, writing, and arithmetic. I've got some great resources given to me by a dear friend and renowned Montessori teacher, Maren Schmidt, who recommended the Core Knowledge Series to cover the basics for each child's grade level. We also plan to refer to the Boy Scouts and Girl Scouts of America handbooks for activity ideas. It's important to note, though, that each state has different home-schooling guidelines, so be sure to check out your state's requirements if you're thinking of going this route.
Advertisement
This ad is displayed using third party content and we do not control its accessibility features.
3. Where to visit.
Image by Jenn Eden / Contributor
We plan to visit all the major National Parks after spending some time on the East Coast with family as a way to ease into traveling. Come September, we'll start our route west to cover some Midwest states while the weather is still nice. As it starts to get colder, we'll head south and spend a majority of time in the warmth of Florida. We signed up for a few RV clubs (Passport America, Thousand Trails, and Harvest Hosts) to help keep costs down and find other families traveling full time, since giving our kids plenty of opportunity to socialize is very important to us. When deciding what we'd like to see in each specific state, we're leaning on 50 States 5,000 Ideas by National Geographic.
Advertisement
This ad is displayed using third party content and we do not control its accessibility features.
4. How to eat healthy on the road.
As a sugar addiction specialist, this was probably the most thing to consider for me! Thankfully, Whole Foods Market now has healthy outposts nationwide, and we chose an RV with a full-size fridge. We also bought an Instant Pot to make healthy soups and meals in bulk, and we're bringing our juicer for a quick vitamin boost.
5. How to get rid of your stuff.
Since we don't have a strong attachment to stuff, selling the house and donating most of our belongings just feels right. We'll sell most of our more expensive items on Facebook Marketplace, and the kids will get to keep anything they want to store away until we find our next home. (They also get one large bin each to fill with their favorite belongings for the RV.) Whatever we don't sell, we're going to donate. We use Big Brothers Big Sisters a lot, but United War Veterans has a great donation site as well.
On June 30, we'll start living our dream! Maybe we'll see you on the road.
Advertisement
This ad is displayed using third party content and we do not control its accessibility features.

Jenn Edden
Jenn Edden, CHHC is a well-known sugar addiction expert, founder of the Sugar Freedom Method TM, author of Woman Unleashed and regular contributing health expert on Channel 12 News Long Island. Jenn's zone of genius is teaching women how to get rid of cravings, stop dieting and live a life you love. She gathered her wisdom from healing herself of sugar addiction and gastritis in her 20's and more than 15 years of coaching women all around the globe. In June 2019, Jenn along with her husband, Joe, and 3 kids are selling their home and traveling the country in an RV!