The Real Reason Sound Baths Are Still A Rising Trend

Contributing Wellness & Beauty Editor
By Lindsay Kellner
Contributing Wellness & Beauty Editor
Lindsay is a freelance writer and certified yoga instructor based in Brooklyn, NY. She holds a journalism and psychology degree from New York University. Kellner is the co-author of "The Spirit Almanac: A Modern Guide to Ancient Self Care," with mbg Sustainability Editor Emma Loewe.
July 21, 2017
Isn't it interesting that in the age of on-demand music streaming, we still pay good money to attend concerts. We listen to podcasts, but we want to see them recorded live. We could go for a solo bike ride, but many of us opt to ride on stationary bikes in a room full of people where music takes center stage. We've downloaded meditation tracks but would prefer to sit or lie in the comfort of a live sound experience with others.
Sound facilitates connection both to others and to ourselves, and it's human nature to seek it. Unlike energy work, which is invisible to the eye but its effects can be felt (by some), sound therapy is both heard and felt. As a way to cope with the constant demands of modern life, an increasing number of people seeking meaning, purpose, and intention are turning to sound. "Now more than ever there is an interest in sound baths in particular, group sound experiences," said Sara Auster, a New York City–based practitioner and key player in the sound healing movement. "I still facilitate private healing sessions, but my public sound baths sell out weeks in advance."
It's true that sound baths have been rising in popularity for the last five years or so—and sound therapy has been around for thousands of years—but they continue to garner attention. The Rubin Museum of Art, for instance, has dedicated its main summer 2017 exhibition to the cultural importance of sound as a modern medium of art and healing. The exhibition, called "The World Is Sound," asks guests to experience sounds with their whole bodies, not just their ears. Visitors are encouraged to listen to works of art and sit in the OM lab, where tens of thousands of museum-goers recorded their oms to create the largest collective, rolling chant of om. It's a wild, diverse, beautiful harmonization of voices and was, by far, the most captivating part of the exhibition.
Chloe Kernaghan, co-founder of SKY TING Yoga in New York City, has also seen an increased interest in sound experiences from her clientele. "Since introducing sound baths on our schedule, there's been an increase of demand and more and more students are expressing interest. We even hosted a sound healing training immersion with Sara Auster and have started to include a "power of sound" lecture in our 200-hour teacher training."
The unexpected side effect of sound baths.
Sound baths are the anti-technology. They provide a venue for authentic connection both with oneself and others while temporarily severing the connection to digital reality. "It is not uncommon to see students bring their cellphones into class with them, placing it next to their mats," said Sam Emrich, a yoga teacher based in New York City known for her minimalist approach to technology. Not all classes are immune to tech, but when sound is essential to the experience, all bets are off.
"Having a device in the room (even a nonfunctioning or "airplane" device) fragments attention. A decrease in attention weakens the connection to self and others—the one we're ultimately seeking when we come to class." She's right. In a world that's all but normalized tech addiction, coming together for yoga or a sound bath gives practitioners permission to disconnect from the tether of emails, Instagram, and messaging and reconnect with the place, people, and sounds around them.
Auster agrees, "People get an hour to be free of a constant state of reactivity to their beeping, flashing, to their devices. It's a sigh of relief for the nervous system." Even if you can't make it to a live event, using good headphones to tune into a pre-recorded sound bath can work wonders, Auster said.
"We are living such activated and busy lives so we are constantly in a state of output and/or giving. The idea of simply showing up and receiving is quite appealing, particularly when the experience is designed to promote relaxation and you are able to feel the benefits immediately," said Ellie Burrows, CEO of MNDFL Meditation, a rapidly-growing meditation studio also based in New York.
The healing power of sound.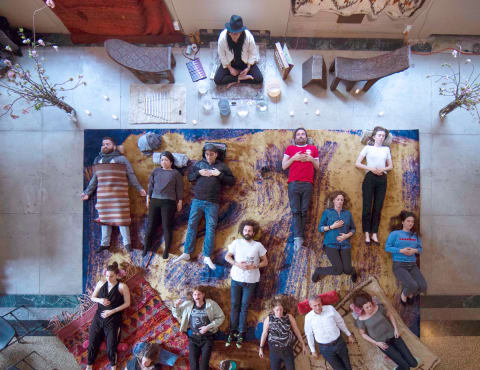 In addition to the exhilarating freedom from your phone, there is a healing component to sound that's very real but tough to quantify in a sound bath setting—history and recent research illustrate it beautifully. Music has always been used as a healing tool throughout antiquity with roots in religious ceremony, mythological poetry, and through royal lineage.
There are myriad studies on the healing powers of sound and music, but few articulate how well it works as a healing group activity, and on the singular body. Recent research on the effect of group music therapy on women who are in rehab for drug addiction found that it facilitated feelings of "catharsis, self-understanding, group cohesiveness, and installation of hope." One small study released earlier this year looked at 10 choir members' health and well-being and found that singing together gave "social and health benefits, personal accomplishments and enjoyment," which are, without a doubt, some of the most sought-out aspects of any journey to health and well-being. These demonstrate the deep healing power of entrainment, or syncing your body's inner functions with the external environment, and the importance of communal sound experiences.
In another study back in 1997, scientists found that open-heart surgery patients exposed to low-vibrational frequencies, otherwise known as physioacoustic therapy, spent fewer days in recovery, needed less pain medication, and spent less time on the ventilator after just 20 minutes of sound therapy. Sound has been shown to help reduce pain, increase neural connectivity, and generally increase the quality of life for people with dementia, cancer, and those who have suffered a stroke. On a personal level, sound expedites healing of physical wounds and chronic conditions.
Sound baths are uniquely approachable.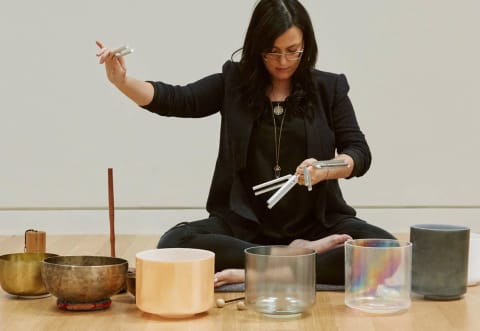 Even the extreme beginner can appreciate the experience of sound. Often the end goal of practices like yoga and sound baths are similar—ultimately, to understand the self. "We offer sound sessions at SKY TING because we find them to be highly effective ways to release and relax that are similar to the asana practice, but more accessible to a wider student base," said Kernaghan.
The difference is that sound baths have no preconceived expectations like flexibility, athletic wear, and ability. "We've seen that mass meditations can be intimidating for first time meditators, so the soundscape gives people a welcoming entry point," said Jesse Israel, founder of Medi Club and The Big Quiet, two meditation clubs based in New York City that hire people like Auster to facilitate sound baths for large-scale events.
"Sound baths are a bit like a chairlift, it allows you to experience relaxation within the short period of one session. With other types of meditation, one might have to practice consistently for a few weeks or months to feel that kind of effect," said MNDFL's Burrows.
Ultimately, people come to sound baths, "[N]ot because their heart chakra is opening or because they had a past-life regression. We want to know ourselves better. And want to be able to do that in a place of supported community," Auster said. Phones off, hearts on.
Think you're not addicted to your phone? Take a look at these telltale signs you need a social media detox.