3 Tips To Promote Better Sleep & Why It Matters, From An Expert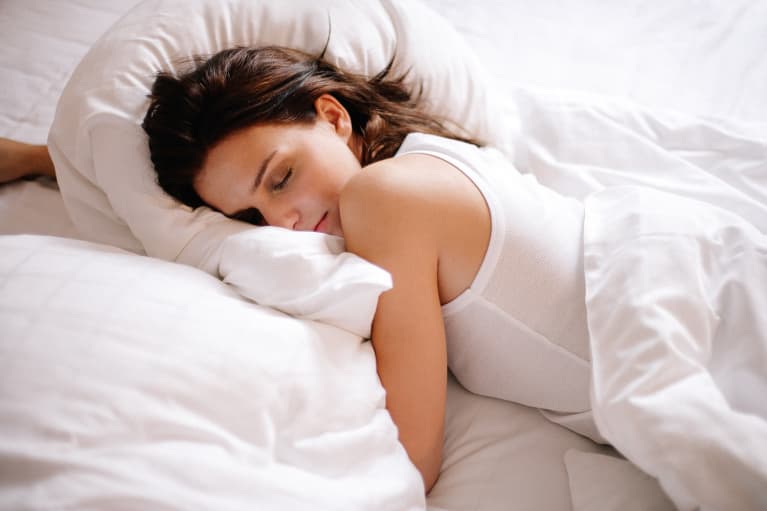 This article was produced to support the mindbodygreen supplements+ line. Our supplements adhere to the highest standards of ingredients and quality. We hope you enjoy these products, for more information
click here
.
Weekends and weekdays are slowly starting to meld together, which can make going to sleep at a reasonable hour pretty difficult. More than that, the anxiety of these uncertain times can disrupt sleep. But now, more than ever, getting quality sleep is important for reducing stress and supporting our immune systems—but how do we do it?
We consulted neurologist Nicole Avena, Ph.D., who shared a few habits to promote a better night's sleep, even when it feels impossible:
1.
Keep a consistent schedule.
If working from home has suddenly added extra hours to your morning, that doesn't mean you should be going to bed extra late. Use the time you would normally spend commuting to exercise, meditate, or make a slow-cooked breakfast. Having a morning routine will make it easier to stick to a nighttime routine and therefore fall asleep at a reasonable hour.
Commit to falling asleep at least seven hours before your alarm is set.
2.
Create a bedtime routine.
Creating a bedtime routine—which should include a set bedtime each night—can help separate your workday from your evening. Not only will creating this routine provide a sense of normalcy to these abnormal times, but it will also promote quality sleep.
If you need tips, here are a few things sleep expert Ellen Vora, M.D., recommends. And if you're feeling seriously stressed, here are a few tips for relaxing your mind and body before bed.
3.
Avoid heavy meals or sugar-rich foods before bed.
If you're devoting your extra hours at home to baking projects, keep doing it! But don't overdo the sugar late into the evening. Sugar-rich foods and heavy meals can make it hard to fall asleep, according to Avena. "Also, you want to avoid using alcohol as a way to help you fall asleep," she said. "It may help you to relax, but it will disrupt the quality of your sleep, making you feel more tired the next day."
If you're still feeling hungry late into the evening, snack on one of these magnesium-filled foods. If you prefer something to sip on, Avena recommends chamomile-lavender tea.
What if I'm too stressed to fall asleep?
If the stress of COVID-19 is keeping you up at night, try listening to a guided meditation to help release stress, or taking supplements to reduce anxiety and promote sleep.*
Aside from ensuring you wake up alert and productive for tomorrow's work from home, getting quality sleep is one way to stay healthy.
"When people are sleep-deprived," Avena said, "their immune system is not able to function as well as it would if they'd had a good night's rest." And since keeping our immune systems strong is top priority right now, let's hit the lights.