Close Banner
Advertisement
This ad is displayed using third party content and we do not control its accessibility features.
Need Some Summer Dinner Inspo? Here Are 13 Healthy Ideas From Our Editors

mbg Associate Food & Health Editor
By Merrell Readman
mbg Associate Food & Health Editor
Merrell Readman is the Associate Food & Health Editor at mindbodygreen. Readman is a Fordham University graduate with a degree in journalism and a minor in film and television. She has covered beauty, health, and well-being throughout her editorial career.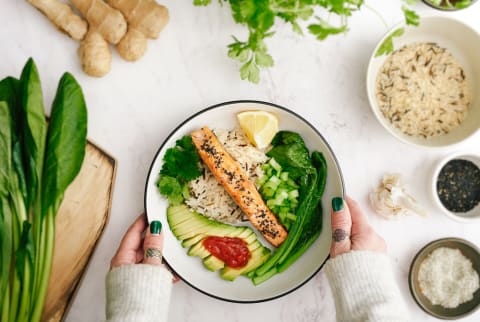 Image by Darren Muir / Stocksy
We carefully vet all products and services featured on mindbodygreen using our
commerce guidelines.
Our selections are never influenced by the commissions earned from our links.
At mbg, our editors love healthy, nourishing meals that use all the best seasonal produce to fuel their bodies for the day. However, it's still far too easy to fall into cooking ruts, so in order to spark inspiration, we put out a poll asking for everyone's favorite dinner recipes.
Whether you follow a plant-based diet, are looking for an easy way to integrate more veggies into your meals, or are simply intrigued as to what we've been eating, we pulled together our best recipes to spice up your meal plan so you never get bored. From grilled fare to colorful salads, you'll be all set with inspo for your next grocery run.
On the grill.
In the summer, turning on the oven is probably the last thing you want to do. Luckily, there are plenty of other great ways to cook up healthy meals. If you're feeling fancy, breaking out the grill during the summertime is one of the best ways to add some smoky flavor and a lightly charred texture to your favorite fresh veggies and other classic meals. Or, opt for a stovetop sauté. Here's how our mbg staffers are whipping up tasty meals:
Braelyn Wood, Deputy Commerce Editor
"I love grilling—onions, peppers, and mushrooms."
Kristine Thomason, Health & Fitness Director
"Roasted veggies are one of my dinnertime staples—but in the summer, I'll avoid heating up the oven if at all possible. Instead, I'm a big fan of a good veggie stir-fry, featuring an array of my seasonal farmers market finds. For instance, last week I sautéed beets, broccoli, and onions—and served them on top of some homemade za'atar hummus. I also love a good stir-fry with red peppers, bok choy, and mushrooms—then, once they're cooked, I'll toss it with a mixture of tahini, miso paste, ginger, and liquid aminos. This is also a great way to use up any wilting veggies in your fridge, to avoid waste."
Natalie Goldberg, SEO Editor
"Grilled haloumi salad is my current favorite!"
Emily Kelleher, SEO Editor
Summery salads.
Salads often get a bad rap for being boring but not if you make them like we do. Fresh, light, and colorful is the name of the game this summer when it comes to crafting nourishing recipes, and there's nothing better than a zesty salad to tie your favorite ingredients together. Here's how our editors are making their salads this summer—with a twist.
Hannah Frye, Assistant Beauty Editor
"Salmon caesar salad for me!"
Hannah Margaret Allen, Executive Editor
"This week, I've been loving a super-fresh herby salad. I whisk the dressing together in the bottom of a big bowl with olive oil, Dijon mustard, a splash of ACV, a healthy amount of chopped dill, and green goddess seasoning from Trader Joe's. I add finely chopped iceberg on top and make sure that's well incorporated. Then I go to town with toppings. Yesterday, I added red pepper, green olives, banana peppers, hummus, pistachios, some leftover shiitake mushrooms, and roasted cauliflower. A massive thank you to Melissa Ben-Ishay's TikTok for teaching me the ways of a very chopped salad."
Olivia Giacomo, Social Media Associate
Ashley Jordan Ferira, Ph.D., RDN, Vice President of Scientific Affairs
"Cucumber salad with sun-dried tomatoes, bell peppers, almond slices, some cheese crumbled or squared, balsamic vinegar drizzle, and salmon filet."
Abby Moore, Editorial Operations Manager
Darcy McDonough, Senior Manager, SEO & Content Strategy
"I've been making a lot of pasta salads/orzo salads with herby lemon dressings, like this one."
Emma Loewe, Senior Sustainability Editor
"I love the classic tomato mozz basil with seasonal fruits added. Also cold soups are fun and easy! I [also] love a tomato/bell pepper soup like this. It's extra tasty if you have grilled bell peppers! Such a good way to use up BBQ leftovers."
A quick fix.
If you're in a rush for lunch and just want something to quickly fill you up without requiring too much brainpower to make, here are a couple of quick options for you.
Jamie Schneider, Beauty & Wellness Editor
"I've been loving Hailey Bieber's toast that she recently shared on TikTok, but instead of heating it up, I prefer to keep the tomatoes cold."
Emma Engler, Nutrition Research Scientist
"I tried cowboy caviar this weekend and really liked it!"
And if you're looking for a subtle way to add more vegetables into your menu, cowboy caviar with a tablespoon of mbg's organic veggies+ is a delicious and fiber-filled choice. On top of the black beans, bell peppers, corn, and other colorful range of veggies that this recipe already offers, organic veggies+ also packs in the benefits of sea veggies, leafy greens, and even berries to promote a healthy gut microbiome, while supporting healthy digestive function and hormonal balance.* All you could ask for out of a meal and more.
The takeaway.
Making a fresh and hearty meal doesn't have to take up hours of your time in the kitchen. From chopped salads to fresh grilled veggies and tomato toast, our editors brought me (and hopefully you!) inspiration for a range of diets and taste buds. My personal favorite of their picks? TikTok's viral cowboy caviar—it's a no-brainer!

Merrell Readman
mbg Associate Food & Health Editor
Merrell Readman is the Associate Food & Health Editor at mindbodygreen. Readman is a Fordham University graduate with a degree in journalism and a minor in film and television. She has covered beauty, health, and well-being throughout her editorial career, and formerly worked at SheFinds. Her byline has also appeared in Women's Health. In her current role, she writes and edits for the health, movement, and food sections of mindbodygreen. Readman currently lives in New York City.