Yes, Perinatal Anxiety Is Real & This Is What It Feels Like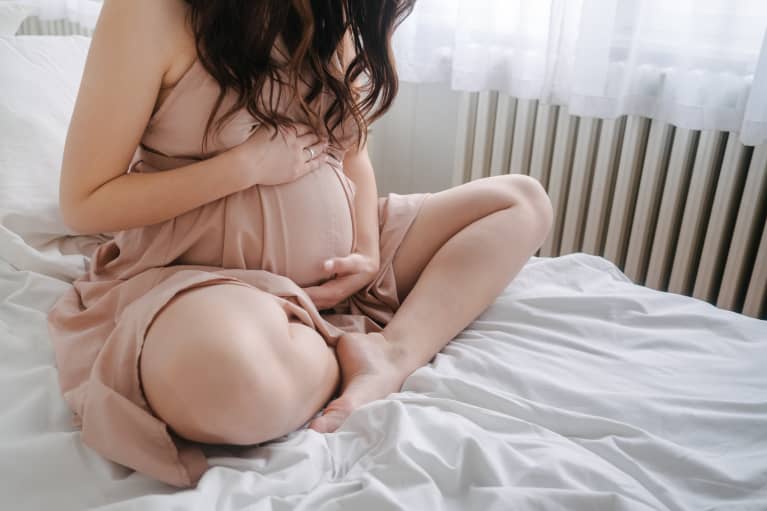 Here at mbg, we know the transition to motherhood can often feel a bit tumultuous, challenging you both physically and mentally in ways you never imagined and often leaving you feeling like you're somehow doing it wrong. But the truth is, so many women feel "off" during pregnancy, shortly after, and throughout their motherhood journey for reasons that are very real—and very manageable, if you reach out for help. So, as part of
Maternal Mental Health Awareness Week
, we wanted to shine a light on one of the lesser known (but pretty common) mental health issues affecting new moms and moms-to-be.
I sat on the bed after my first midwife appointment sobbing. The midwife was great. Loving. Supportive. Knowledgeable. I felt warmer, safer, and more empowered while in her presence than I had throughout my pregnancy so far. Yet, there I was, choking from the speed at which each sob was forcing its way out of my throat, tears flooding down my face. My husband sat next to me on the bed, rubbing my back in circular motions and repeatedly asking me what was wrong, to please tell him. I answered by curling into myself further, covering my eyes, and continuing to fill the space with cries rather than the words I could not say.
I was scared. I was ashamed. I felt weak, and incompetent, and trapped in this body that felt foreign and was only going to feel more and more foreign over the next seven months. I felt a sense of doom that I could not explain nor tie to anything tangible, yet I could not shake it.
This was not my first dance with anxiety. Anxiety—the incessant worrying, the inability to be in the present moment, the quickening of my pulse, the tightening of my chest, the difficulty breathing, the helpless feeling that something was wrong and I didn't know what it was—started in my early 20s. It started with chronic anxiety and quickly escalated to daily panic attacks, which eventually landed me in a psychiatrist's office in NYC, where I reluctantly agreed to the lowest possible dosage of an SSRI just for a little while. After years of medication, Chinese medicine, Vedic meditation, essential oil therapy, talk therapy, and a complete lifestyle overhaul (I left an NYC startup to work remotely from a small beach town in Puerto Rico), my anxiety was finally under control. That is, until I got pregnant.
Perinatal anxiety is surprisingly common but seldom discussed.
What I didn't know before becoming pregnant is that perinatal anxiety and/or depression (which includes anxiety and depression experienced during pregnancy and immediately following birth) is one of the most common complications of pregnancy, affecting up to one in seven women. I also had no idea that perinatal anxiety/depression is different from the "baby blues" and postpartum depression, or that it's significantly more common among women who have suffered from mental illness in the past—especially women with hormonal anxiety, whose symptoms get more intense around their menstrual cycles, according to reproductive psychiatrist Alexandra Sacks, M.D.
I didn't know that perinatal anxiety was a different beast from regular anxiety either, and that all the coping mechanisms I'd developed over the years would stand no chance against the influx of hormones my body was experiencing during my first trimester. And I certainly did not know that no matter how genuinely ecstatic I was about becoming a mama, I would still find myself wondering how I was going to be able to see this pregnancy through.
Strategies to alleviate perinatal anxiety and depression.
Perinatal anxiety and depression look different for each woman and each pregnancy, but the United States Preventive Services Task Force defines it generally as major or minor depressive symptoms, including loss of energy or concentration, changes in sleeping and eating patterns, feelings of worthlessness, or suicidal thoughts that exist for a minimum of two weeks. The panel recommends the usual suspects to help treat perinatal anxiety and depression—therapy, exercise, a balanced diet, and medication—but also admits that there are no true treatments.
The most important thing a mother-to-be who finds herself in this position can do, says Sacks, is ask for help. At this point in time we know that the mother and the baby are interconnected when it comes to health and wellness, she says, and what is healthy for the mother is healthy for the baby. She recommends a variety of mind-body practices to help manage perinatal mental illness—acupuncture, meditation, prenatal massage, prenatal yoga, exercise, and bright light therapy—in addition to increasing social supports. "No mother deserves to suffer silently, and every mother deserves to feel better," she says.
Enlisting your support system is essential.
That afternoon after my first midwife appointment, when I closed all the shades and turned off all the lights, I realized that this was no longer something I could handle on my own. So I grabbed my phone and called the women in my life who had experienced something similar during their pregnancy. I told them all the things I'd been terrified to admit out loud, and I was met with an overwhelming understanding that it's OK, that I'm OK, and that this "complication" didn't mean there was something so wrong with me that I wouldn't be able to become the mother I wanted to be.
So, if you're one of these one-in-seven mamas who finds yourself battling with anxiety or depression during your pregnancy, please ask for help. Ask your partner, ask your doctor, and ask the women in your life who will remind you that you're not alone and that you can do this. Between medication, therapy, mind-body practices, natural remedies, and emotional support, there are resources out there that can help you thrive throughout your pregnancy and beyond.
Remember, as with all things, this too shall pass—and you've got an army of women standing beside you who have fought (and won) this same battle until it does.