Yes It Is More Expensive To Be A Woman. Here's Why

Contributing Wellness & Beauty Editor
By Lindsay Kellner
Contributing Wellness & Beauty Editor
Lindsay is a freelance writer and certified yoga instructor based in Brooklyn, NY. She holds a journalism and psychology degree from New York University. Kellner is the co-author of "The Spirit Almanac: A Modern Guide to Ancient Self Care," with mbg Sustainability Editor Emma Loewe.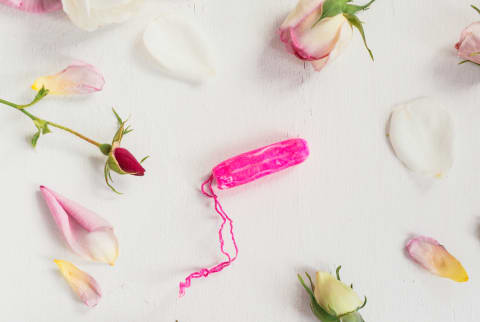 January 31, 2018
Did you know that if you're a woman, or a person who purchases personal care products marketed to women, you're probably paying more than your male counterparts simply because you're a woman? It's a sneaky phenomenon dubbed the "pink tax." The pink tax is the idea that companies charge women more for personal care products simply because they will pay more.
A recent investigative report by the New York City Department of Consumer Affairs titled "From Cradle to Cane: The Cost of Being a Female Consumer" found that products for women cost 7 percent more than the same products made for men. Of the 35 categories analyzed, women's products cost more 42 percent of the time, while men's were more expensive only 18 percent of the time. Personal care products stood out with the largest gap—on average, they are approximately 13 percent more expensive when marketed to women.
Advertisement
This ad is displayed using third party content and we do not control its accessibility features.
In the United States, women also pay more for having a period. A luxury tax on tampons imposed by the government has deemed them a "luxury item" despite the fact that menstrual cycles are a monthly reality for all women. If that's not enraging enough, condoms are not subject to any luxury tax.
There are a handful of companies tackling the pink tax head-on, and the United Kingdom has a leg up on the States. Tesco, the U.K.-based retail giant, the third largest in the world, slashed the price of women's razors in half to account for the pink tax. Another British retailer, Boots, has done the same.
In the United States, Boxed has made the pink tax central to its mission, ensuring that women don't pay more for products like razors, body wash, and deodorant, and eats the cost of the luxury tax on tampons. CEO Chieh Huang told CBS News that he was disappointed there hasn't been more movement from other brands—as it's been an expensive fight to bear. "It's tough," Huang told CBS. "We could break even on a good amount of products, but right now it's a tough game to lop it off the top."
New startup Billie has taken it a step further, formulating products for women from start to finish and adjusting prices to slash the pink tax. "At the very heart of the startup is the belief that women shouldn't have to pay more for products just because they are marketed toward women," the website reads.
The legal battle against the pink tax in the United States is happening at the state level but seeing little traction. California already has a law that prevents gender-based price differences in services, but one that instates the same protection for the prices of goods was not approved by the state. An outstanding $11 million class action suit in Ohio in which plaintiffs are demanding a refund for the tampon tax along with bills in Nevada and Ohio to do away with the tampon tax are pending.
While there's a lot of work to be done, the best thing consumers can do is vote with your dollar. Purchase men's products or support retailers actively against the pink and tampon tax.
If you want to abandon tampons all together, more power to you! Give the environmentally and wallet-friendly menstrual cup a try.
Advertisement
This ad is displayed using third party content and we do not control its accessibility features.