Close Banner
Advertisement
This ad is displayed using third party content and we do not control its accessibility features.
The Skin-Brightening Ingredient You Never Knew Was Natural

Contributing Wellness & Beauty Editor
By Lindsay Kellner
Contributing Wellness & Beauty Editor
Lindsay is a freelance writer and certified yoga instructor based in Brooklyn, NY. She holds a journalism and psychology degree from New York University. Kellner is the co-author of "The Spirit Almanac: A Modern Guide to Ancient Self Care," with mbg Sustainability Editor Emma Loewe.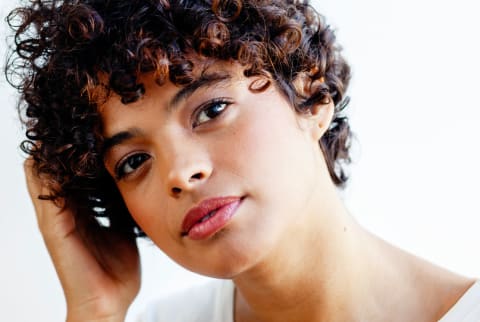 With hydrating, brightening, and skin-clearing benefits, hyaluronic acid is a unicorn product, especially for the colder months when skin tends to dry out. If you've ever tried it, you know it's simple, powerful, and effective, but did you know that pure hyaluronic acid is also completely natural? It's a compound our skin makes on its own (similar to collagen) and as such is totally safe for topical use. Here's everything you need to know about the miracle ingredient:
What is hyaluronic acid?
The "acid" part is misleading: It doesn't burn, sting, or irritate the skin. In fact, it's quite the opposite. "Since hyaluronic acid is a natural component of our skin, allergy is not a concern," and neither is irritation, said holistic dermatologist Cybele Fishman M.D.
It's found in high concentrations in our synovial fluid—the stuff that keeps our joints limber and well-lubricated, and it gives the eyes their dreamy, reflective quality.
What will hyaluronic acid do for my skin?
Hyaluronic acid is one of nature's best moisturizers. "It draws water into the stratum corneum, the top layer of the skin. It is a humectant, so it gives an immediate improvement in the way the skin looks—less ashy, dry, dull," said Dr. Fishman.
Because of its molecular structure, hyaluronic acid can hold a thousand times its weight in water—in other words, it is a lightweight but heavy-duty moisturizer that's ideal for dry skin but won't break people out. It's a smooth, watery consistency and doesn't feel oily or greasy.
How do you use hyaluronic acid?
Danuta Mieloch, owner of New York City's buzzy new Rescue Spa advises her clients to use hyaluronic acid after toner. Layer it on top of toner but before other treatment serums, creams, and oils.
"Pat it around the lips and the eyes and the backs of hands," said holistic makeup artist Katey Denno. At night, she applies it last because its molecular structure allows it to hold and contain other nighttime treatments.
When it comes to applying it in the morning, Denno recommends using 100 percent hyaluronic acid and being mindful of layering. "Often, products that are formulated with hyaluronic acid pill up if you add too many layers. If you're not wearing foundation on top or it's minimal, go for it. But if you're using a sunscreen or foundation, for example, chances are they will pill over hyaluronic acid products," she said.
Dr. Fishman recommends adding a few drops of pure hyaluronic acid to your moisturizer to give it some oomph. She also recommends it to clients who have had procedures like chemical peels, microneedling, and laser healing.