I Tried The Facial Treatment With A Three-Year Waiting List & It Blew My Mind

Contributing Wellness & Beauty Editor
By Lindsay Kellner
Contributing Wellness & Beauty Editor
Lindsay is a freelance writer and certified yoga instructor based in Brooklyn, NY. She holds a journalism and psychology degree from New York University. Kellner is the co-author of "The Spirit Almanac: A Modern Guide to Ancient Self Care," with mbg Sustainability Editor Emma Loewe.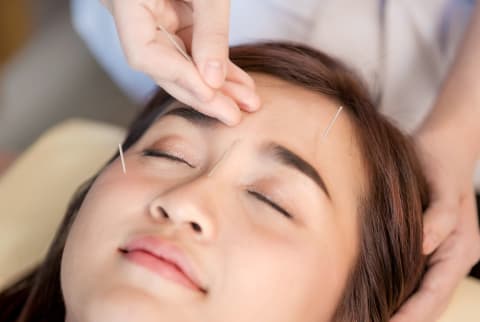 November 21, 2018
The last time Annee de Mamiel was in town, I tried to book a facial attunement treatment with her. This was difficult—even though she reserves special slots for press, her appointments are 90 minutes, and as such her schedule only allows for a lucky few. I didn't make it in and had to wait six months till she was in New York next. Her practice has grown an impressive following. She doesn't have a website or platform advertising her treatments—just her skin care products—and people have waited up to three years to see her. Fortunately for me, she had an opening on Halloween. Candy and parties had no pull when I had the choice to spend an hour and a half with the skin whisperer herself at New York City's Mondrian Hotel on Park Avenue.
An acupuncturist, a holistic esthetician, and an aromatherapist, de Mamiel has a degree in anatomy and physiology and another in aromatherapy. While studying in China, she worked at Hangzhou Hospital and learned the nuanced facial acupuncture technique.
Advertisement
This ad is displayed using third party content and we do not control its accessibility features.
I was coming to her with a host of health problems: wonky digestion and GI tract issues, heart palpitations, dizzy spells, and a new bout of small, tiny hormonal acne-like bumps that wouldn't go away. For 15 minutes, we discussed my test results, how I'd changed my diet and lifestyle, and she continued to be quite thorough, gathering information about my family history with disease, my own health history, and how I'd been feeling recently. She looked at my tongue and hunted for clues about what could be going on in my body, as well as to inform the treatment. I went into the treatment room, where I got comfortable on the table, excited and nervous about the healing that was about to happen.
She started by leading me through a beautifully articulated grounding visualization, where the soles of my feet sprouted the roots of a strong tree. Tendrils of attention were drawn down through the core of my body, connecting me to the earth. "Everyone in New York City can use more grounding," she said offhandedly, speaking the truth. That's the reality of city life—robbed of time in nature, the body needs to recalibrate.
That was helpful, too, because I have a thing with needles. I'd tried community acupuncture to save money, but the sight of someone sitting with needles in their body makes my stomach turn. I knew acupuncture was an essential part of de Mamiel's facial treatments, and to be the only one in the room receiving treatment made a difference. As acupuncturists do, she took my pulse, told me about what she was feeling and what it was telling her.
Since I'd had an unfortunate experience with facial acupuncture the day prior (another story for another day), she found four points for the needles that would correspond to the facial treatment she was giving me: one on my ankle, calf, forearm, and wrist. Immediately I felt a rush of energy or chi/qi, as subscribers to traditional Chinese medicine would say, so intense that I was able to feel my pulse radiate through my body. It felt vibrant, energized, and a little scary all at once. After spending a fair amount of time recovering over the summer, I wasn't used to feeling this alive and vibrant. She frequently checked in, asked how I was feeling, and determined that we wouldn't leave the needles in for the duration of the treatment, as she does with some clients. "You have a lot of stored heat," she said.
She then used tuning forks up and down my body, stopping at places I normally experience anxiety or discomfort—my heart, my stomach, my knees. The fork would vibrate more over these places… it was wild, but I wasn't surprised. The body is so intelligent.
I could barely feel it as she removed the needles, brought the visualization to a close, and got to work on my face, slowly smearing the day away with a generous amount of Cleansing Dew, a thick, emollient cypress- and blue-tansy-scented oil. Instead of a typical facial with extractions, de Mamiel is a longtime champion of the new guard of estheticians who are opting to focus on the healing elements of holistic skin treatments, intentionally leaving extractions off the protocol. Thank goodness; because everything was feeling so delicious, extractions would definitely have shifted me out of the deep resting state I'd fallen into. There was no steam either, and as someone who has asthma, I appreciated that.
Following with another cleanse and hot towel, de Mamiel applied a soothing mask and left it on while she tended to my shoulders, back, décolleté, and upper arms with another beautiful oil. She worked her magic on my scalp, too, which has always been a problem area for me, and my feet. To describe it as heavenly doesn't do it justice. She wiped the mask away with another hot towel and continued with facial massage and an expert application of mists, serums, and oils that were quite nourishing without being too much, and were grounding.
In our debrief, she said that her Altitude Oil, a blend of essential oils with aromatherapeutic energizing qualities, would become my new best friend. In addition to some dietary suggestions to improve digestion with my current symptoms, she recommended restorative movement, rituals, boundaries around tech, and of course prescribed facial products that would start to add radiance and brightness back into my skin. And so far, I've seen a huge improvement. I'm cooking a lot more, my digestion is improving, and swapping in some de Mamiel products was the perfect nourishing switch as the seasons shifted—while I didn't have to wait three years, I'd happily see her again in 2021 but hopefully much sooner.
Advertisement
This ad is displayed using third party content and we do not control its accessibility features.