What I Eat In A Typical Day To Keep My Skin Clear & Glowing
I'm an acne sufferer, aesthetician, skin care company owner, and amateur home cook who's always looking for great recipes that I can make for my family and share with my acne clients. I began tweaking my favorite recipes by identifying simple ingredient substitutions that make them acne-safe and good for the body without noticeable changes in flavor, texture, or color (because we eat with our eyes, too).
It's so important for people with acne to realize how connected our gut health is to that of our skin, and that treating it from the inside out — as well as the outside in — is effective, holistic, and integrative. In conjunction with good products to speed up healing on the outside, we can create deep healing on the inside by staying away from certain foods but making sure to include others.
Here's what a typical day of skin-friendly eating looks like for me:
6:30 a.m.: Coffee with goat's milk
I wake up with my daughter to make her breakfast and pack her backpack. I don't like to eat right away, but coffee is exactly what I need to start my day. Since cow's milk can cause an acne flare-up and almond milk doesn't give me the creamy satisfaction I'm looking for in my coffee, I add a dash of goat's milk to my cup.
I'm 44 years old and tend to be low in vitamin D since I limit my sun exposure by wearing SPF 46 sunscreen every day. Full-fat goat's milk not only makes my coffee deliciously creamy, it also provides my daily dose of vitamin D.
9 a.m.: Breakfast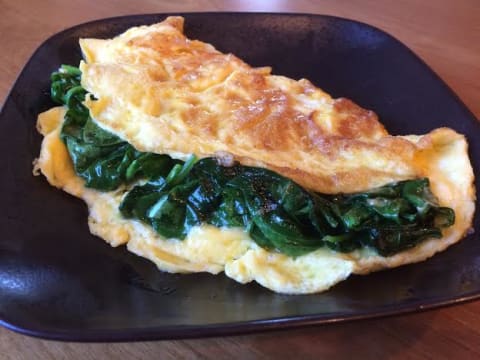 Since I schedule back-to-back clients every day until a break at 2 p.m., I like to get ample protein for breakfast to keep me full. My favorite hunger-quelling breakfast is baby spinach sautéed with extra-virgin olive oil and two pasture-raised eggs cooked in extra-virgin olive oil, which I make into an omelet, followed by a fish oil supplement.
Spinach contains lutein, a potent antioxidant important for normal skin cell development and healthy skin tone. I cook my spinach in a low-inflammation oil like extra-virgin olive oil. Other safe cooking oils for acne are coconut oil and avocado oil.
Foods rich in zinc like egg yolks — especially those from pasture-raised eggs and "happy chickens" — have healing properties that soothe inflamed skin, regenerate skin cells, and speed up the acne healing process, should a pimple strike. In addition, zinc inhibits acne-causing 5-alpha-reductase activity, the enzyme that converts testosterone into its more active, pimple-promoting form.
I take a daily fish oil supplement since I don't like fish and omega-3 fatty acids have wonderful anti-inflammatory properties for acne.
2 p.m.: Liquid lunch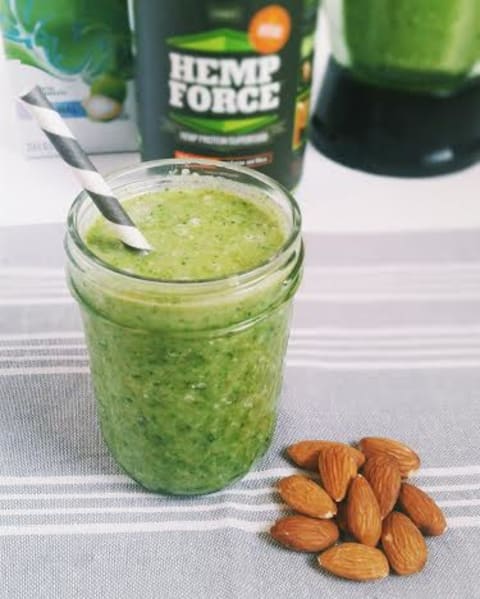 While I'm wrapping up with my clients and returning phone calls, I sip on this green drink, which gives me enough energy to do a short weight-lifting workout on my lunch break without making me too full.
In addition to broccoli, this smoothie contains bananas to give it body, coconut water to give it sweetness, and hemp protein to make it a meal in a cup. I blend this in my VitaMix in the morning but it keeps in the fridge until the afternoon for a pre-workout meal.
4 p.m.: Afternoon snack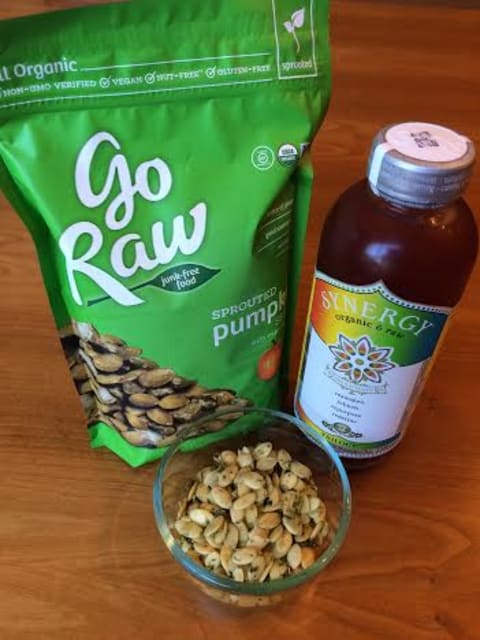 For a midafternoon pick-me-up, I snack on some sprouted pumpkin seeds and drink a kombucha that has ginger in it. The fizziness and natural sweetness of the kombucha fills me up and balances the saltiness of the sprouted pumpkin seeds.
A quarter cup of raw pumpkin seeds provides just over half the recommended1 30 milligrams per day of zinc that has been shown to fight acne (I get the rest from my eggs at breakfast). This filling snack gets me through another couple of hours of work until I leave around 7.
7:30 p.m.: Dinner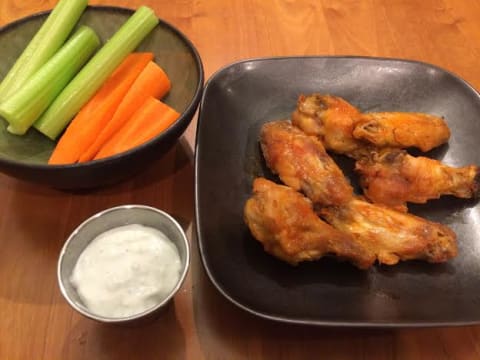 Tonight, my husband is making one of his go-to meals from his book, Living Wheat-Free for Dummies. These oven-roasted hot wings are a kid- and adult-approved dinner, and they're a favorite in our house. We dip them in a homemade blue cheese dip made with goat's milk kefir, which omits the cow's dairy but gives us a nice boost of prebiotics for gut health.
Kefir is a superstar when it comes to balancing the good and bad bacteria in your gut. Eating fermented foods (aka prebiotics) such as goat's milk kefir and kombucha (which I had for my afternoon snack) is even more effective than probiotics for creating a healthy gut environment and treating your acne from the inside out.
8:30 p.m.: Dessert
I learned a long time ago that sugar and I don't mix. If I start eating it, I just want more. Sugar is also highly inflammatory: It causes your insulin levels to spike, which leads to increased sebum (oil) production and acne.

Alissa Chasen
An expert in the field of acne, Alissa Chasen holds a bachelor's degree with honors from the University of Houston then completed 750 clock hours of training in esthetics at the Avenue Five Institute, where she finished first in her class. Alissa is a Licensed Esthetician specializing in Medical/Clinical Esthetics.
Alissa has 19 years of experience in health care, dermatology, and acne, previously holding a wellness position with Methodist Health Care System's Institute for Preventative Medicine, then pharmaceutical positions with Bristol-Myers Squibb and the dermatology division of Sanofi-Aventis. Alissa has completed training in the anatomy and physiology of acne and pharmacology of prescription-level and over-the-counter (OTC) acne medications.
In 2015, with the input of supporting dermatologists, cosmetic chemists, and acne specialists, Alissa helped formulate the first acne-only skin care line for six distinct acne types, POREspective, which is available to acne sufferers around the country.