Close Banner
Advertisement
This ad is displayed using third party content and we do not control its accessibility features.
What Can Be Composted In A Backyard vs. A Commercial Facility

mbg Sustainability + Health Director
By Emma Loewe
mbg Sustainability + Health Director
Emma Loewe is the Senior Sustainability Editor at mindbodygreen and the author of "Return to Nature: The New Science of How Natural Landscapes Restore Us."
By now, you've probably heard the news: Composting is an effective way to reduce one's environmental impact. But a backyard bin or industrial composting facility can turn into a hot mess when filled with things that don't belong there. While every system is different, here are some universal ideas for what to put in your compost bin (and what to leave out of it) depending on where your scraps are headed.
Can it be composted in a backyard?
Alyssa Eiklor, an environmental analyst at the waste management division of Vermont's Department of Environmental Conservation (which recently banned food scraps from trash cans statewide) explains that just about every plant and animal product can be turned into compost eventually. But some of them will require more heat and time to do so. This isn't really an issue for commercial facilities that have huge, professionally managed compost heaps. It is, however, a problem when you're a home composter worried about attracting pests and rodents to your backyard.
So while some of the things on this backyard no-no list are technically compostable, the newbie composter would be better off leaving them out.
Yes:
Fruit (just remove any stickers)
Vegetables
Yard scraps
Nuts and seeds
Eggshells
Coffee grounds and filters (one paper product that's universally compostable)
No:
Meat and bones
Bioplastics
Metal, glass, or plastic
Medical waste and personal hygiene products
Styrofoam
It depends:
Paper towels: Paper towels that are bleached white or came in contact with cleaning products should not be composted since they'll add unwanted chemicals to your pile. Natural, unbleached paper towels (which tend to be brown) should be OK—as long as they weren't used to soak up chemicals or germs if you're sick.
Large, dense food items: Good news for people who tend to forget what's in their fridge: Moldy, mildewy food can still be composted. "Those are parts of the decomposition process, so they're not reason to be worried," Eiklor says. If an entire melon goes bad in your fridge, though, you should chop it up and toss it in your bin in increments to make sure it doesn't throw off the nutrient balance of your pile.
Dairy: Dairy products are technically compostable since they come from a living thing, but they're one of those ingredients that can attract animals to your backyard: "They break down a lot more slowly because a backyard pile won't be as big, so it won't get as hot as a commercial, large pile. While they're taking longer, they can attract anything from bears to rats," explains Eiklor. So unless you're an experienced composter, you might want to leave them out.
Grains: This is a surprisingly controversial one. Sometimes you'll see backyard composters avoid raw or cooked grains because they also take a while to break down and can attract animals. But Eiklor says that as long as they're completely buried in your pile, combined with browns, and mixed regularly, they should be OK.
Oils and oil-soaked foods: "While you wouldn't want to throw large amounts of oil or baking grease into a compost, small amounts will be fine," says Eiklor. But if you have large amounts of animal fat grease, that falls more into the meat and bones category and should be trashed or reused for cooking.
Citrus: While citrus is a-ok for traditional composting, vermicomposters will want to keep it out of their worm bins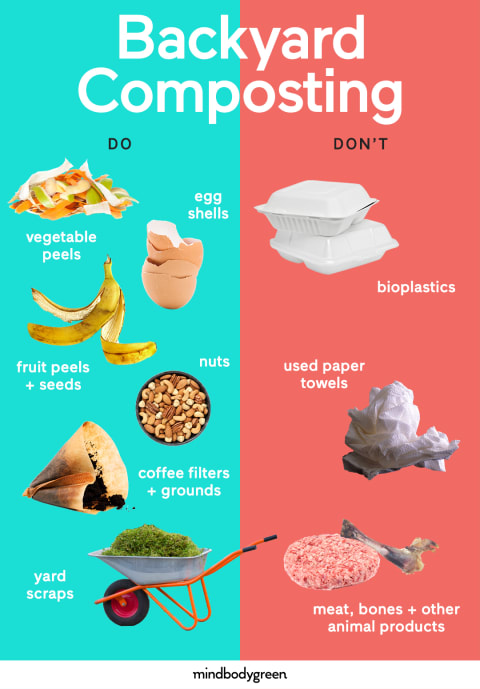 Can it be composted in a commercial facility?
Every community composting facility accepts different waste products, so you'll want to check in with yours if you're going this route. For the most part, though, these larger-scale operations can handle everything a backyard can—plus meats, oils, grains, and, in some cases, bioplastics.
Yes:
Fruit (just remove any stickers)
Vegetables
Yard scraps
Nuts and seeds
Eggshells
Coffee grounds and filters
Dairy
Meat and bones
Grains
Large food items
Oil and oil-soaked food
No:
Metal, glass, or plastic
Medical waste and personal hygiene products
Styrofoam
It depends:
Compostable bags: Compostable bags are made from biodegradable material like corn or potato starch. "Some [facilities] are completely fine with compostable bags. Others don't want it because it can open the door for contamination with non-compostable bags," explains Eiklor, so check in with your facility before you drop off your scraps in these.
Compostable cutlery and containers: Again, different facilities have different rules with these biodegradable plastic alternatives. It's worth noting that if a facility needs its finished compost to be certified organic, it can't accept any sort of bioplastic material.
Paper: Similar rules apply for paper: If a facility is creating certified organic compost, it can't accept treated paper products like newsprint. Other facilities will gladly accept paper products since they're a valuable source of the carbon that compost piles need to do their thing.
While regular commercial compost pickup is more common in certain parts of the country like Vermont, a lot of urban areas are not set up for wide-scale composting. In those places, it really falls on the consumer to watch over their compost until drop-off days.
Keeping your compost scraps in the freezer before sending them off to a facility can help minimize any funk. "Keeping it in the freezer prevents it from smelling or bugs or anything like that," Jhánneu Roberts, the founder of Low Waste Beauty, says of her experience storing compost in her L.A. apartment. She'll also get another use out of vegetable scraps by cooking them down in water to make a broth before tossing them in her pile.
The bottom line.
Organic kitchen and yard scraps currently compose about 22% of U.S. landfills, where they break down slowly and emit potent greenhouse gasses in the process. That's 30.6 million tons of food waste1 a year that could have been converted back into usable organic material for farming and growing.
Whether you compost your food scraps in a backyard or send them off to an industrial setup, you're doing the planet a solid. Just be sure you're not accidentally tossing anything that might contaminate your pile by reading up on basic compost do's and don'ts and checking in with your commercial facility if you're going that route.