I'm A Nutritionist; This Is What I Eat Every Day For Optimal Nutrition
Registered Dietitian
By Ella Davar, R.D., C.D.N.
Registered Dietitian
Ella Davar, R.Dd, C.D.N. received her education in Nutrition Science from New York University, and an Integrative Nutrition Certification from the Institute for Integrative Nutrition.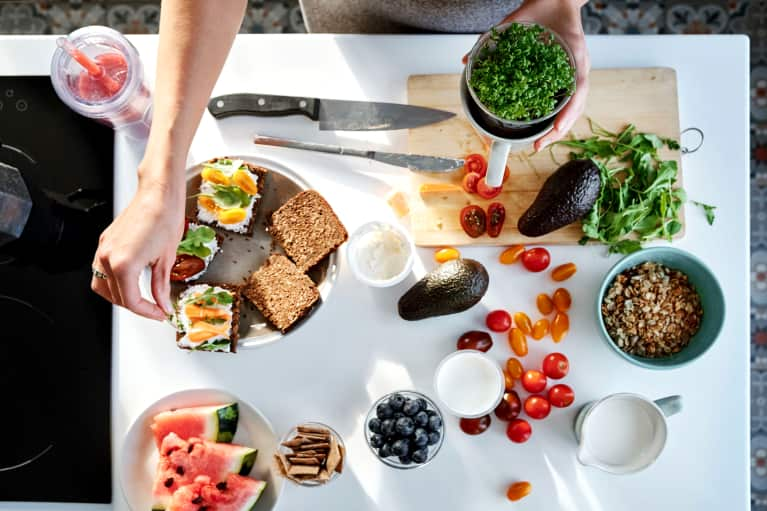 This article was produced to support the mindbodygreen supplements+ line. Our supplements adhere to the highest standards of ingredients and quality. We hope you enjoy these products, for more information
click here
.
Deciding what to eat on any given day—especially when grocery shopping—can be overwhelming. Making sure you're getting an adequate amount of nutrients and enhancing your daily meals with an abundance of fresh produce doesn't have to be stressful, though.
Keeping protein, vegetables, and healthy fats in mind is the best place to start. For a more zoomed-in look at a healthy meal plan, though, here's my (usual) daily meal routine.
Before eating anything, I'll start my day with a glass of water and a slice of lemon. My go-to morning mug usually contains matcha instead of coffee. Only on certain occasions, when I feel low-energy or am traveling, will I opt for a coffee—and if I do, it's almost always a cappuccino with plant-based milk.
I always tell my patients to eat every color in the rainbow, but let's be honest, there's not always time in the morning to curate an Instagram-worthy breakfast. Ideally, I'd eat a fried or soft-boiled egg with some kind of sautéed green, salad, or tomato, and avocado sourdough toast. Now, I say ideally because, yes I'm a nutritionist, but I'm also a New Yorker (read: I'm busy).
Especially on days when I'm meeting with patients, I don't always have time to spend chopping, prepping, or cooking a morning meal. Instead, I'll make a smoothie with all my favorite items, including:
Frozen berries. Not only are smoothies time-efficient, they're also cost-efficient when you incorporate frozen berries. Plus, they're scientifically proven to have the same nutritional density as fresh berries, and they won't go bad before you get a chance to use them.
Half a frozen banana or an apple, for fiber and potassium.
Nuts and seeds (pumpkin, sunflower, hemp), for healthy fats.
Leafy greens or mbg organic veggies+ greens powder. Using a greens powder is something I recommend to all my clients when they don't have fresh greens on hand. It's a simple way to increase the nutritional excellency of a dish—especially if it's difficult for them to incorporate vegetables in every meal.
I try to limit, and encourage my clients to limit, the amount of tropical fruit in a smoothie. Any more than one type of tropical fruit will increase the sugar content of the smoothie, which can lead to a blood sugar spike, then crash. Incorporating a blend of carbohydrates from berries and fruits, healthy fats, and proteins from nuts, and veggies from fresh produce or mbg greens powder is critical for any meal.
Lunch is when I'm able to eat that entire rainbow of foods. A big salad with at least two to three different-color vegetables is best. The base of my lunch salads is always green, whether it's raw or sautéed, then I'll top with red veggies, such as tomatoes or bell peppers. Finally, I will add intense, vibrant colors from beets, purple or sweet potatoes, zucchini, pumpkin, or yellow squash.
Those veggies generally take up 50 to 70% of the plate, and the rest is made up of a healthy starch, like quinoa, and a protein source, like tofu, chicken, or salmon.
If I'm craving a snack, I'll eat tahini or fruit-based energy balls, or a bowl of fresh berries. Berries are high in antioxidants, nutrients, vitamins, and fiber, while staying low in calories and sugar. I always grab for the seedier options (raspberries, blackberries, strawberries) because they're more intense in color, meaning they contain more nutrients.
I always prefer a cooked meal for dinnertime, and since I'm busy, I like to keep the process to about 15 minutes or less. To make this possible, I usually freeze bone broth, then heat it up on the stovetop, and add zucchini, cabbage, spinach, carrots, or other in-season veggies to the batch. In just five to seven minutes, a flavorful soup comes together for an appetizer.
After the soup, I will saute vegetables with garlic and olive oil and pair it with a protein (cod, salmon, chicken, and, on rare occasions, steak).
After eating dinner, I recommend pouring a cup of tea to both soothe and fill the stomach. If I'm still craving dessert after drinking tea, I'll always allow myself something sweet. Usually, it's a piece of dark chocolate—my favorite is the Unreal peanut and caramel candy bar. A probiotic-rich Greek yogurt with 75% dark chocolate melted into it is another decadent favorite, which mimics a chocolate mousse.
Variety in the diet is important, which is why I try to focus on a combination of protein, fresh vegetables, and healthy fats each day. Of course, my cravings and what I have in my kitchen at any given moment will vary, so keeping this formula in mind is a helpful way to ensure I'm getting the proper nutrients.