Yes, Waterless Shampoo Exists — And It's Revolutionizing Sustainable Hair Care

Beauty & Health Editor
By Jamie Schneider
Beauty & Health Editor
Jamie Schneider is the Beauty Editor at mindbodygreen. She has a B.A. in Organizational Studies and English from the University of Michigan, and her work has appeared in Coveteur, The Chill Times, and Wyld Skincare.
Waterless beauty makes its next foray into hair care. OWA Haircare Inc. features a line of waterless hair wash, called the Moondust Collection. It's the first and only hair care product to jump on board with water-free beauty, and the collection promises salon-grade quality with a sustainable mission.
But what exactly is waterless shampoo, and how does it work? Here's everything you need to know about this wash and how you can incorporate it into your hair care routine. You may want to replace those shampoo bars, stat.
What is waterless shampoo? 
We know what you're thinking, and no, this is not just dry shampoo. Rather, this formula is the first powder shampoo that's actually 0% water—it starts as a fine dust (hence, the Moondust Collection) and lathers into a fluffy foam once activated by water.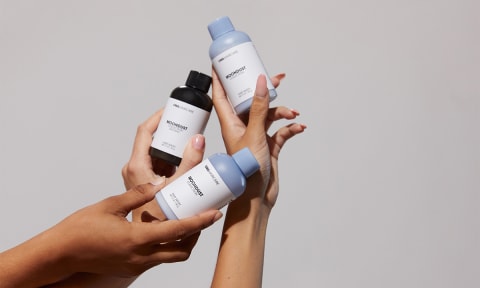 While sustainability is at the core of this hair care brand, OWA's CEO and founder Kailey Bradt actually had travel in mind when she sparked the idea. Stuffing everything you own into a carry-on is always a travel win, but beauty products become a little difficult to manage—especially larger items like shampoo. Powder shampoo takes care of that inconvenience by removing liquid entirely.
What makes it so sustainable and clean?
First up: It's free of water. Even the biggest green beauty connoisseurs are surprised to hear that their cleanest of products are comprised mostly of water. A disheartening reality, considering the water shortage we're facing lately: According to the World Health Organization, half of the world's population1 will be living in water-stressed areas by the year 2025. In efforts to cut back on water, water-free cosmetics have recently emerged in the green beauty scene, with global brands and younger companies alike pledging to reduce their water footprint and creating completely waterless formulas. But it's also free of your standard list of harmful ingredients, including sulfates, parabens, silicones, and artificial colors and fragrance.
While water footprint is at its core, this brand (and many other natural-leaning brands, for that matter) has taken the product development process into account as well. OWA saves energy and plastic production by creating their waterless formula—the powder makes it incredibly lightweight, meaning less electricity and fuel used to distribute the shampoo as well. And because you can pack more shampoo into each bottle (one bottle of Moondust has seven times the amount of washes than an average liquid shampoo) you won't be buying as many bottles in the first place, which eliminates plastic use even further.
What are the benefits? 
The main benefit of waterless shampoo (aside from saving the planet, of course) is that you're actually getting a more concentrated hair product. A waterless formula increases the efficacy because you're only getting what you really need rather than a water-diluted mixture. We also know that water is a breeding ground for bacteria, so many traditional shampoo brands add extra ingredients in order to make their products shelf-stable. When you eliminate the water, you also eliminate the need for those extra life-extending chemicals. Moondust only has 11 ingredients in its mixture (10 for their unscented), compared to 25-plus ingredients typically found in other sulfate-free liquid shampoos. "You're not only getting a more concentrated product because there's no water, but you're getting a more concentrated product because there are fewer ingredients as well," Bradt adds.
How do you use this shampoo?
The shampoo's instructions are just as simple as its no-fuss packaging: Pour the powder in a zigzag on your palm, wet your hands, and rub them together until the mixture lathers into a foam. Massage it into your hair and voilà—it's regular shampoo.
While the collection doesn't have a matching conditioner (yet! Bradt assures us that OWA will be a full hair care line, and "there's already a conditioner in the works!"), you might not even find it necessary. The shampoo alone promises fluffy, tangle-free hair, even between washes—a considerable feat for a finer hair texture.
Overall, we'd consider waterless shampoo a win for sustainable hair care. And while there are already ways to make your shower more planet-friendly (i.e., shampoo and soap bars), this powder formula takes the trend a step further and makes it even more user-friendly and efficacious for our locks. Perhaps the concept of "dry shampoo" will have a totally different meaning down the line.

Jamie Schneider
Beauty & Health Editor
Jamie Schneider is the Beauty Editor at mindbodygreen. She has a B.A. in Organizational Studies and English from the University of Michigan, and her work has appeared in Coveteur, The Chill Times, and more. In her role at mbg, she reports on everything from the top beauty industry trends, to the gut-skin connection and the microbiome, to the latest expert makeup hacks. She currently lives in Brooklyn, New York.