Need To Focus? Supplementing With This May Help, According To Research*
mbg Nutrition & Health Writer
By Eliza Sullivan
mbg Nutrition & Health Writer
Eliza Sullivan is a food writer and SEO editor at mindbodygreen. She writes about food, recipes, and nutrition—among other things. She studied journalism at Boston University.

Expert review by
Ashley Jordan Ferira, Ph.D., RDN
mbg Vice President of Scientific Affairs
Ashley Jordan Ferira, Ph.D., RDN is Vice President of Scientific Affairs at mindbodygreen. She received her bachelor's degree in Biological Basis of Behavior from the University of Pennsylvania and Ph.D. in Foods and Nutrition from the University of Georgia.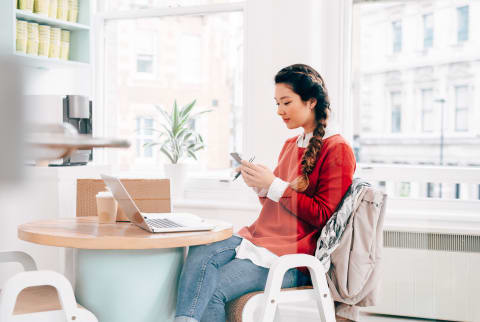 Image by Aila Images / Stocksy
October 7, 2021
The link between mental function and vitamin C concentrations.
In essence, the study found a link between vitamin C status (as measured by serum levels in the blood) and mental vitality. According to the paper, supplementing with vitamin C "effectively increased work motivation and attentional focus and contributed to better performance on cognitive tasks requiring sustained attention."* This was following findings that "inadequate" vitamin C levels were linked to low "mental vitality," meaning suboptimal mental energy and focus.
The results were drawn based on a population-based cross-sectional investigation of 214 healthy young adults, who were first assessed for vitamin C concentrations in the blood versus their mental and physical energy, attention levels, and mood.
Participants who had inadequate vitamin C levels then participated in a double-blind randomized control trial where one group was randomized to receive 500 mg of vitamin C twice a day for four weeks and the other took a placebo. Following the trial, they were able to conclude that those who took a supplement with vitamin C saw a significant increase in attention and work absorption, with some improvement in energy levels and engagement—but no change in mood.*
Other potential benefits of supplementing with vitamin C.
Though it's probably best known for its link to supporting the immune system, vitamin C can also help combat oxidative stress, promote natural collagen production, enhance iron absorption, and more—yes, including promoting healthy cognitive function.* That's one multitasking water-soluble vitamin!
Eliza Sullivan
mbg Nutrition & Health Writer
Eliza Sullivan is an SEO Editor at mindbodygreen, where she writes about food, recipes, and nutrition—among other things. She received a B.S. in journalism and B.A. in english literature with honors from Boston University, and she has previously written for Boston Magazine, TheTaste.ie, and SUITCASE magazine.