How To Make Your Favorite Green Juice At Home Without A Juicer
Assistant Managing Editor
By Abby Moore
Assistant Managing Editor
Abby Moore is an assistant managing editor at mindbodygreen. She earned a B.A. in Journalism from The University of Texas at Austin and has previously written for Tribeza magazine.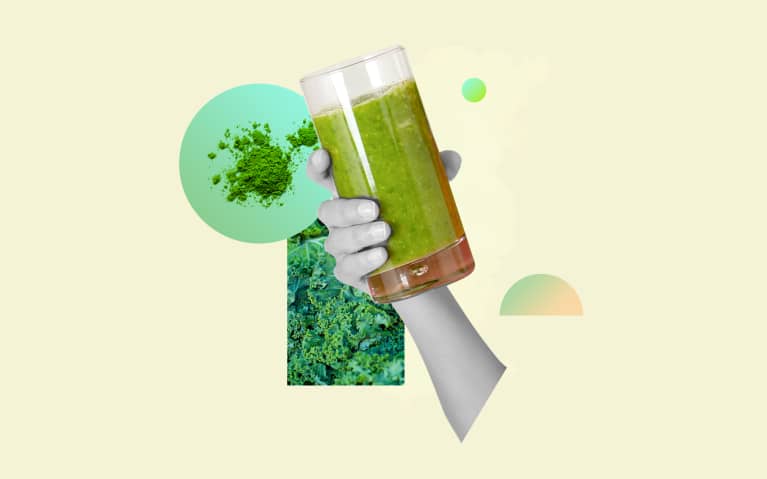 Last updated on July 15, 2020
If you're a green juice fan, you know that the veggie-packed beverage can be a nutrient-rich addition to your morning meal or afternoon snack. You also know that if you grab one at your favorite juice shop regularly it can get a little, well, pricey. But what if you could make one at home that's even more nutritious? And without a juicer?
Good news: You can create a veggie-packed green juice with only two ingredients, and no fancy kitchen equipment.
How to make 2-ingredient green juice.
To make a nutritious and tasty green juice without a juicer, all you need is an organic greens powder and water. Coconut water would also work well in place of plain water or, for a creamier beverage, coconut, almond, or oat milk.
We recommend grabbing a protein shaker to mix your drink most effectively, but any container with a lid will work (Mason jar, water bottle, etc.). You can also throw it in a blender or mixer for a few pulses until combined.
Ingredients
8 oz. water (you can also use coconut water, coconut milk, almond milk, or oat milk)
1 tsp. greens powder (or up to 1 Tbsp., according to taste).
Method
Pour cold liquid in a cup with a lid.
Scoop in 1 teaspoon of greens powder.
Close the lid and shake the container until well mixed.
What are the benefits of this green juice?
With only three steps and two ingredients, this beverage is ideal for anyone looking for a quick and simple nutrition boost. When shopping for a greens powder, look for dark leafy greens such as broccoli and spinach, as well as sea vegetables, like in mbg's organic veggies+ powder. Sea veggies are hard to find but rich in magnesium, calcium, iron, and vitamin C.
The organic veggies+ powder also contains vegan digestive enzymes and probiotic bacteria, which help support healthy digestion*, and unlike some pre-made juices, it's low in sugar (only 2 g per serving). But don't let the lack of sweetener fool you—this powder actually tastes really delicious.
No matter how you make it, this nutrient-rich, two-ingredient juice is super convenient. If you're craving more greens in your life, this could be a great breakfast or midday snack.
If you're used to grabbing a green juice from your favorite spot on the way to work, replicating your own at home can introduce a sense of normalcy to these very different times. If you're not usually a green juice person but are looking for no-fuss, nutritious drink options, it might be a good time to give greens a try.