Close Banner
Advertisement
This ad is displayed using third party content and we do not control its accessibility features.
The 10 Best Vegan Body Lotions For All Skin Types
mbg Beauty Director
By Alexandra Engler
mbg Beauty Director
Alexandra Engler is the beauty director at mindbodygreen and host of the beauty podcast Clean Beauty School. Previously, she's held beauty roles at Harper's Bazaar, Marie Claire, SELF, and Cosmopolitan; her byline has appeared in Esquire, Sports Illustrated, and Allure.com.
We carefully vet all products and services featured on mindbodygreen using our
commerce guidelines.
Our selections are never influenced by the commissions earned from our links.
As more and more people switch to a vegan lifestyle, the beauty industry has taken note of their own plant-based standards.
Certain products are more likely than others to contain animal-derived ingredients (more on that in a second), and luckily body lotion tends to be a safer category.
While natural lotions are often chock-full of plant- and mineral-based ingredients, that doesn't mean it's without risk.
Here, what to know about finding a vegan body lotion and our favorite selects.
What makes a lotion vegan?
Vegan lotions are those that are free of all animal and animal-derived ingredients.
Because it's become so popular, brands are doing their best to help you out along the way and straight-up tell you if they're vegan or not.
And if the product is not, they'll usually inform you what ingredients are animal-derived.
Additionally, vegan products can also be cruelty-free (the term for formulas that are not tested on animals), but that isn't a guarantee, so be sure to check out for both claims when searching for a product.
Regardless, it never hurts to go over ingredients to look out for, in the event the brand doesn't make it clear for you:
Beeswax: A sometimes ingredient in balms (you may also see it listed as cera alba on the label), as beeswax coats the skin in moisture and adds a nice occlusive shine. However, it's not as common in lighter lotions. It's a natural wax produced by bees to make their honeycomb—so, alas, it's not vegan.
Lanolin: Similar to beeswax, this waxy occlusive is sometimes found in balms, which can help heal the cracked and dried skin. It's a fine and safe ingredient; however, lanolin is actually a yellow fat that comes from sheep's wool1.
Honey: Honey is also (usually) not part of a vegan lifestyle. It's a wonderful humectant (which means it can draw water from the environment into your skin), so it is found in many skin care ingredients including body products.
Pearl powder: If your body lotion comes with a bit of shimmer, be sure to look for where that sparkly finish comes from. Pearl powder also contains amino acids, meaning it can help your skin's natural collagen. But, of course, it's made from ground-up pearls.
mindbodygreen postbiotic body lotion
A vegan and cruelty-free body lotion so thoroughly formulated and thoughtfully minded that it addresses every aspect of your skin barrier function—and as a result, has some pretty impressive aesthetic benefits, too. The hydrating base blends together aloe, shea butter, moringa seed oil, oat oil, and coconut oil to offer a robust variety of conditioning and moisturizing properties. The innovative and highly selective pre- and postbiotic combo nurtures your skin microbiome, which improves epidermal framework and soothes inflammation. Plus, potent antioxidants (in the form of coenzyme Q10 and a fruit complex) fight free radicals. Your skin will look brighter, healthier—and feel better.
postbiotic body lotion, mindbodygreen ($30)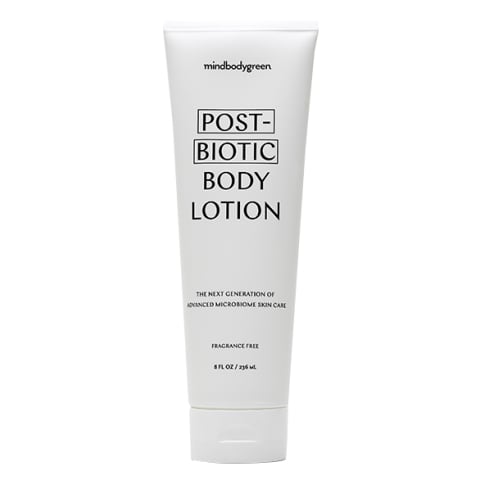 mindbodygreen
Kate McLeod Daily Stone
This texturally innovative option starts out as a solid sphere, which melts into a silky oil-balm once you apply it to body heat. It's a simple and luxurious blend of cocoa butter, sweet almond oil, apricot kernel oil, avocado oil, and coconut oil. The daily stone is then topped with a barely there warm floral scent of neroli, rose, and frankincense. But if scent isn't your thing, they also have plenty of fragrance-free varieties.
Daily Stone, Kate McLeod ($38)
Kate McLeod
Ursa Major Perfect Zen Body Lotion
A lighter body lotion that combines aloe vera with a trio of botanical oils and extracts. There's sunflower seed oil for a conditioning effect, meadowfoam seed oil for softening, and rosemary extract for antioxidants. The scent is a cocktail of essential oils (such as sandalwood, lavender, bergamot, and sweet orange) that inspires and delights.
Perfect Zen Body Lotion, Ursa Major ($28)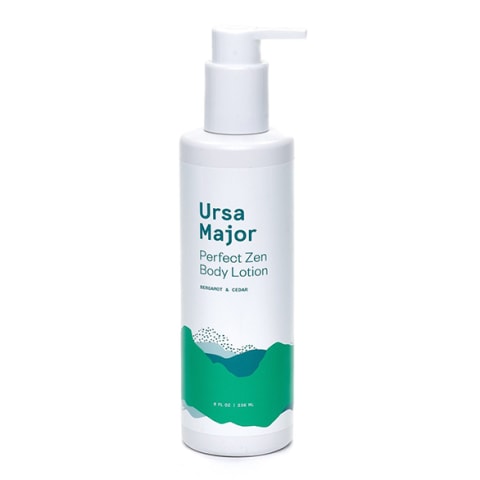 Ursa Major
Naturopathica Sicilian Bergamot Lotion
A very high-end lotion that uses aloe as the hydrating mainstay (read: very lightweight), which is then cushioned in sunflower seed oil and other extracts. But what makes this so special is the sophisticated and sparkling scent you'll simply love applying every morning: Italian bergamot, Valencia orange, clementine, and pink grapefruit.
Sicilian Bergamot Lotion, Naturopathica ($36)
Naturopathica
Alo Superfruit Body Lotion
This blend boasts loads of antioxidants, those free-radical fighters skin care and wellness enthusiasts can't get enough of. Specifically, those brightening ingredients come from argan oil, avocado oil, aloe vera, meadowfoam, and more. A fun bonus: It's made with arnica to hydrate skin and de-stress muscles.
Superfruit Body Lotion, Alo ($28)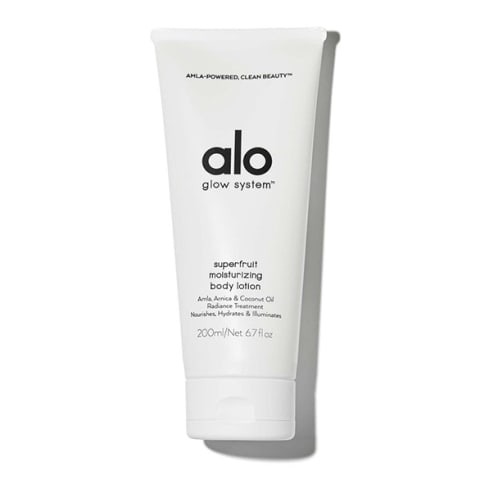 Alo
Weleda Skin Food Nourishing Body Lotion
The cult of Weleda Skin Food is well known. The original is known for its rich blend of botanicals that simply sink into skin, leaving behind a nourishing trail of soothing ingredients. But the body lotion? That's a touch lighter and more spreadable, for a larger surface area—but still packed with the skin-healthy ingredients that are so beloved in the collection.
Skin Food Nourishing Body Lotion, Weleda ($7.99)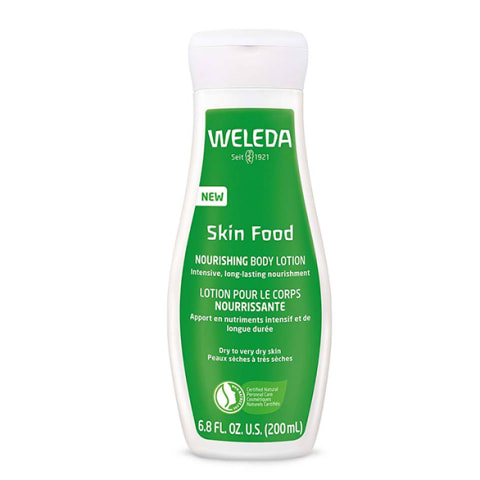 Weleda Skin Food
Soapbox Gentle Oat Milk & Almond Body Lotion
A calming number that contains oat milk and almond oil—you know, as the name suggests. The two join forces to soothe irritated skin, condition the barrier, and deeply hydrate the skin. And for those who long for a warm, creamy, gourmand aroma (you know who you are), this blend is just comforting enough for all-day wear without being overpowering. Think of this as a cashmere blanket.
Gentle Oat Milk & Almond Body Lotion, Soapbox ($7.99)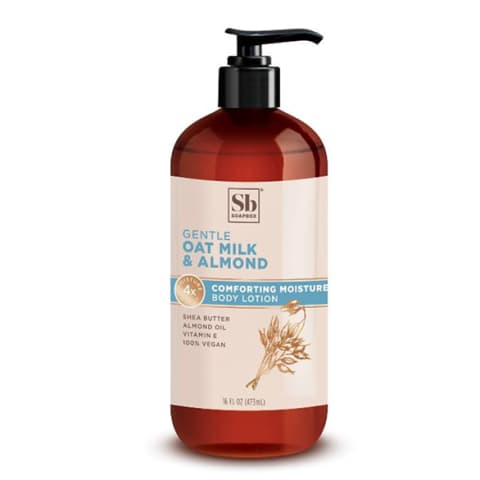 Soapbox
True Botanicals Nourishing Organic Body Lotion
A soothing mix of antioxidant superstars: The aquas base is green and white tea, famous for their polyphenol content. Polyphenols are powerful free-radical fighters and can help tend to mature skin. Additionally, it has green tea oil and shea butter (again, which come with more antioxidants). These provide the hydrating lipid components to the blend.
Nourishing Organic Body Lotion, True Botanicals ($38)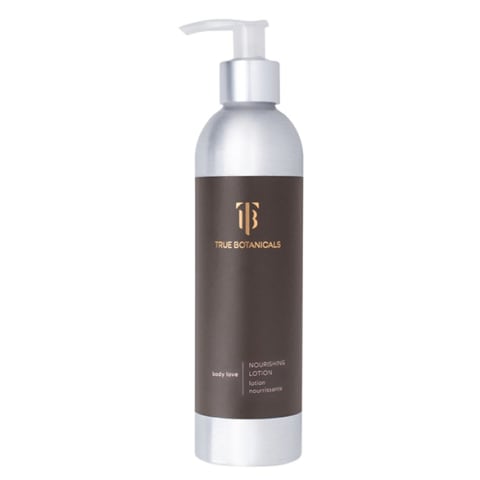 True Botanicals
Alaffia Everyday Coconut Body Lotion
This all-natural number features fair trade virgin coconut oil as the star ingredient. Coconut oil is great for the body, as it provides ample slip when applying. Then it helps create a hydrating barrier to keep your skin moisturized all day. Additionally, it contains coffee berry, a powerful botanical known for its skin-replenishing qualities.
Everyday Coconut Body Lotion, Alaffia ($9.79)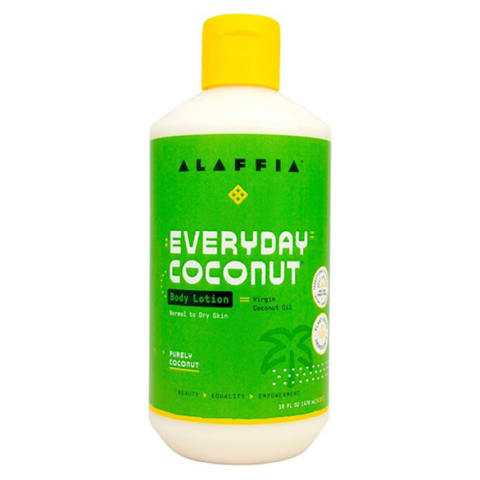 Alaffia
Hey Humans Body Lotion
This silky light formula contains shea butter, vitamin E, and aloe vera to soften the epidermis and hydrate deeply. We also love what the formula is housed in: This aluminum bottle is infinitely recyclable, meaning you're reducing waste (fun fact: nearly 75% of all aluminum ever produced is still in use today!).
Body Lotion, Hey Humans ($5.99)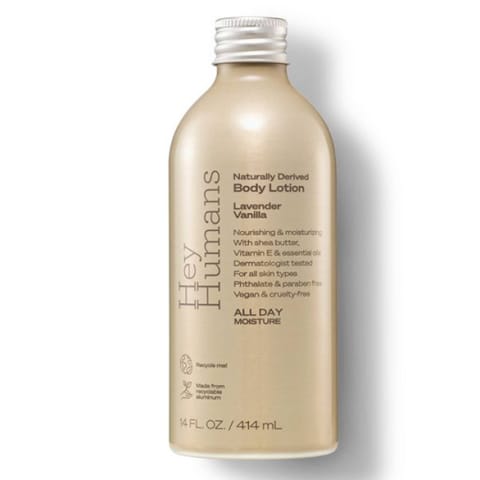 Hey Humans
mbg's review process
At mbg, high standards are earned—and there are no shortcuts. Our beauty editors stay up to date on the latest ingredient research and innovation.
It's a dynamic, continuously evolving space, and it's important we look into the science so we can make informed choices about which formulas earn our stamp of approval (figuratively speaking).
Our high standards also come from testing products—many, many products. Our editors and writers rigorously test and research the products featured in our roundups to offer you the best, most informed recommendations.
When we write reviews, you can trust we spend quality time with the formulas: We don't simply rave about products we've slathered on the back of our hand. We endorse products we've tried and loved.
Learn more about our testing process and clean beauty standards here.
Alexandra Engler
mbg Beauty Director
Alexandra Engler is the beauty director at mindbodygreen and host of the beauty podcast Clean Beauty School. Previously, she's held beauty roles at Harper's Bazaar, Marie Claire, SELF, and Cosmopolitan; her byline has appeared in Esquire, Sports Illustrated, and Allure.com. In her current role, she covers all the latest trends in the clean and natural beauty space, as well as lifestyle topics, such as travel. She received her journalism degree from Marquette University, graduating first in the department. She lives in Brooklyn, New York.