7 Things To Do With Leftover Tahini That Aren't Hummus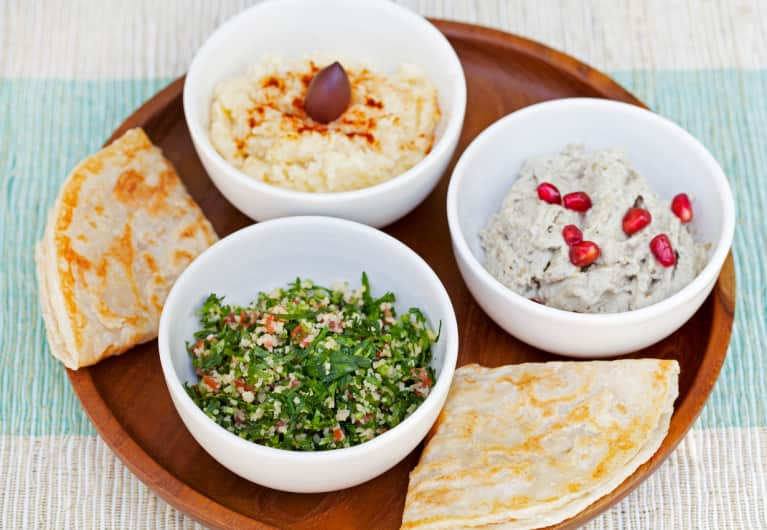 Even though making your own hummus isn't necessarily easier, it's definitely tastier. And fresher. Oh, and you'll save money, since making hummus is easy and cheap.
Check out how to make authentic, Mediterranean hummus here.
Here's an extra tip: If you really don't have the time or foresight to soak the dried chickpeas overnight, using a can is just fine. I tend to stay away from the canned stuff due to the high sodium content. But in case you need a quick and dirty hummus, the canned stuff is just fine.
This is the deal: I've made hummus about a zillion times for my family (give or take). But I always seem to have leftover tahini. In a 16-ounce jar of hummus, I only use about 4 heaping tablespoons to make my hummus, which will feed us for days. Like peanut butter, tahini stays fresh for weeks (in the cupboard) or even months (in the fridge). So there's plenty of opportunities to make fresh hummus in the future.
But if you're sick of eating hummus (blasphemy!), here are my favorite things to do with tahini:
Simply swap out the chickpeas in your hummus and replace it with a whole, roasted eggplant. Simply pop a medium-to-large eggplant in the oven and cook on 375°F for about 40 minutes, turning a couple of times.
Once the eggplant is deflated (you'll be able to tell), carefully peel the skin and place the warm fleshy bits in a food processor. The rest of the "hummus" recipe remains exactly the same. Voilà! Baba ganoush is served.
2. Try this simple breakfast combo.
A healthy breakfast in the Middle East includes swirling together a tablespoon of blackstrap molasses (found at your favorite local health food store or Whole Foods) and a tablespoon tahini and serving with warm lavash bread. Wash it down with a hearty chai tea in the winter to keep your energy up and your belly warm.
3. Mix up a salad dressing.
For a twist, concoct your own salad dressing by adding two parts extra-virgin olive oil to one part tahini and one part fresh lemon juice. Add a crushed garlic clove and salt. Mix thoroughly and pour over your favorite green or bean salad.
This is for the slightly adventuresome, but I loved it when I made it. Basically, take a good vanilla or chocolate cake recipe and add about 5 tablespoons of tahini to it. The tahini adds a rich, complex nutty flavor to the cake.
I usually make my tahini cake with a healthy pinch of vanilla, but this recipe has me second-guessing the age-old dilemma of vanilla versus chocolate!
5. Stir up a sauce for fish or meat.
In Sinai, I once ordered a grilled fish that came with a side sauce. Expecting a typical lemon sauce, I dunked my fish in it. I was surprised to find it to be a light tahini mixture.
After a bit of questioning and then playing, I made a similar simple fish sauce. Mix two parts tahini to one part lemon juice, one part olive oil, and one part water. Add a dash of paprika (I prefer smoked paprika), and salt. For an extra kick, add some cayenne pepper. Stir.
The consistency should be rather smooth and thin. Drizzle over your favorite white fish for an entirely new flavor (this is especially helpful for those of you who don't like that "fish taste" with fish—whatever that means!).
6. Move over, peanut butter.
Use in your favorite PB&J sandwich, making it a T&J instead. Even better, make it a T&MH (tahini and Manuka honey) for a real powerhouse sandwich. I add layers of sliced bananas to mine for a filling lunch.
7. Dip into a tahini-yogurt sauce
Snazz up your grilled veggies with a tahini-yogurt sauce. Mix ½ cup of Greek yogurt with 3 tablespoons of tahini, a dash of lemon juice, a clove of crushed garlic, and a sprinkling of salt.
After your veggies come out of the oven, serve with the tahini-yogurt mixture as a dipping sauce to make your guests go gaga. I use this with parsnips, Brussels sprouts, cauliflower, and pretty much any other vegetable I pop in the oven.