A Designers' Guide To Shopping (And Selling) Secondhand Furniture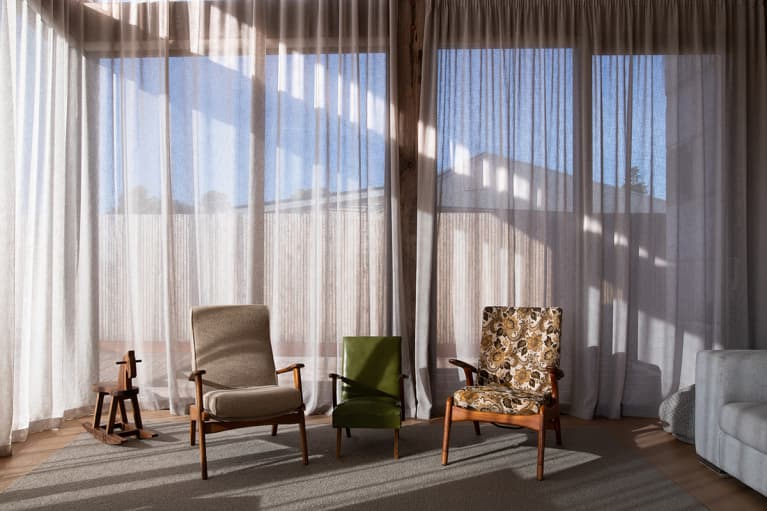 Our editors have independently chosen the products listed on this page. If you purchase something mentioned in this article, we may
earn a small commission
.
With secondhand fashion taking off, it only makes sense that the used-furniture industry is following suit with rapid growth. Looking to fill your homes with secondhand steals? These expert tips can help guide your shopping and selling.
Reasons to shop secondhand:
1. It's better for the environment.
2. It can be more affordable.
"Shopping secondhand is all about the thrill of the chase," Joanna Thornhill, interior stylist and author of the upcoming book The New Mindful Home: And How To Make It Yours, tells mbg.
"Our brains emit dopamine when we anticipate a reward, so even an ultimately unfruitful hunt (or one where we see lots of lovely things but don't actually purchase any) is still eminently enjoyable."
While there's something to be said for the in-person experience, online retailers often sell a wider variety of pieces. Here are a few to look into, for every budget and wish list:
Facebook Marketplace is a buying and selling platform that has everything from sofas and love seats to appliances. It's easy to filter your search by your location and budget, and there's even a freebie section filled with stuff people just want off their hands.
Hey, it's a classic for a reason! "eBay is also a good place to look," Julia Green and Armelle Habib of the upcoming book Vivid: Style In Color tell mbg. Though they add that since it's such a popular platform, finding a real gem can take some patience.
Chairish adds over 2,000 vintage and used home furnishings and artworks to its resale platform daily. Everything listed on their website and app is screened by a team of curators for quality. They sell pieces at a variety of price points, and listers get 70% of the revenue from each sale.
Apt Deco's resale platform buys and sells new and lightly used furniture from modern retailers like West Elm, Crate & Barrel, Restoration Hardware, and CB2. Once a purchase is approved, their team picks up and delivers the piece, taking some headache out of the process. They currently serve New York, New Jersey, Pennsylvania, Connecticut, and the San Francisco Bay Area.
If you're looking for one-of-a-kind treasures (and don't mind shelling out for them), 1st Dibs is a site to bookmark. They have a unique selection of vintage and antique furniture and art from a network of vetted sellers around the world.
Designers' top tips for buying used furniture:
1. Start broad, then narrow down your search.
"It can pay off to avoid searching for terms like 'vintage' when seeking out goods online," says Thornhill. "If I'm searching for vintage or antique furniture on eBay, for example, I tend to type in a broader term like 'dining table' and then filter to only show me 'used' items."
"Always do a bit of digging if someone is selling something as a genuine designer label," Thornhill recommends, "and ask for proof such as a certification."
3.
Check for any damages, as they should be factored into the cost.
Whether you're shopping online or in person, you should always inspect a piece closely for any damages. "If it's superficial, factor that into the final price," Thornhill recommends. "If it's something that would be difficult or costly for you to fix, it might be best to walk away."
If you do plan on restoring an item, Green and Habib say to look into how much that restoration will cost before you make a purchase that will be more expensive than anticipated in the long run.
4.
Buy from a source you trust—especially when shopping vintage or antique.
"The market can be rife with 'rip-offs,' so authenticity is key," Green and Habib say. "Sometimes it's best to source vintage from people that specialize in it to save some legwork and to avoid being duped with replicas—especially if you are time-poor."
5.
Don't get something just because it's cheap.
A valuable tip no matter what it is you're buying: Don't do it just for the price tag! If you do, "you will end up with a house full of items you bought for the wrong reason," Green and Habib say.
Designers' top tips for selling used furniture:
1.
Remember: Image is everything.
"Try to put your best foot forward with aspirational imagery," Green and Habib say. Staging your pieces in a neutral, well-lit area will likely give you the best chance of success.
If you're listing on a site that lets you make your own description, Green and Habib recommend leading with the important information first.
"Always add keywords in the first sentence of a description," they say, "especially if the piece is a brand with history or collectible, so people will find it easily."
Buying and selling used furniture can be an affordable way to keep unique pieces in circulation and have some fun doing it. Happy browsing!
Want to turn your passion for wellbeing into a fulfilling career? Become a Certified Health Coach! Learn more here.