The 9 Best Unscented Body Lotions For Tattoos, For Proper After Care
mbg Beauty Director
By Alexandra Engler
mbg Beauty Director
Alexandra Engler is the beauty director at mindbodygreen and host of the beauty podcast Clean Beauty School. Previously, she's held beauty roles at Harper's Bazaar, Marie Claire, SELF, and Cosmopolitan; her byline has appeared in Esquire, Sports Illustrated, and Allure.com.
February 6, 2022
We carefully vet all products and services featured on mindbodygreen using our
commerce guidelines.
Our selections are never influenced by the commissions earned from our links.
Getting ready to get inked? Considering it's a (potentially) lifelong bodily adornment, you might be putting extra attention into every single choice you make along the way. Of course, that starts with the major ones: location, design, artist, technique, and so on. But additional choices that are not to be overlooked are how you tend to your new tattoo post-session. Yes, aftercare of your tattoo can be the difference between a beautiful, well-crafted design and one that will call for some much-needed touch-ups faster than expected.
The most important aspect of aftercare is simply listening to your artist and their advice. Because aftercare can differ slightly depending on inks, colors, location, and size, they'll have more personalized advice for you—including how long to keep the bandage on, when you can wash it, and whether it may require regular tuneups.
Additionally, your artist will likely tell you to regularly apply a moisturizer to keep the freshly inked skin healthy and support the healing process. If you're looking for one to use, here are some solid options.
What to look for & avoid in a lotion for tattoos.
Of course, you can ask your professional if they have any recommendations. But if you're looking to do some research yourself, here are the most important things to look for in a lotion:
Sensitive-skin safe. Always use products that are gently formulated with soothing ingredients, as the skin may experience increased sensitivity in the area. A few ingredients to look for are oat extracts, green tea, and calendula.
Fragrance-free. Much like the above point, your skin will be particularly reactive–so it's best to avoid any perfumed products for the time being.
Avoid exfoliating ingredients. AHAs, BHAs, and retinols are popular body care additions of late, as they help tone the skin. However, they can also increase cell turnover—which may lead to your color fading faster. Best to avoid while your new ink is settling in.
Look for an occlusive formula. While many of the popularly recommended options contain mineral oils, you don't have to use petrochemicals if you don't want to. Instead, butters and thicker botanical oils can create a protective and comforting barrier around the skin.
Healing antioxidants. Antioxidants protect the skin from free radical damage and inflammation. Look for soothing varieties like vitamin E, ubiquinol, and polyphenols.
Sunscreen. If your tattoo is exposed to UV rays, always wear SPF to protect the skin. Burns on freshly inked skin can result in peeling and flaking.
Project Woo after/care Moisturizer
The famed tattoo artist Doctor Woo (whose work graces the skin of many celebrities and notables) developed a skin care line a few years ago, including this aftercare number. The calming treatment contains natural wonder ingredients like vitamin E, shea butter, chamomile, and sesame seed oil. But the star of the show is a very cool water-breaking technology that encapsulates and removes excess water while maintaining optimal hydration of the skin.
Aftercare Moisturizer, Project Woo ($25)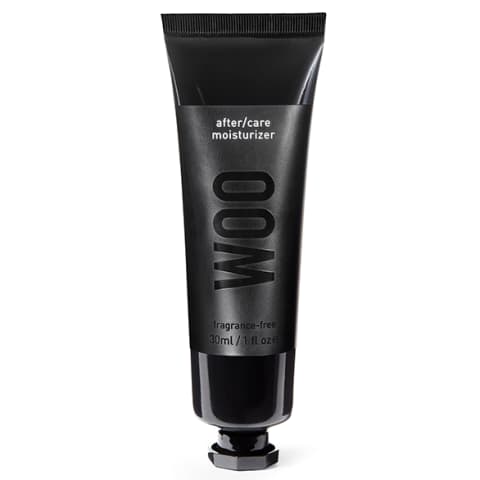 Project Woo
Tattoo Goo The Original Aftercare Salve
A natural calm that comes recommended by derms and tattoo artists alike, this contains several ingredients that help and encourage skin to heal, including vitamin E, sunflower oil, rosemary extract, and wheat germ oil. It also contains olive oil, beeswax, and cocoa butter to give it that thicker ointment-like texture.
The Original Aftercare Salve, Tattoo Goo ($9)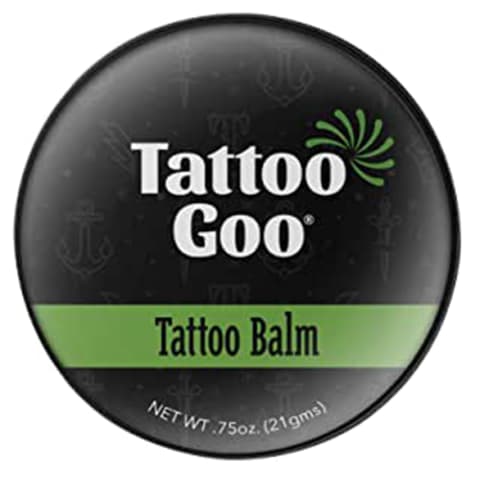 Tattoo Goo
mindbodygreen postbiotic body lotion
This stacked formula supports skin barrier function and epidermal framework reconstruction with its advanced biotic ingredients (notably the pre- and postbiotics). What does this mean? It's particularly great at soothing inflammation and encouraging healthy skin restoration. The rest of the formula is impressive for its skin-calming abilities too: ubiquinol, shea butter, coconut oil, oat oil, and more.
postbiotic body lotion, mindbodygreen ($30)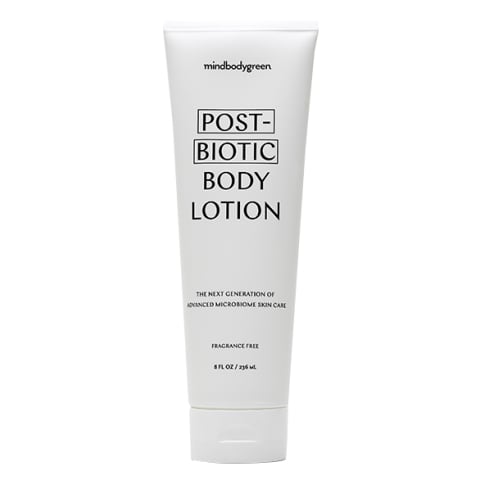 mindbodygreen
Shea Moisture 100% Extra Virgin Coconut Oil
Coconut oil is a simple, effective, and multiuse option that many people already have around the house. The oil is naturally hydrating (thanks to its water content), occlusive, and contains fatty acids, vitamins, and minerals that are able to nourish and restore skin health.
100% Extra Virgin Coconut Oil, Shea Moisture ($15.99)
Shea Moisture
Josie Maran Intensive Daily Repair Body Butter
Here are some good buzzwords to look for: repair, restore, protect. All of these indicate the formula was designed to bolster delicate skin, and freshly tattooed skin can certainly fall under that category. This uses a blend of soothing base aloe vera and 100% pure argan oil to hydrate and condition—additionally it contains medical-grade colloidal oat, which is an effective healing active for irritated skin.
Intensive Daily Repair Body Butter, Josie Maran ($46)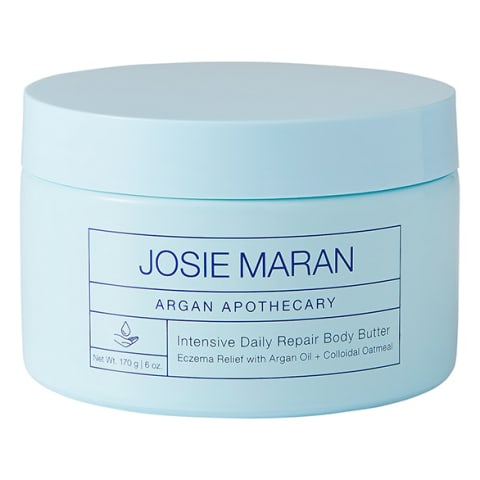 Josie Maran
Doctor Rogers Restore Healing Balm
This little number not only makes the rounds as an aftercare ointment, but it comes loaded with high praise from makeup artists, derms, and other beauty-adjacent professionals. We suspect it has something to do with its simple but effective ingredient list: castor oil, glycerin, and hydrogenated castor oil. That's it. And a not-so-small feat. It outperforms other leading petroleum-based ointments in clinical trials.
Restore Healing Balm, Doctor Rogers ($30)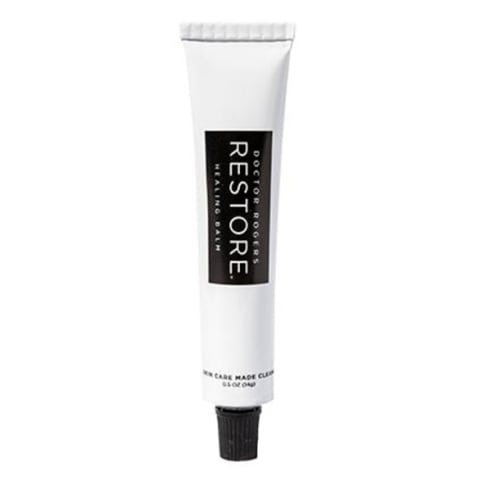 Doctor Rogers
SkinFix Eczema+ Extra Strength Body Cream
I often give the advice that if you're looking for sensitive-skin-safe cream, those that are formulated to deal with eczema will be an easy indicator that it will work for you. This body lotion helps calm skin and even reduces tightness and itchiness, two common complaints associated with newly tattooed skin.
Eczema+ Extra Strength Body Cream, SkinFix ($38)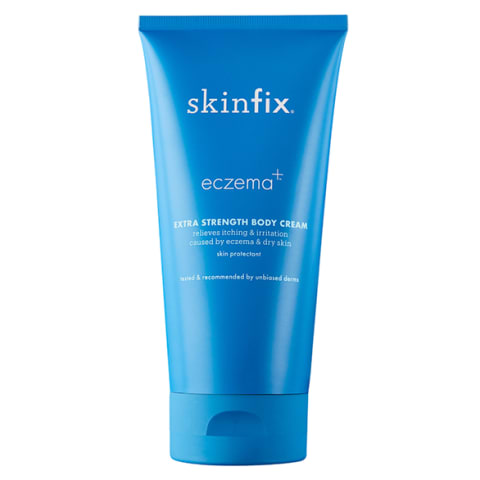 SkinFix
Pipette Mineral Sunscreen SPF 50
We'd be remiss not to include a few sunscreens on this list in the event you need a new option to cover your design for a day in the rays. This non-nano zinc oxide is gentle enough for babies, so we'd call it safe enough for ink too. This contains a host of hydrating ingredients, too, like plant-derived squalane, fatty acids, and antioxidants.
Mineral Sunscreen SPF 50, Pipette ($15)
Pipette
Suntegrity Unscented Natural Mineral Sunscreen
This is a skin care professional favorite. The mineral formula not only protects skin from the harmful UV rays, but it has the added benefit of calming inflammation. Additionally, this uses organic actives like green tea extract, cucumber extract, and pomegranate seed oil.
Unscented Natural Mineral Sunscreen, Suntegrity ($24)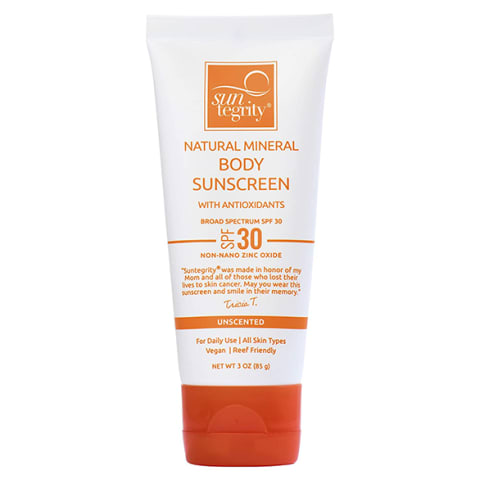 Suntegrity
mbg's review process
At mbg, high standards are earned—and there are no shortcuts. Our beauty editors stay up to date on the latest ingredient research and innovation. It's a dynamic, continuously evolving space, and it's important we look into the science so we can make informed choices about which formulas earn our stamp of approval (figuratively speaking).
Our high standards also come from testing products—many, many products. Our editors and writers rigorously test and research the products featured in our roundups to offer you the best, most informed recommendations. When we write reviews, you can trust we spend quality time with the formulas: We don't simply rave about products we've slathered on the back of our hand. We endorse products we've tried and loved.
Learn more about our testing process and clean beauty standards here.
Alexandra Engler
mbg Beauty Director
Alexandra Engler is the beauty director at mindbodygreen and host of the beauty podcast Clean Beauty School. Previously, she's held beauty roles at Harper's Bazaar, Marie Claire, SELF, and Cosmopolitan; her byline has appeared in Esquire, Sports Illustrated, and Allure.com. In her current role, she covers all the latest trends in the clean and natural beauty space, as well as lifestyle topics, such as travel. She received her journalism degree from Marquette University, graduating first in the department. She lives in Brooklyn, New York.