TikTok's Favorite Cowboy Caviar Gets An Extra Boost Of Hidden Veggies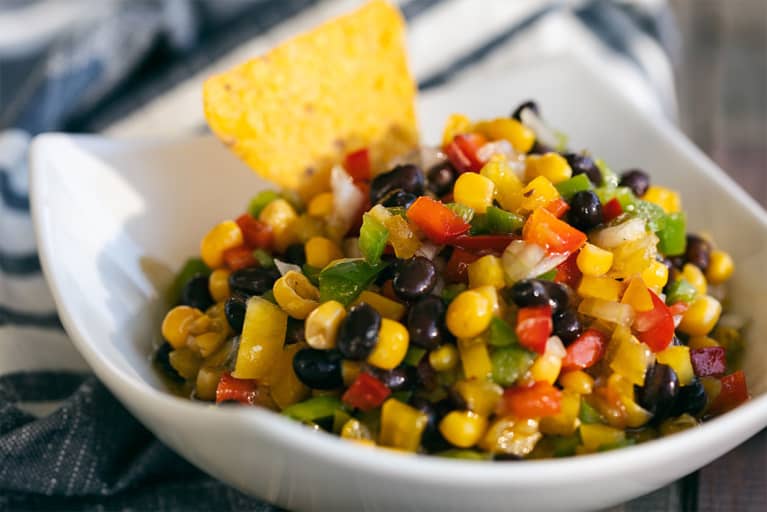 Our editors have independently chosen the products listed on this page. If you purchase something mentioned in this article, we may
earn a small commission
.
Cooking slumps are entirely normal, and sometimes mustering the effort to create new and exciting meals can be…anything but. We know that a balanced dish should contain vegetables of some form to provide our bodies with the essential vitamins and minerals it needs to thrive, and thankfully along with the warmer weather comes an onslaught of recipes featuring fresh and seasonal produce to nourish you from the inside out.
TikTok has become a place to turn for cooking inspiration, and food influencer @brialem recently shared a recipe for Cowboy Caviar that swiftly went viral. While the concept is hardly an original one, this bright and colorful dish includes an array of vitamin-rich veggies, plant-based protein, and even a healthy serving of fiber. With bell pepper, onion, and two different types of beans making up the base of this dish, you can easily customize your Cowboy Caviar to highlight your personal favorite veggies and create a flavor palate unique to your taste. And...that's exactly what I did.
To enhance this recipe even further, I added a scoop of mbg's organic veggies+ for a practically undetectable sprinkle of sea vegetables, leafy greens, and other antioxidant-rich ingredients—not to mention prebiotics and probiotics that support healthy digestion and promote a balanced gut microbiome.* Even the most diverse diet can always use that little extra boost, and this vegan superfood powder will take any meal to the next level so you know you're treating your body with the care it deserves.
I whipped up this recipe last night, and my friends and family can attest: I haven't stopped talking about it since. I went a little off-road and included avocado to add some extra healthy fats to my dip, and I highly recommend doing the same!
It's safe to say this dish is going to be a colorful staple in my summer menu.
Cowboy Caviar With organic veggies+
1 red bell pepper
1 orange bell pepper
2 jalapeños
½ red onion
1½ cups corn
1 cup black olives
1 can black beans
1 can pinto beans
1 container of feta
1 scoop organic veggies+
½ cup olive oil
¼ cup white wine vinegar
2 tbsp spicy honey
2 tbsp taco seasoning
Salt
Pepper
2 tbsp sugar
Finely chop the vegetables, and add them to a large bowl.
Drain and rinse the beans and corn, and add those as well.
Pour in one container of feta cheese, and mix thoroughly.
Combine dressing in a separate jar, and shake to mix.
Pour over the mixture, and toss.
Sprinkle 1 scoop of organic veggies+ over the top of the salad, and toss to combine.
Note: Leftovers store well in a sealed container in the refrigerator.