This Supplement Is Like A 5-Course Meal For Your Gut Microbiome

mbg Sustainability + Health Director
By Emma Loewe
mbg Sustainability + Health Director
Emma Loewe is the Senior Sustainability Editor at mindbodygreen and the author of "Return to Nature: The New Science of How Natural Landscapes Restore Us."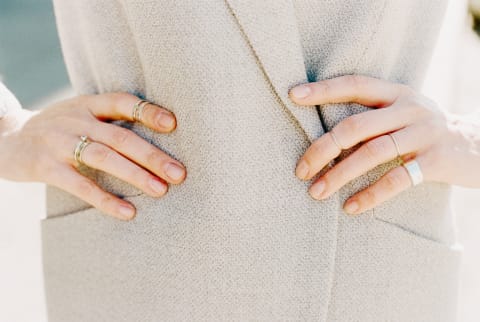 Image by Lyuba Burakova / Stocksy
August 23, 2023
Every time you eat a vegetable, your gut thanks you for it. The fiber, complex carbohydrates, and polyphenols in plants feed our good gut bacteria and assist with digestion. And the wider the variety of plant compounds you consume, the better for increasing your microbial diversity.
For the days when you don't have the time, patience, or ingredients to fill your salad bowl to the brim with plants, mindbodygreen's organic veggies+ supplement is the next best thing.
While it can't replace your daily serving of whole fruits and vegetables, the USDA-certified organic greens powder does provide a good source of plant fiber and phytonutrients, plus added prebiotic fibers, digestive enzymes, and probiotic strains. The well-rounded formula also contains less-consumed (but super nutrient-rich) ingredients like kelp and algae and a dash of antioxidant-rich herbs turmeric and ginger for good measure.*
The result is a feast for your gut: organic veggies+ promotes a healthy microbiome, aids digestion and nutrient absorption, and supports energy1 by extension.*
And unlike other greens powders that have a prohibitively plant-y flavor, this one has a more neutral taste. It blends seamlessly into soups, stews, and smoothies (though many people opt to just drink it plain with water). Here are some recipes that allow the earthy powerhouse to shine:
Here's what people are saying about how veggies+ has changed their gut health for the better:*
Love this product!
"I absolutely love organic veggies+! I have been putting it in my kale/berry-based smoothie every morning and I have noticed an increase in the regulation of my bowel movements (which is huge for me). Life-changing stuff!"*
Can't be without!
"I have been using this for six months, and I love the way it has made me feel. I have more energy, and none of the bloating that I used to get. I put a scoop in my smoothie every morning and I'm good for the rest of the day!"*
I feel so nourished every time I take this
"I feel so nourished every time I take this!! What I love about it is that it's such a unique blend of superfoods that it cannot be found in any other green powder blend."
Actually tastes good!
"I've tested out many brands, and most greens powders have overpowered the taste of my morning smoothie or have a rather pungent smell. This veggies powder didn't change the flavor of my favorite smoothie recipe, and I loved knowing how many sea veggies and antioxidants I was getting. One unexpected bonus was an energy boost in the mornings. There were some mornings that it even replaced my second cup of coffee!"*
My stomach is less bloated & I feel great after meals
"I'm not a supplements person, but when I started noticing bloating becoming the new norm in my life, I found this product. I've been using it in combination with the mindbodygreen probiotic+ for 3-4 months, and everything has literally changed. My stomach is less bloated. I feel great after meals. I do eat clean and drink lots of water to help boost the benefits. But, my clean diet and exercise alone didn't get me back to how I used to feel pre-gut issues."*
The takeaway
If you are pregnant, breastfeeding, or taking medications, consult with your doctor before starting a supplement routine. It is always optimal to consult with a health care provider when considering what supplements are right for you.
Want to turn your passion for wellbeing into a fulfilling career? Become a Certified Health Coach! Learn more here.