This Is The Tool Kit Every Anxious Traveler Needs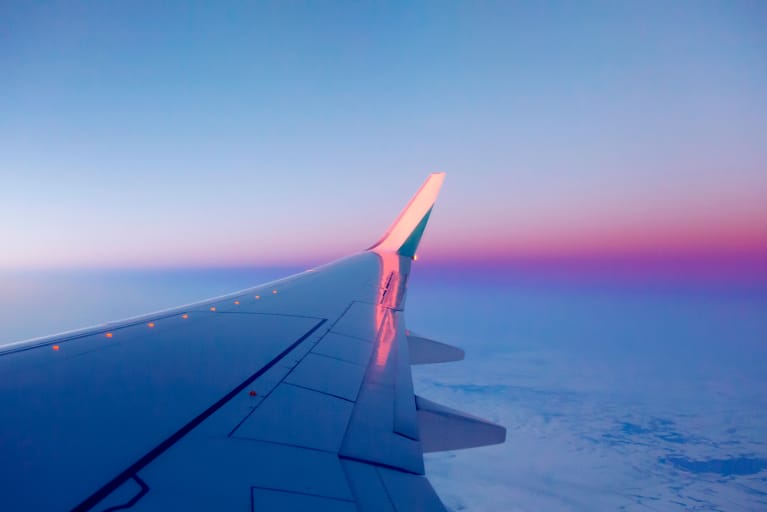 To be honest, there was a period of time when I avoided flying altogether because of the high levels of anxiety it would produce. As someone who has direct experience with anxiety and panic attacks firsthand, I've tried everything, and it's safe to say that some things work better than others! In fact, there are few things that I swear by to help lower my anxiety when I travel. I call it my "traveling tool kit," and I never go long distances without it because these six things, however mundane they may seem, really do ease my discomfort. Over time, I started recommending elements of this kit to my coaching clients who have reported that making the extra effort before a trip goes a long way.
These days I'm on a plane every three months if not more. Here is what I have found useful to take my mind off the catastrophic thinking and back into a positive state of mind:
I like juniper and lavender. I make sure to have at least one packed in my carry-on so I can waft it in flight. I also use oils at night before I go to sleep. I rub juniper on the soles of my feet, lavender on my temples, and actually apply it to my pillowcase so they can help me fall and stay asleep. (If you drop too much on your pillowcase, just flip it over.) I find implementing oils as a nightly routine helps calm and center me while I'm traveling. Not a fan of essential oils? Try smelling salts.
2. Light snacks to eat on the plane.
One of the biggest things that makes me nervous about traveling is knowing when I'll eat. I've found a few high-quality bars and bring a box in my luggage, as well as a few in my carry on, just in case I land at a weird time or my stomach feels unsettled from eating off-routine. My current favorite is RxBars. If you're not a bar person, pack fruit, nuts, trail mix, crackers, nut butters—whatever you love to eat. Your belly will thank you.
3. Playlists and meditations I download before traveling.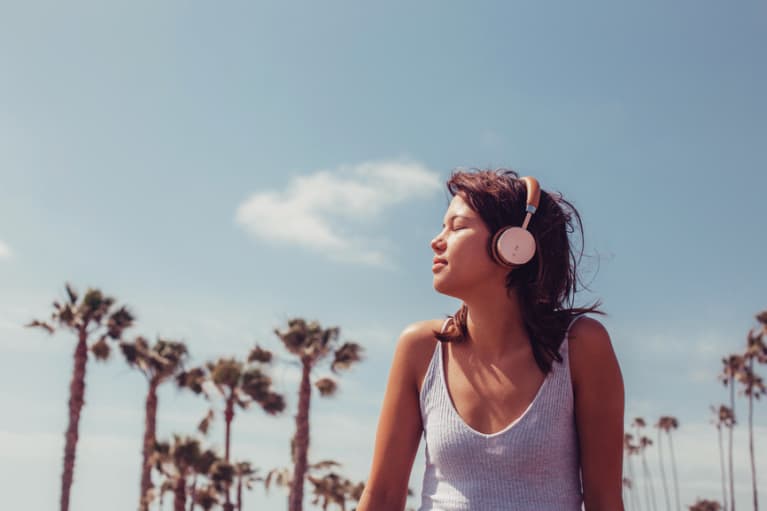 I make sure these playlists or meditations are ones I've used before to get my mind quiet and relaxed. When you listen to specific songs or meditations and implement them as a practice, you create an anchor for how you feel when you hear them no matter where you are. I listen to these on plane rides as well as in my nightly ritual.
4. A great fiction book that is uplifting, funny, and engaging.
Getting lost in a book can pretty easily take you out of an anxious mindset. You don't want anything too heavy, as it may trigger anxious thoughts, or a book that isn't captivating because your mind will inevitably wander. Ask for recommendations from friends of a book they just couldn't put down. (If you like nonfiction, here are some recommendations!)
Download a brain game or simply a game you love to play. There are so many to choose from, and they can distract you in healthy ways. When you're anxious you start the cycle of "what if"; I find that brain games can help shift the focus, which is what we want when dealing with anxiety.
6. A self-inquiry practice.
Lastly, the hardest of the tips is to ask yourself before you go: "What is the worst possible outcome?" Sometimes when you say out loud, to yourself, the thing you are very most afraid of, it takes the power away from that thing. This exercise can be triggering if done in an unsupportive environment, so I suggest you do it a few days before your trip. If it helps at first, you can journal it too. Inquiry takes some training and getting used to, but eventually you'll be able to engage it whenever and wherever you need. It works because when you try to push anxious thoughts away, they come back tenfold. By inviting the anxiety to come and see what it will do, you can finally let go.
In my experience, anxiety is an inner battle. I'm on a battlefield, and I'm at war with myself. Once I took a good look at my triggers, I was able to implement a treatment plan that was right for me. I've taken a holistic approach to managing my anxiety disorder, with a team of healers. Not everyone's triggers look the same; spend time with yourself and journal when you notice a shift.
If you have anxiety in every part of your life, consider these tried-and-true healthy tips to calm your nerves.