A DIY Window Cleaner Recipe That's Easy, Breezy & Streak-Free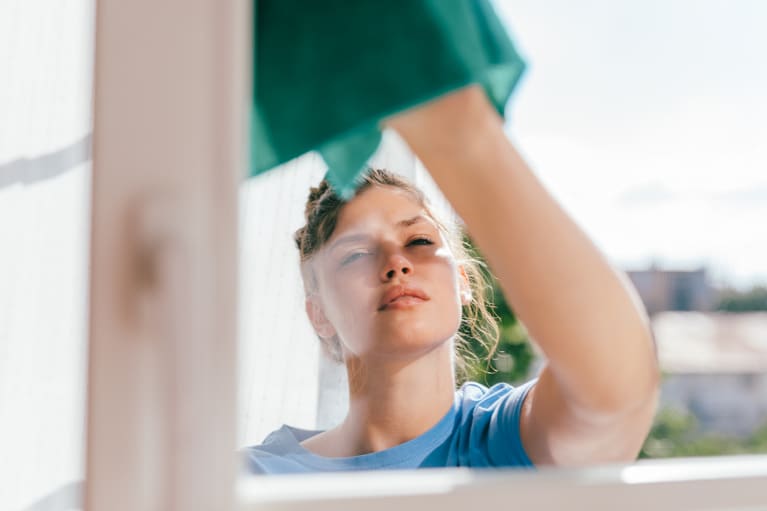 Our editors have independently chosen the products listed on this page. If you purchase something mentioned in this article, we may
earn a small commission
.
Last updated on July 15, 2021
If limiting the amount of chemicals in your home is on your radar, DIY-ing your cleaning products is a great place to start. You'll know exactly what's going in your cleaner, it's more sustainable (hello, reusable bottles), and it's cheaper than what you can buy in the store. Here's how to make your own window cleaner, plus tips and tricks for a streak-free sparkle.
Tips for getting started:
Before you spray your cleaner, it's a good idea to get dirt or dust off the surface. For outdoor windows, pop the screens off, if you can, and use soap and water to get rid of built-up grime. If indoors, you'll want to dust the window, plus around the window, notes founder of The Eco Hub, Candice Batista.
"I use Dr. Bronner's Sal Suds to clean my windows; it's super concentrated, so you only need about a half a teaspoon in a quart of water. Spray the window with the solution and wash the window using a huck towel," says Batista.
After that, spray again and use a squeegee to from top to bottom. Once all the dirt is off, you can spray with cleaner.
1.
Vinegar window cleaner:
16 oz. spray bottle
1 cup white or apple cider vinegar
1/4 cup rubbing alcohol
Water
To make a simple vinegar solution, grab your 16-ounce spray bottle, vinegar, and rubbing alcohol. Add the ingredients to the bottle and fill with water until the bottle is full. Spray the mixture on your windows, and wipe with a huck towel, Batista says. This can be used on the inside and outside of windows. Feel free to add a little essential oil if you want it scented.
2.
Dish soap window cleaner:
16 oz. spray bottle
2 tsp baking soda
1 tsp Castile soap
Water
If you're not big on the vinegar smell, you can add baking soda and Castile soap to a 16-ounce spray bottle with water (preferably distilled). Simply spray it on the windows, and wipe it off.
3.
Club soda window cleaner:
Spray bottle
Club soda
Squeegee
Another surprising "cleaner" that Batista recommends is club soda. "Years ago I picked up a tip to use club soda on my windows," she says. "I can't remember where, but it works." Once you've cleaned off the grime and dust, spray the club soda onto the window and use a squeegee to wipe it down. Make sure to wipe it dry with a cloth afterward.
How to achieve a streak-free finish:
If you ask Batista, huck towels are her go-to. "I used to use microfiber, and those are fine if you have them at home." But microfibers, she explained, are essentially "tiny plastic that breaks off in the wash and pollutes our waterways." Huck towels are cotton, reusable, and affordable.
Additionally, you want to wash from "top to bottom in a zigzag motion," she says. Then, "left to right and back again."
And lastly, it's best to wash your windows on a cool, cloudy day, Batista notes. That way, your cleaner doesn't dry off before you have a chance to wipe everything.
Washing your windows is a great way to freshen and lighten up your space, allowing more natural light in. And with these natural cleaner options, you can let the light in with as few chemicals as possible.