Think Weight Loss Is About Calories? This Doctor Disagrees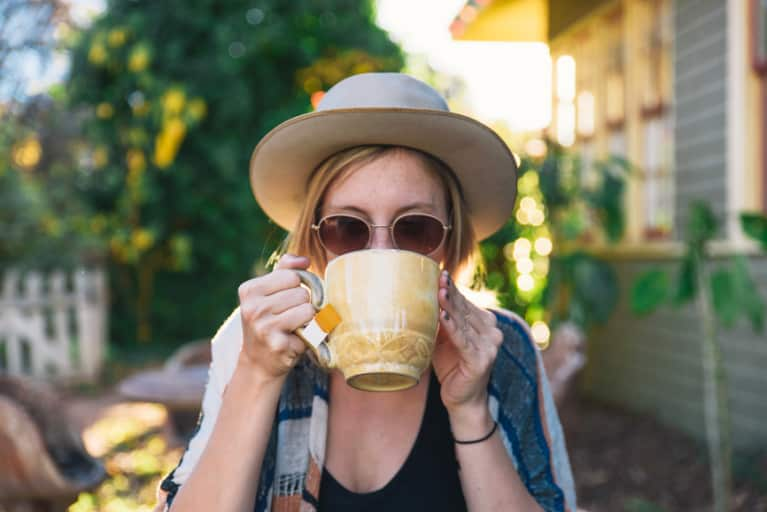 You eat healthy, limit your portions, and try to limit inflammatory or unhealthy foods as much as possible. You work out several times a week—sometimes even twice a day—but still, the number on the scale only budges in the upward direction. If it's really all a matter of "calories in, calories out," then what's wrong with this picture?
That's a question I encounter on a regular basis in my practice. Patients come to me frustrated by their inability to lose weight or keep from gaining it, despite their best efforts. I find myself equally frustrated because the guilt, self-loathing, and stress I see in these patients only compounds the problem. But in most cases, their weight gain isn't about self-control, or what they did or didn't do, at all. It's my job to help them become aware of this and be more caring toward themselves.
I didn't learn about healthy weight control in medical school, and today, most doctors still focus solely on food intake and energy expended. But, having dedicated my practice to finding the root causes of my patients' conditions and diseases and not just treating the outward symptoms, I've learned that there are other physical and emotional factors that help determine our body weight—for better or for worse—eight of them to be exact. The good news is that every single one can be addressed with natural solutions and dietary changes. So ask yourself, and your doctor, whether any of the following could be standing in the way of a lighter, revitalized, and healthier you:
1. Hormonal imbalances are a major cause of weight gain.
Specifically, women in menopause and perimenopause or those taking birth control pills experience excessively low estrogen levels, which is a major cause of weight gain. You can bring your hormones back into balance by choosing a nonhormonal method of birth control or with a program of bioidentical hormones, which are different from the synthetic ones in most pharmaceuticals.
2. Low thyroid is a major culprit.
Thyroid dysfunctions can majorly affect metabolism, and unfortunately, this diagnosis is missed 40 percent of the time because doctors tend to rely only on lab values that reflect norms for older, sicker individuals rather than healthy, youthful people. By using more specific and accurate reference ranges, taking a thyroid symptom questionnaire, or having a simple test to evaluate your reflexes and metabolism, thyroid abnormalities can easily be revealed. Your doctor can solve the problem by prescribing a small amount of natural thyroid hormone and iodine supplementation.
3. High blood sugar, insulin resistance, pre-diabetes, and diabetes.
Individuals with high blood sugar become insulin-resistant and have higher cholesterol, which makes it really difficult to lose weight. The good news is that your doctor can test for this, and if necessary, suggest dietary modifications and/or natural supplements. These therapies will restore a healthy sugar balance and pave the way for weight loss.
4. Stress is a major factor in weight gain (no matter its cause).
Poor sleep, work, major life events, and ironically, overexercising and restricting your calories put additional stress on the body. Meditation and breathing exercises (there are several excellent online audio programs) can be a tremendous help in managing stress, and ultimately, avoiding weight gain.
5. Digestive problems such as intestinal parasites, yeast, and leaky gut.
These conditions can all cause weight gain, in large part due to the inflammation they create. Your doctor or nutritionist can suggest herbs, probiotics, and enzymes to improve the environment in the digestive tract.
6. Food intolerance and allergies.
Some common ones include gluten, corn, soy, dairy, sugar, and eggs and can cause an inflammatory reaction and weight gain in certain people. Remember, it's not just the quantity of the calories you consume but the quality.
7. Toxic exposure to heavy metals.
Toxins like mercury and lead can affect the body at the cellular level and create hormonal imbalances that will lead to weight gain. This would have little to do with the "calories in and calories out" equation.
Doctors sometimes prescribe antidepressants for women who become depressed during perimenopause or menopause. But oftentimes this depression is caused by plummeting estrogen levels. There, it would make more sense to consider rebalancing the hormones with bioidentical estrogen before prescribing drugs.
It's really key to identify the core cause(s) of your weight gain and work with your physician to correct each problem, as well as develop a healthy eating program and exercise regimen that is optimal for you.
Want to start healing your gut? Here's how to take control of your digestion for life.