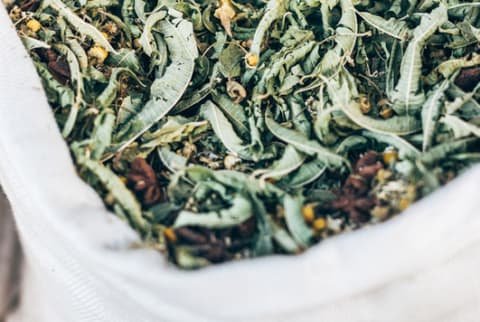 January 25, 2017
With the rising cost of prescriptions, worries about health care access, valid concerns of serious side effects, and the general lack of information about what happens when several prescriptions are combined, it's no surprise that people are looking for a better way to maintain their health. And while there's a lot of great information floating around on the internet, there's also a lot of misinformation that will only serve to confuse people looking for reliable answers to their questions.
As a member of the team at one of the biggest herbal medicine and supplement stores in the Northeast, I, along with my colleagues, have spent almost 40 years being a source of advice and information regarding herbs and natural remedies. And while we are not doctors (so we cannot diagnose or prescribe) we can provide information and instructions on how to make educated decisions for yourself.
Advertisement
This ad is displayed using third party content and we do not control its accessibility features.
Over time, we have narrowed down the crucial information one must take into account when switching from prescriptions to natural remedies. Here's our best advice on switching from drugs to herbal remedies:
1. Check with your doctor and/or pharmacist.
Let us repeat that: CHECK WITH YOUR DOCTOR AND/OR PHARMACIST. In most cases, you may be able to switch without too much trouble. And depending on the drug, condition, or length of time you've been on the prescription, sometimes you can even stop cold turkey. Most of the time, however, you need to wean yourself off the drug gradually, and that is where a discussion with the experts is critically important. We know that some doctors are more open to holistic medicine than others, so if you want and are able to get a second opinion—go for it.
2. Do your research.
If you are looking for good information on herbal supplements you can go to the American Botanical Council (ABC), Herb Research Foundation (HRF), the National Institutes of Health1 (NIH), or Pubmed2. These are all reliable sites, and the ABC and HRF can offer current scientific data on different herbs.
For your general online research, avoid the first listings you find online and steer clear of the sites that are the only place you can buy the product. Beware of the discount, grocery, drugstore, and chain products, as their quality is often reflected in the price. If the store/site only offers one brand, move on—no single company makes the best product in all categories. Be aware that advertisements are sophisticated, so believe 50 percent of what you read and don't buy the product if you don't see a full list of ingredients.
Advertisement
This ad is displayed using third party content and we do not control its accessibility features.
3. Find a local and trustworthy source.
Check out your local listings and find a natural product store in your area. And when you go make sure that you ask questions! The people in the store should be able to answer most questions about the herbal supplement, its ingredients, what it does, and how well it acts. Look for third-party literature on the product or ingredients. Not all stores are created equal, so see how knowledgeable the staff is with their products and ask what kind of experience they have. Again, if they seem to feature one brand or are aggressive about selling one type of product or a package deal that will cost you hundreds of dollars—keep moving.
4. Read the labels.
It doesn't matter what the front of the bottle says; what you need to look at are the ingredients, dosage, and potency. The RDA (Recommended Daily Allowances) is different from the printed DV (Daily Value) numbers on supplement bottles, and this can be extra confusing because each is put out by a different branch of government. Recently though, the DVs were updated to better reflect the RDA set by the Institute of Medicine.
So look at the numbers on the supplement and see how the products measure up to the RDAs. Also remember to look at the dosage. Many people don't like taking pills and may not realize the dosage is three to four pills a day. And unless instructed by your doctor or health adviser, following the directions on the label is the safest starting point.
Advertisement
This ad is displayed using third party content and we do not control its accessibility features.
5. Be prepared for some trial and error.
Assuming your health professional cleared you for the weaning process, and you found the best products available and are following the directions, you're now wondering when you'll feel the effects. Be patient! Some natural remedies work quickly (anti-inflammatory remedies) while others take time to see results (cholesterol or bone health remedies). Using natural products may take a few more days to begin working, but the end results will tell the tale.
The general rule of thumb we follow at the shop is "However many years you've had the problem, that's how many months it can take to see noticeable results." Sometimes you may have to tweak your program to include more of this or less of that. Everyone is different and results may vary, but in our experience, herbs will help you accomplish your goal and you'll feel better for it.
Advertisement
This ad is displayed using third party content and we do not control its accessibility features.

Jonathan Evans
Jonathan Evans is a Business Representative for Herbarium, a nationally certified Herbal Information Specialist, former talk show host and news director for several local radio stations in Western Mass, semi-professional Calligrapher and teacher, Reiki Master and teacher (The Reiki Repairman), and a very average bowler. He writes a monthly column for Prime Magazine called "Nature's Rx".
Follow the Herbarium on Facebook for more information or to ask questions about supplements.