Close Banner
Advertisement
This ad is displayed using third party content and we do not control its accessibility features.
DIY Every Cleaner You'll Ever Need With These 5 Common Ingredients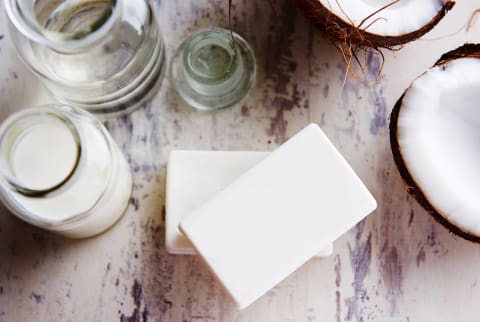 Shia Su is a zero-waste blogger who manages to fit a year's worth of trash into a Mason jar, and her new book, Zero Waste: Simple Life Hacks to Drastically Reduce Your Trash, is filled with inspiration on how to make your spring cleaning more sustainable. Here, she explains how five simple ingredients (bought in bulk) can be transformed into a whole lineup of cleaning products.
Have you ever noticed that almost all commercial cleaning products are plastered with warnings? As someone with sensitive skin, I used to break out immediately after cleaning with them if I wasn't wearing gloves! I'm thankful for the less-toxic and less-dangerous options out there, but it's too bad that those products are always sold in plastic.
My husband and I used to stand in front of the shelves for ages, racking our brains while reading labels, trying to decipher the cryptic ingredients lists and using apps to scan the bar codes to see which product contained the least amount of harmful substances. It took us a while to realize that we were overcomplicating things. Then we started to look up traditional recipes for cleaning and reduced our grocery haul to only five ingredients: citric acid, white vinegar, baking soda, washing soda, and traditional olive oil soap, which is our choice for palm-oil-free Castile bar soap. Here are the zero-waste ingredients and recipes we now use on everything:
The only 5 ingredients you need:
White vinegar
Citric acid
Baking soda
Washing soda
A palm-oil-free Castile bar soap (e.g., Kirk's Coco bar soap or a 100 percent olive oil soap)
Optional: essential oils of your choice for a nicer fragrance
Depending on where you live, you might not be able to get these ingredients completely package- or plastic-free. Whenever you can't completely avoid creating trash, you can still reduce your amount of it. Luckily, these ingredients are very high-yielding, and since they are also incredibly versatile, it's always worth buying them in bulk.
The cleaning supplies to have on hand:
Use cleaning rags from 100 percent cotton or bamboo fibers (you can cut up old shirts or towels)
A dish towel for polishing
Compostable wooden brushes
Wooden toilet bowl brushes (for these, check out health food stores or sustainable, plastic-free online stores like lifewithoutplastic.com)
The recipes to start with:
All-Purpose Cleaner With White Vinegar
5 tablespoons (or ¼ cup plus 1 tablespoon) white vinegar
1¼ cups water
Optional: 3 to 5 drops essential oil of your choice
Mix vinegar and water, transfer to a spray bottle, and then add the essential oil. Shake before use.
All-Purpose Cleaner With Citric Acid
This cleaner is odorless and does not affect rubber seals and gaskets.
1 to 2 tablespoons citric acid
2 cups water
Optional: 5 drops essential oil of your choice
Dissolve citric acid in water, transfer to a spray bottle, and then add the essential oil. Shake before use.
As the name "all-purpose cleaner" implies, you can use these versatile cleaners for everything in your home. Just spray and wipe (or scrub). For tough stains, spray, wait for five minutes, then sprinkle baking soda onto the surface. Baking soda reacts with the acid in the cleaner, removing stains effectively. If you want to add another scrubbing agent, use salt.
In the kitchen, you can use this cleaner for all surfaces, including the sink, countertops, and the stove. Use a brush, baking soda, or salt for tough stains. Polish faucets with a dry dish towel.
This cleaner removes hard-water stains better than every bathroom cleaner we have ever had! And yes, "all-purpose" includes the toilet bowl. Spray thoroughly, add 2 tablespoons of vinegar or ½ teaspoon of citric acid directly to the water in the bowl, let sit for five minutes, scrub, and flush. You can drizzle two drops of essential oil into the toilet bowl to give your bathroom a nice fragrance.
For windows and mirrors, spray, wipe, and squeegee. If you do not have a squeegee, spray only onto stains and wipe with a wet cloth to prevent residues. Let dry and polish with a dry cotton rag (we use an old dish towel).
For floors, add ⅓ cup of all-purpose cleaner to a bucket full of water.
Dish Soap
This liquid Castile soap cuts grease really well. However, plastic- and palm-oil-free liquid Castile soap can be hard to come by, so stock up when you do find it!
¼ cup liquid Castile soap
1 tablespoon baking soda or 2 teaspoons washing soda
2 cups lukewarm water
Optional: 2 to 5 drops essential oil of your choice for fragrance
Mix to combine all ingredients. Transfer to a soap dispenser. Shake before use.
Dishwasher Detergent
Ingredients, if you have soft water (check your local water supplier's website)
4 parts baking soda or 3 parts washing soda
1 part sea salt or dishwasher salt
Ingredients, if you have hard water
2 parts citric acid
3 parts baking soda or 2 parts washing soda
1 part sea salt or dishwasher salt
Mix ingredients thoroughly to combine. Use 1½ tablespoons per load.
Pro tip: If you have a dishwasher with a dishwasher salt compartment, just fill up the compartment with salt and use 1 tablespoon of washing soda or 1½ tablespoons of baking soda per load.

Shia Su
Shia Su, as a first grader, was already of the opinion that pastries were packed in too many bags. Along with her husband, she began her zero-waste journey in 2014. She documents her lifestyle on the blog Wasteland Rebel, providing readers with advice on trash reduction and living a sustainable life. She lives in Vancouver, Canada.