The Collagen Supplement This Trainer Uses For Strong Skin & Hair*
mbg Beauty Director
By Alexandra Engler
mbg Beauty Director
Alexandra Engler is the Beauty Director. Previously she worked at Harper's Bazaar, Marie Claire, SELF, and Cosmopolitan; her byline has appeared in Esquire, Sports Illustrated, and Allure.com.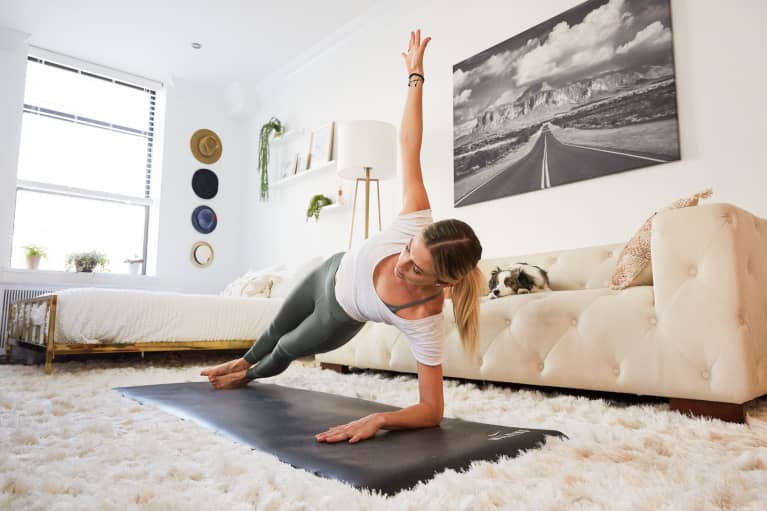 This article was produced to support the mindbodygreen supplements+ line. Our supplements adhere to the highest standards of ingredients and quality. We hope you enjoy these products, for more information
click here
.
Last updated on June 29, 2021
When you think of people who need hardworking skin care routines, who comes to mind? Perhaps you think of makeup artists, estheticians, and other folk who professionally reside in the beauty space. After all, they are fully invested in using only the best, highest quality of products for both themselves and their clients.
But, I might also argue that trainers and athletes need something top-notch, too. If fitness is your profession, chances are you're putting your hair and skin through increased exposure to the elements, more physical wear and tear (especially on the hair), and increased washing, which can be stripping if not done correctly. Of course, I must say keeping a fitness routine does a great deal of good for your skin and body—and should be celebrated as such—it's just that being active without taking the proper skin and hair care precautions can do a number as well.
The good news is that it's surprisingly easy to build a beauty routine for the fitness-minded. First, always wear SPF if you exercise outdoors. Second, keep a face- and hair-wash schedule that is mindful of your needs while not stripping your natural oils or messing with your skin microbiome. Finally, invest in a good hair + skin-focused supplement—one that can do some of the heavy lifting for you.*
The supplement this trainer uses to keep her skin & hair strong.*
Collagen supplements are loved in the wellness industry for several reasons, hair and skin included.* The fitness-minded love them, as they can also help enhance joint health and comfort.* Those trying to improve digestive health love them as they can help support the gut's lining.* Beauty folk love them, as they can promote your body's own natural collagen and elastin production.*
Talk about benefits to go around, no?
"As someone who is constantly sweating and working out, I'm always challenging my skin, hair, and nails: From boxing to riding my bike and working with clients, I put my body through a lot. I started taking mbg's beauty & gut collagen+ because it hits multiple angles," says Nike trainer and founder of ASH FIT Ash Wilking.* "I knew it was going to help the strength of my hair and nails and create a glow in my skin. I've been taking it for a few months now, and I've noticed a huge difference in my skin's texture, tone, and hydration and my hair's strength and smoothness. I add a serving to my morning coffee every day, and I feel like I'm starting my day off on the right foot."*
She's right, too. The research shows that these collagen peptides are able to support skin elasticity and dermal collagen density.* mbg's version, beauty & gut collagen+, goes the extra step by adding in a host of other nutrients and botanical bioactives, too.
There are vitamins C and E, both vital to the body's natural collagen synthesis process.* There are antioxidant actives like curcumin (from turmeric root) and sulforaphane (from broccoli seed) to help neutralize oxidative stress.* And there are two barrier-supportive bioactives: first, hyaluronic acid to support your skin barrier, and then L-glutamine to support the health and integrity of your gut lining.*
Staying fit and active does many wonderful things for your body, hair and skin included. However, if you're not careful—the wear and tear can lead to stressed-out skin and hair. Be mindful of your beauty routine to ensure it's protecting you while you move. One of the easiest ways to do that is through skin-smart supplements.*