This Energy-Shifting Beauty Elixir Makes You Zen & Glowy
By Debra Haugen
mbg Contributor
Debra Haugen is the founder of Gemstone Organic. She has a masters in geological engineering from University of Minnesota.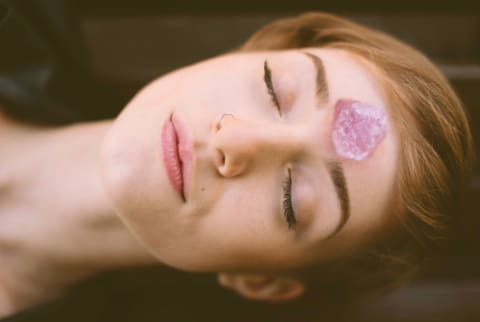 Photo by Stocksy & iStock
April 24, 2017
Have you ever wondered what the power of crystals can do for your skin? Well, here is one purple crystal that can make some magic happen in your life!
Amethyst is a crystal that many know for its decorative beauty and healing presence in the home—but few know its healing skin benefits. As part of the quartz family, it's right up there with rose on the beauty spectrum. The quartz family's varied violet or purple-colored precious stone is most commonly recognized by its bewitching blend of smooth prism formations and piercing edges within a raw and earthy rock exterior. This crystal attracts positive energy while ridding your body of any negative emotions—feelings of stress, anxiety, fear, depression, and more.
These minerals not only affect your mind and temperament, but they also have skin care benefits. Just like vitamins, our bodies also need minerals, and since we're made up of water, minerals, and tissue, they're beneficial to our bodies and our skin. Our bone structure is actually a crystalline bone structure, so we naturally resonate with stones, which all carry a frequency. There are a few ways the minerals can be put into skin care products: They can be ground into powders for mud masks, colloidal, and hydrosols, and they can be submerged with stones. We also program some products with gemstones' frequencies.
Here are four ways amethyst can support the healing process for your skin.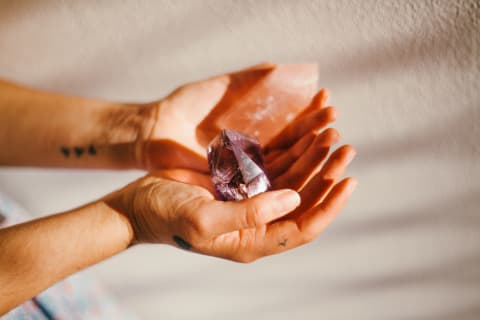 Increases circulation.
The magical far infrared rays (FIR) emitted by amethyst gently raise the surface temperature of the skin to aid in her healing process. This heat helps your capillaries to expand and promotes good blood circulation. Increased blood circulation nourishes the skin cells with oxygen and nutrients to keep your cells healthy and vital and by carrying away waste products, like free radicals.
Cell repair & wound healing.
FIRs also add another healing component by stimulating a group of cells called fibroblasts to make more collagen, which is very important in wound healing and tissue repair. And why does the skin need to be woken up? Well, it may be our largest organ, but it can also be our laziest. That increase of blood and oxygen flow from increased collagen production allows for skin to heal and repair itself from the damage and traumas we put it through on a daily basis a lot quicker.
Skin detoxifying.
Amethyst crystals carry a negative charge—toxins, free radicals, and other hazardous waste carry a positive charge. This is important in the removal of toxins and free radicals. The negative ions draw out the positively charged particles to detoxify and cleanse your skin—giving your skin a clean, refreshed feel.
Sleeping aid.
Amethyst emits anions, which can aid in helping you sleep. The low level of FIR heat amethyst emits can support a better night's sleep—and we all know how important beauty sleep is!
Top tip: Place an amethyst stone under your pillow. Not only will it encourage sweet dreams, but the natural stress reliever also fosters inner strength, spirituality, and intuition.
This powerfully protective and comforting gemstone should not only be a part of your beauty routine but also your daily life. Pretty soon you'll be thinking good thoughts, glowing from the inside out, and, who knows...taking off for Neverland might be in your near future! Gemstones for all! The magic is real; don't be afraid to get swept up in it.
Debra Haugen
Debra Haugen is the founder and "Chief Alchemist" of Gemstone Organic, where she develops their advanced earth-based formulas. In her devotion to holistic healing Haugen also found her love for science and mathematics, leading her to pursue a degree in geological engineering. She received her masters from University of Minnesota. Haugen is also a engineering consultant, a Shamanic Reiki Practitioner and a skilled leader inside ceremony.