How Your Clutter Is Harming Your Health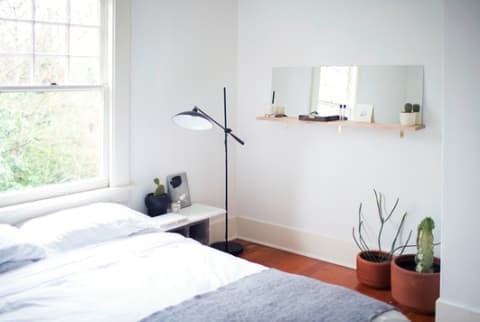 July 11, 2017
Oftentimes, clutter takes on a persona of its own. First, you bond with your things, and the fact that they continue to pile up doesn't seem like a big deal. Then after a while, your clutter starts to accumulate, requiring more and more space until—in some cases—it takes center stage and you agree to move some of it into a temperature-controlled room at a self-storage facility, which you can only visit on its terms. Clutter is such a diva!
Self-storage facilities are widely popular these days, with an estimated 54,000 facilities in the United States feeding into a $32.7 billion industry. As a professional organizer, I believe that while storage units can be necessary in some extreme cases, they are unnecessary more often than not. So before you put down your credit card, consider how much you can save financially, mentally, and emotionally by not storing your things.
1. Financial burden.
The self-storage game is changing with companies like Clutter. They will pick up, store, and create a personalized digital inventory database—but it will cost you. Their storage units range from $89 up to $8,000 a month. As a point of reference, in 2015 the national average monthly salary was $4,647.91; an $8,000-per-month storage tab is almost double that!
Employing a self-storage unit temporarily can be helpful during a move or a renovation. But over time, it becomes a very a costly investment that never provides a return. Can you imagine the vacations or experiences you could have had by saving $100 per month over the course of a year? Instead of spending money to keep things "just in case," consider selling or consigning large-ticket items like furniture and electronics for cold hard cash or donating them for a tax write-off.
When we find ourselves in a room piled high with stuff, our capacity to think clearly begins to wane.
2. Mental anxiety.
Clutter is mentally taxing. Whether we are conscious of it or not, our things hold energy, and energy affects us deeply. Looking for more proof? A study out of UCLA's Center on Everyday Lives and Families (CELF) found a link between high cortisol (stress hormone) levels in female homeowners and a high density of household objects. Additionally, the brain is only able to process a certain amount of visual information before the other senses kick into overdrive, compensating vision. When we find ourselves in a room piled high with stuff, our capacity to think clearly begins to wane. Many people use self-storage as a Band-Aid solution—a way to move clutter from one home to another. But similar to that nagging feeling you get when you're forgetting something, you'll know that the underlying issues remain, undressed and just sitting elsewhere.
Your belongings don't need to have jurisdiction over your life, nor do you need to make special accommodations for them.
3. Emotional strain.
In my work, I see firsthand how clutter emotionally stunts people. Here's an example: Let's say you want to be in a romantic relationship, yet your bedroom and closet are overflowing with things. How can you offer a lover a place to hang their coat when there is simply no space? The shame often keeps us trapped in what we believe to be a safe little world isolated from what we really desire.
Emotionally charged possessions can weigh heavily on a heart to the point of debilitation. When does clutter become too much? Do you own your belongings, or do your belongings own you?
Learning to release our attachments and let go of physical excess is incredibly freeing and empowering. If you must keep a physical reminder of the items you are willing to release, I suggest taking photos and keeping a journal. Your footprint is much smaller using this method, and you are creating a living history in the process.
Your belongings don't need to have jurisdiction over your life, nor do you need to make special accommodations for them. You have the power to sever emotional ties to your things. Surround yourself with things that bring you joy—and let everything else go.

Lili Pettit
Clutter Healer Lili Pettit matches expert organization with intuitive energetic cleansing to evaluate, coordinate, and completely rejuvenate the home. Trained in a series of respected and time-honored traditions, Pettit works one-on-one with clients to identify and uncover emotional attachments to their possessions and embark on a gentle yet effective path toward releasing and removing them from the home. Pettit leaves spaces clean and clients feeling relaxed, energized, and inspired to begin a new lighter way of living.
Combining 12 years in fashion and styling with a keen organizational acumen from childhood, Pettit transforms and restores clients' living spaces while clearing the air for positive energy to flow freely.
A born organizer, Lili Pettit discovered her planning skills at a very young age rearranging her childhood bedroom and finding new ways to fold and fit her clothes perfectly in every drawer. She sought out junk drawers and cluttered closets and categorized their contents just for fun, and before long Pettit had honed an incredible skill that would later become her passion.
Pettit next underwent extensive professional training in the healing arts, including shamanic house blessing and pranayama breathwork meditation, to complement her decluttering skills with spiritual healing. She uses these unique tools during many of her organization processes to clear the mind and body while cleansing the home once needless possessions have been removed from clients' spaces. These techniques also are helpful prior to starting the organization process to help ease resistance, tension, and stress.
Clutter Healing offers a variety of services that help clients balance their clutter while recognizing and understanding what they need—and let go of the rest. Pettit's positive attitude, clear logic, and gentle energy help guide clients through the cleansing process and establish a sense of calm, clarity, and consciousness in their emotional and physical space.