10 Next-Level Oral Health Products That Will Make You Excited To Go To The Dentist
mbg Health Contributor
By Gretchen Lidicker, M.S.
mbg Health Contributor
Gretchen Lidicker earned her master's degree in physiology with a focus on alternative medicine from Georgetown University. She is the author of "CBD Oil Everyday Secrets" and "Magnesium Everyday Secrets."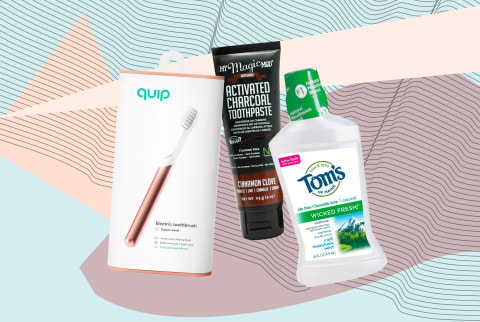 Image by Megan Doty / mbg Creative
January 15, 2019
It's January and for many of us, that means we're thinking about our health a lot. If you're someone who likes to set intentions this time of year, taking better care of your teeth and mouth health is a great route to take. Think about it: It's pretty low investment, but high reward. In other words, it doesn't require you to join a gym or try an elimination diet or make any drastic or expensive changes to your routine. Instead, you can just take a few extra minutes each night to care about and care for your oral health.
If you're not exactly jumping up and down at the thought of this, I get it. Getting inspired about oral health doesn't exactly come naturally to most of us. Until, that is, you learn about all the amazing oral health products on the market. I rounded up 10 that are guaranteed to inspire you to focus on your pearly whites this year.
Advertisement
This ad is displayed using third party content and we do not control its accessibility features.
Tom's Cool Mountain Mint Mouthwash
Many holistic dentists recommend staying away from conventional mouthwashes because they contain alcohol and harsh ingredients that can disrupt the natural environment of your mouth. This mouthwash is full of natural ingredients—and is fluoride-free, with no artificial flavors, colors, or preservatives—but still works like a charm. It's formulated with zinc, which is known for neutralizing order without the crazy burning caused by other popular mouthwashes.
Cool Mountain Mint Wicked Fresh!™ Mouthwash, Tom's, $4.25
mbg Creative x Tom's of Maine
My Magic Mud Activated Charcoal Toothpaste
This toothpaste is really one of a kind. It has a spicy cinnamon flavor, really leaves a fresh taste in your mouth, and uses the power of activated charcoal to whiten and clean. It's perfect for people with sensitive teeth who can't use conventional whitening toothpastes. Expert tip: Keep this one in your shower, and brush in there, as it can get pretty messy.
Activated Charcoal Toothpaste Cinnamon Clove, My Magic Mud, $18 (for a set of two)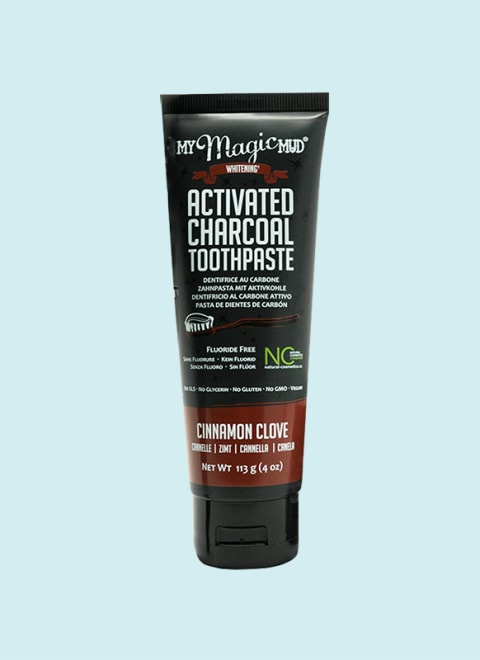 mbg Creative x My Magic Mud
Philips Sonicare Airfloss Ultra Waterpik
A waterpik is another great way to invest in your oral health this year. Machines like this one reach places traditional floss can't, and as a bonus, the pressure from the water can help improve gum health. It's a great pick for those of us who feel like flossing is a hassle; it's incredibly easy to use and makes your mouth feel noticeably cleaner. You'll be addicted in no time.
Sonicare Airfloss Ultra Waterpik, Philips, $49.99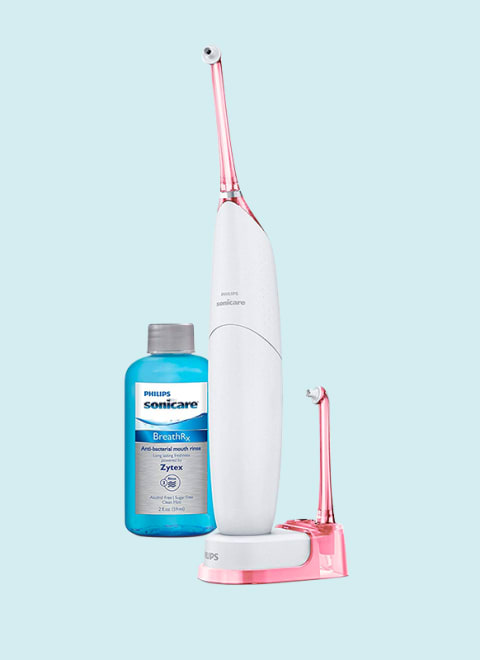 mbg Creative x Philips
Advertisement
This ad is displayed using third party content and we do not control its accessibility features.
Hello Natural Whitening Toothpaste
This toothpaste looks cute as can be sitting on your sink and leaves your mouth feeling wonderfully clean and fresh. It's formulated with tea tree oil and coconut oil, which have natural antimicrobial properties, and farm-grown mint. And in fact, it actually does smell like the mint was plucked off the plant that very day. Hello has a ton of other dental health products worth checking out too, including a toothbrush with charcoal-infused bristles.
Natural Whitening Toothpaste, Hello, $4.99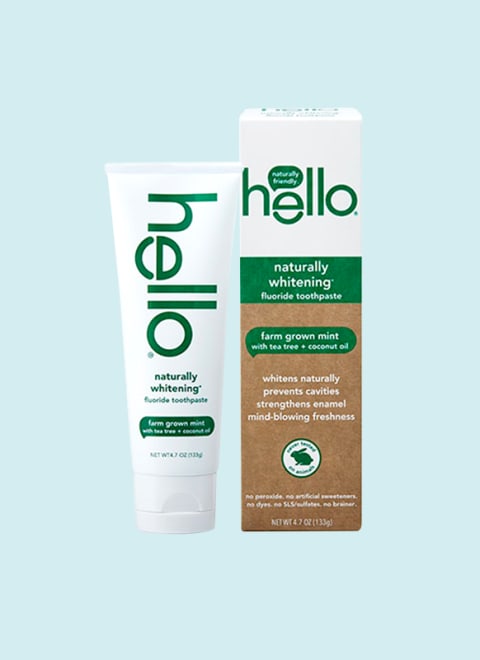 mbg Creative x Hello Natural
Coco Floss 4-Piece Set
This one is for those of us who have trouble remembering to floss or flat out just don't enjoy doing it. Discovering Coco Floss could change all that and might just turn you into an avid, everyday flosser. It's available by subscription, is formulated with coconut oil, and comes in flavors like strawberry, vanilla bean, and peppermint. Go ahead, make your dentist proud.
4-Piece Set, Coco Floss, $30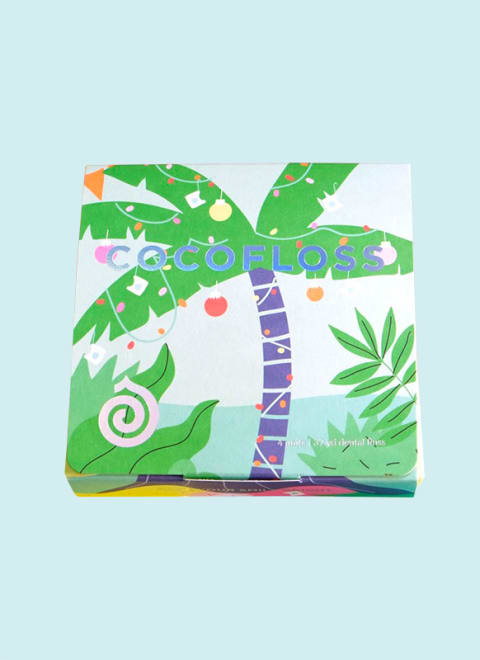 mbg Creative x Cocofloss
Aesop Alcohol-Free Mouthwash
This alcohol-free mouthwash is formulated with clove bud, anise, and spearmint leaf to freshen breath, and since it's alcohol-free, it does so without disturbing the normal pH and bacteria balance of the mouth. The oral microbiome is something you want to preserve and protect, as it plays a big role in gum health and the health of your teeth.
Alcohol-Free Mouthwash, Aesop, $29
mbg Creative x Aesop
Advertisement
This ad is displayed using third party content and we do not control its accessibility features.
Quip Subscription
Did you know that you should be replacing your toothbrush head every few months? Well, on top of being the sleekest thing to ever happen to a toothbrush, Quip is also available via a subscription plan—which means you'll actually replace your toothbrush when you should. When you sign up, you'll receive their electric toothbrush, cover, mount, and a large toothpaste. Then, every three months you'll get a fresh brush head, AAA battery, and a large toothpaste to make sure you're never left hanging.
Electric Set Refill Plan, Quip, $25 (and then $10 refills every three months).
mbg Creative x Quip
Jarrow Formulas Oral Probiotic
We already know the oral microbiome is important for fresh breath and a healthy mouth, but did you know it's important for your whole-body health, too? It's true; in fact, it might even be more important than the gut microbiome. Luckily, these oral probiotics are formulated with fresh peppermint to freshen breath, promote optimal tooth and gum health, and replenish your mouth's population of friendly bacteria.
Oral Probiotic Fresh Peppermint, Jarrow Formulas, $89.85
mbg Creative x Jarrow Formulas
JASON Sea fresh® Strengthening Mouthwash
Have you ever heard of a mouthwash with blue-green algae? You have now! This product from JASON contains blue-green algae, grapefruit seed and perilla seed extracts to reduce tartar, and aloe vera to soothe gum irritation. All JASON products are cruelty-free, non-GMO, gluten-free, certified Kosher, and contain no artificial colors, animal products, sulfates, or parabens.
Sea fresh® Strengthening Sea Spearmint Fresh Breath Mouthwash, JASON, $9.99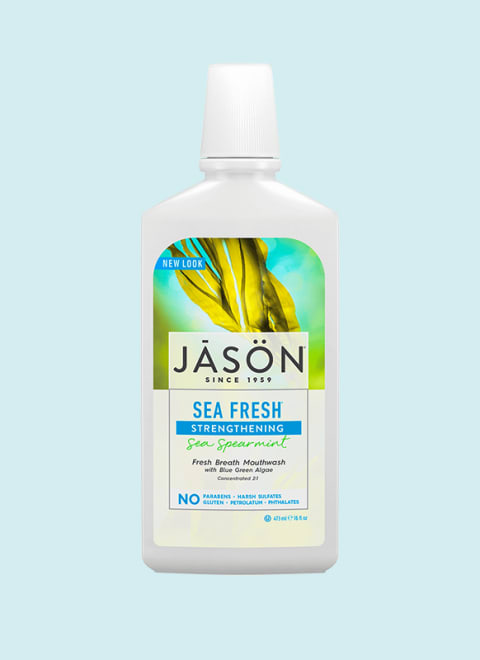 mbg Creative x Jason
Advertisement
This ad is displayed using third party content and we do not control its accessibility features.
Burst Sonic Toothbrush Rose Gold Edition
Getting an electric toothbrush is a great investment and a fantastic way to supercharge your oral health and get rid of unwanted plaque. Because they have timers, they're also a good way to make sure you're brushing for long enough and in the right areas. Plain and simple, they just clean better than regular toothbrushes—and who wouldn't want a rose gold one like this one from Sonic?
Sonic Toothbrush Rose Gold Edition, Burst, $99.99
mbg Creative x Burst
Want to turn your passion for wellbeing into a fulfilling career? Become a Certified Health Coach! Learn more here.
Advertisement
This ad is displayed using third party content and we do not control its accessibility features.