The 9 Best Natural Facial Acids, Based On Your Skin Concern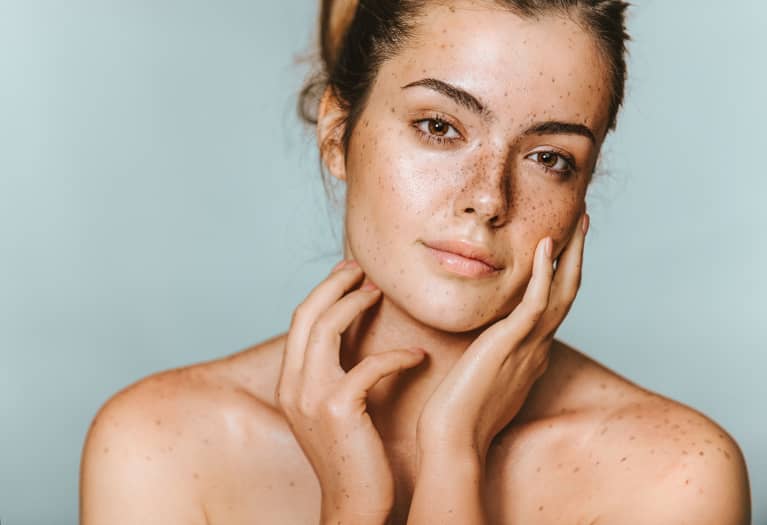 Our editors have independently chosen the products listed on this page. If you purchase something mentioned in this article, we may
earn a small commission
.
"The most productive way to approach acids is, first, to understand how each works and what the benefits are. Then assess your skin care needs, and you can match up what acid might be right for you," says natural esthetician Jeni Sykes, who has worked for spas from Heyday to CAP Beauty. "It's always better to start at a place of 'What does my skin need?' rather than only thinking about skin types or zeroing in on the negatives."
And generally speaking, acids' benefits range from deep exfoliation to ample hydration. (No, acids aren't just of the Burn Your Face Off variety.) So no matter your need, there's probably an acid you could add into your regimen, if you so choose.
Here, a breakdown of the most popular.
"There's not a person who can't benefit from this ingredient," says esthetician Amity Spiegel, who works at the clean beauty spa CAP Beauty in New York City. And when she says everyone, that spans from oily and acneic to severely sensitive. The hero hydrator works by helping skin bind and retain moisture: It can hold up to 1,000 times its weight in water. (Key words: "up to"; be mindful that just because a product has HA does not mean it's doing that). Because of this, it's best applied while skin is damp—for example, right after washing or after applying an essence—so it can trap and hold the water already on your skin. (Another hack: Slightly wet your fingers before tapping it on; it will have the same effect.) While there are a lot of products on the market that contain this, opt for those with multiple strains of the ingredient: Grown Alchemist Instant Smoothing Serum contains three different types of plant-derived HAs with varying molecular weight, so the smaller strain can penetrate deeper, while the largest sits on the surface to keep in water.
This is better known as vitamin C and is a must-have ingredient according to most skin care experts. It's considered the most powerful antioxidant on the market and can reduce dark spots, fight free-radical damage, and firm fine lines. The only issue? It's highly unstable and can break down when exposed to too much air, light, heat, or just naturally over time. (It can also become less effective when not formulated properly, stored in faulty contains, or layered on the skin with other actives like retinal.) So how do you make sure you're getting the most effective options? Look for those formulated with vitamin E, ferulic acid, or both, which help with stability, says Spiegel. From there, be mindful of how it's stored—never in sunlight, in a cool space, and in airtight packaging. For a sure bet, Marie Veronique Vitamins C+E Ferulic Serum basically hit cult status moments after launching.
This is a wonder ingredient for those with inflamed skin, both temporarily or long-term. It's naturally found in grains like barley and wheat (don't worry: when extracted it's gluten-free) and works as a very gentle exfoliator to help unclog pores, an antioxidant to calm irritation, and is shown to reduce redness. (It's also an acid that isn't as well studied as others, so there's still a lot to learn about its mechanisms and benefits.) Its most common use is actually via prescription for those with rosacea, but The Ordinary Azelaic Acid Suspension 10% is an incredibly effective OTC option.
This acid is perfect for those who want to exfoliate but can't tolerate anything too aggressive. It's also suitable for those who can tolerate a more powerful exfoliant, but want a nice glow-inducing boost without drying out the skin. (Basically: Anyone could use it, says Spiegel.) It falls into the alpha-hydroxy acid family and exfoliates by breaking down the bonds that hold skin cells together and increasing cell turnover. The result: a brighter, more youthful complexion. But what makes lactic acid so special, and different from other AHAs, is it actually improves your skin's moisture barrier. According to Sykes, people with dehydrating lifestyles—like if you are frequently on planes or regularly do heavy-sweating activities—can benefit most from this. Try Alpyn Beauty PlantGenius Survival Serum.
Another AHA, glycolic acid is one of the most potent options on the market. It's a smaller molecule than other acids so it penetrates the skin deeper and quicker—making it incredibly effective, but also potentially irritating. (It's a high-risk, high-reward situation.) "This is for when you have healthy, hearty skin, but perhaps over the years you have some buildup in your pores or sun damage, and you really want to move the dial," says Sykes. We recommend Tula's Pro-Glycolic 10% pH Resurfacing Gel, which is buffered with probiotics and skin-soothing botanicals, so it has better tolerability.
Malic Acid, Mandelic Acid & Tartaric Acids
You can clump these together as "the other AHAs," says Sykes. Each has a slightly larger molecule than glycolic, so they are slower moving; you won't get as strong of a reaction, generally speaking. These are often within other formulations (rarely the hero ingredients themselves) but can be a good natural complement to other actives.
This acid falls under the beta-hydroxy acid camp and is the most readily available of BHAs. It's best suited for people with acne or excessive oil production and tends to be too drying for regular use for most people. The reason? Salicylic is an oil-soluble acid, "so it breaks down the oil that's naturally occurring and can really shimmy down into your pores," says Sykes. It's great as a spot treatment, like Indie Lee Blemish Lotion, so you can better target more oily areas without stripping oils from the rest of the face. Another important note from Sykes: "You need to differentiate if you have oily skin or are just overproducing oil because of dryness," she says. "If it's the former, you can use it. If it's the latter, this isn't for you."
Want to turn your passion for wellbeing into a fulfilling career? Become a Certified Health Coach! Learn more here.