What You Should Have For Breakfast On Thanksgiving: 4 Recipe Ideas
mbg SEO Editor
By Eliza Sullivan
mbg SEO Editor
Eliza Sullivan is an SEO editor at mindbodygreen. She writes about food, recipes, and nutrition—among other things. She studied journalism at Boston University.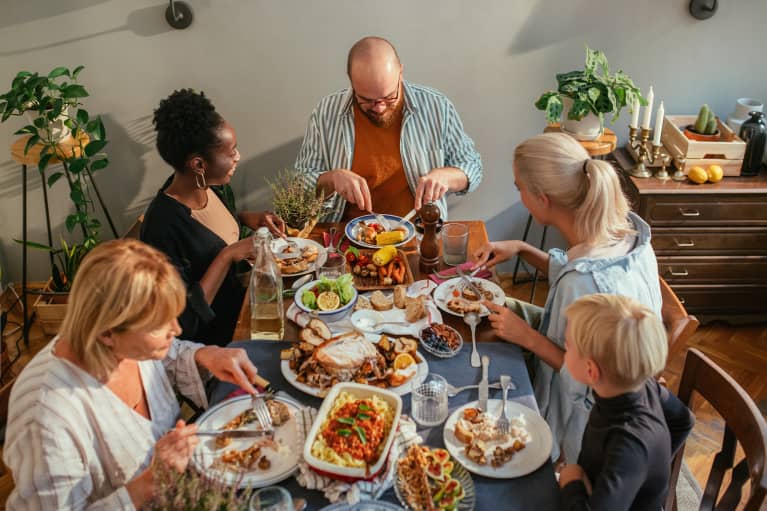 This article was produced to support the mindbodygreen supplements+ line. Our supplements adhere to the highest standards of ingredients and quality. We hope you enjoy these products, for more information
click here
.
Have you ever been in this situation: You've been waiting all day long for that big Thanksgiving feast, and a twinge of hanger starts to set it (no, just us?). While we're all for some intermittent fasting, depending on how late you sit down for your holiday meal, you probably want to plan for a strategic breakfast that will keep you feeling satiated until dinner.
Still, if you're responsible for cooking the holiday meal (which is even more likely this year), you'd probably like to avoid spending extra time in the kitchen preparing a healthy breakfast. Luckily, there are some quick and easy options that pack in nutrients and cut down on time.
The easiest way? Starting your day with a recipe that incorporates mbg's organic veggies+ powder. This greens powder packs in broccoli, kale, and spinach, as well as sea vegetables for extra magnesium, calcium, iron, and vitamin C. Plus, it features ingredients like cinnamon bark extract, which can help support healthy blood sugar balance.* Not only that, but you've also got a dose of digestive enzymes and probiotic bacteria, to promote healthy digestion during the rest of your Thanksgiving Day.*
1. The simplest green juice.
Making green juice at home doesn't have to mean pulling out a juicer and a ton of ingredients: With only a bit of veggies+ and your choice of alt-milk, water, or coconut water, you can have a seriously nutritious juice that takes less time to toss together than it takes to peel potatoes.
2. A super-healthy quiche.
To begin with, quiche is a great recipe for quick and easy cooking—as long as you have the oven space that morning. Some of your vegetables for dinner can be used mixed into it, or you can just stick with a simple handful of spinach and a spoonful of veggies+.
3. A comforting loaf that pairs perfectly with your morning coffee.
Lean into the fall season with a pumpkin bread, or instead go for something a bit fresher with a zucchini bread. Both are perfect to make the evening before so you can have a super-simple morning with your favorite cup of coffee.
4. A shakshuka that's perfect if you're cooking for a small group.
While I wouldn't recommend making this dish if you've got a crowd for breakfast, it'd be a great way to start the day if your Thanksgiving celebration is just you and a couple of friends or loved ones. The one-pot approach means fewer dishes that morning, too, which is great.
Breakfast is always a good opportunity to pack in the nutrients, and on Thanksgiving in particular it's your opportunity to add some good-quality greens to your diet (in case they don't make it onto the table for dinner). Whether you go for a Mediterranean-diet-inspired morning, a little something keto, or an mbg organic veggies+ packed breakfast, one thing is for sure: You definitely shouldn't skip it.