Close Banner
Advertisement
This ad is displayed using third party content and we do not control its accessibility features.
Sutton Foster Is The Queen Of Longevity & She's Sharing Her Go-To Well-Being Practices
Health Writer & Editor
By Kristine Thomason
Health Writer & Editor
Kristine is a writer, editor, and editorial consultant who lives in Long Beach, CA.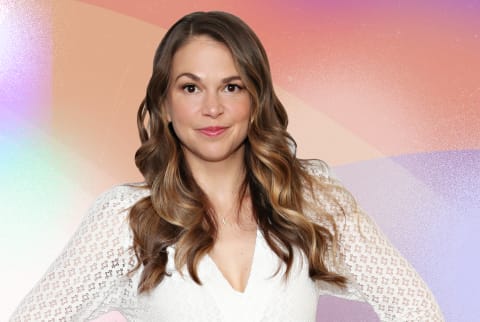 Graphic by mbg Creative x Cindy Ord / Getty
We carefully vet all products and services featured on mindbodygreen using our
commerce guidelines.
Our selections are never influenced by the commissions earned from our links.
Sutton Foster is every bit as charming and down-to-earth as her roles in Younger, Bunheads, and even Shrek the Musical would have you believe. At least, that was my immediate impression when I had the opportunity to chat with the Tony Award–winning actress about her refreshing mindset on health and well-being.
"I'm a very natural gal," Foster tells me over the phone. "I don't wear makeup unless I have to, and you can generally catch me in jeans and a T-shirt." Her philosophy around wellness is just as approachable and delightfully uncomplicated. Foster believes in prioritizing longevity and living her strongest, healthiest life possible sans strict regimens or restrictions. "My daughter is 3½, and I'm 45, and I want to be able to chase after her when she's 8 and I'm 50," she says.
Here, Foster shares some of the ways she's setting herself up for long-term success through nutrition, movement, and mental well-being.
She finds joy in mealtime.
"I don't want anything to be taboo," says Foster. That means, while her kitchen is stocked with nutritious foods, you'll also find treats like chocolate and ice cream. "I don't believe in dieting or restriction; I believe in moderation. I think that's important when raising a little girl, too."
Instead of dubbing foods "good" or "bad," Foster teaches her daughter Emily to be open-minded and curious about new types of foods. In fact, the two of them regularly cook meals together—whipping up everything from pancakes to Bolognese with homegrown tomatoes and even homemade sushi. "One of the things she loves to drink is smoothies, and I do too, so we make a lot of smoothies together with Lactaid milk," says Foster. "I have a dairy sensitivity, but I love drinking real milk, so we use Lactaid whenever a recipe calls for milk."
As for snacks, "A lot of my go-to's lately have been fruit or nuts—I'll grab a banana or mini orange, pistachios, or cashews. And I love having a square of dark chocolate."
Their family of three (along with Foster's screenwriter husband Ted Griffin) has also established a number of new food rituals while spending more time at home amid the COVID-19 pandemic. Foster says she makes mealtime a priority: They always sit down together without distractions, have themed nights like Taco Tuesday, and regularly eat cozy breakfast in bed together on the weekends (at her adorable daughter Emily's request).
She checks in with her mental health.
While Foster calls her family's new at-home rituals a "silver lining" amid this complex time, she also recognized early on the importance of shaking things up for the sake of mental health.
"I try to get all of us outside, especially on the weekends," she says. "We'll have a picnic on the lawn or go hiking and try to change it up a little bit so we don't feel like same-old, same-old. I think that has helped us a lot."
As for her personal routine, "Exercise has been a big help for me. I fight for the time and try to exercise at least an hour a day," she says. But that's not to say it's easy for Foster—fight is the operative word here. "Sometimes it's the only thing I'll accomplish that day. There are days when I feel like I'm crushing it, and other days when I'm totally depressed and it's really hard," she says. Still, "Now it's like brushing my teeth; it has to be done. [Exercise] has been a real game-changer. It really has made a difference for my mental health."

She moves for physical and mental strength.
Dance cardio and Pilates are Foster's preferred modes of movement—she's been dancing since she was 4 years old, plus it's an important part of her craft as a Broadway performer. Since the pandemic, Foster has specifically been taking virtual dance cardio classes with her trainer Beth Nicely. "I don't know when Broadway will come back, but this is something I can work on right now," she says.
That said, "It's less about vanity, more that I want to feel strong and feel good for my daughter," Foster says. "Now she knows 'oh, Mommy is exercising,'" and she'll ask, 'Can I come exercise with you?'"
What Foster loves about her virtual classes (perhaps even more than the physical benefits) is the ways she's simultaneously able to help others in the process. Nicely hosts two charity classes on the weekends. On Saturday, donations go to Save the Children, Grassroots Law Project, and Color of Change. Then on Sundays, she and Foster host a class together on Instagram Live, where "I donate my calorie burn to the Actors Fund, which is an organization that supports people in the performing arts while we're waiting for Broadway to return," she says, "so that's been a really great way to give back while also doing something that feels good."
She's all for longevity and self-love.
Yes, Foster makes her fitness practice a priority—but it's always about her well-being, not her looks. After growing up as a dancer and then entering a career as a Broadway performer, "I actually resented that I was supposed to look a certain way. It all made me very angry."
In order to have a positive relationship with fitness, "The only way I could do it with a healthy mindset was if I thought of it for health—for longevity, for heart health, for lung health," says Foster. "If in any way it crept in [my mind] that 'I want my butt to look a certain way or fit into a smaller size' I literally won't do it. It pisses me off."
Now, as a mom, that focus on longevity and strength has become even more vital. "I want to teach my daughter [fitness] is part of staying healthy," she says. "I feel better, I feel strong, I can do more—that's the reason behind it. That's what motivates me, as opposed to emulating some body type. It's made me feel more confident in my own body."
In fact, Foster has never felt better about herself, inside and out: "I never felt comfortable in a bathing suit in my 20s and 30s—but now, being a mom, having a regular exercise routine, eating healthy, I don't want to miss a moment of jumping off the diving board or playing in the sand with my kid—I just have embraced it all," she says, adding "I think it's also being 45, I'm tired of being ashamed of my body that has gotten me so far. I feel more empowered, and I'm also tired of it restricting my fun."
Between her nutrition, mental health, and physical well-being practices—Foster is, at the risk of sounding cliché, truly living her best life. And I, for one, plan to take a few leaves out of her inspirational book.
At the end of our conversation, she left me with one last empowering sentiment about where she is on her own health journey: "I feel a strength—it's me and I'm strong," she says. "And that's what it is about health and longevity: You have this inner strength to embrace all of you."
Kristine Thomason
Health Writer & Editor
Kristine is a writer, editor, and editorial consultant who lives in Long Beach, CA. Kristine is a New York University graduate with a degree in journalism and psychology, and also a NASM-certified personal trainer. She has spent her editorial career focused on health and well-being, and formerly worked for Women's Health and Health. Her byline has also appeared in Men's Health, Greatist, Refinery29, HGTV, and more. In her current role she oversees, edits, and writes for the health, food, and movement sections of mindbodygreen.