The New Wave Of Sunscreen Serums Are Here To Level Up Your Sun Care

mbg Beauty & Wellness Editor
By Jamie Schneider
mbg Beauty & Wellness Editor
Jamie Schneider is the Beauty & Wellness Editor at mindbodygreen. She has a B.A. in Organizational Studies and English from the University of Michigan, and her work has appeared in Coveteur, The Chill Times, and Wyld Skincare.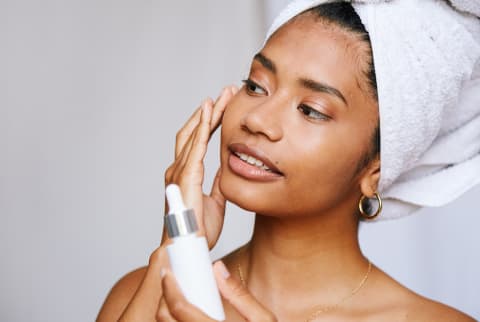 Image by Leandro Crespi / Stocksy
July 14, 2021
It's no secret that sunscreens are getting more and more sophisticated. Gone are the days of thick, goopy lotions that leave a ghostly cast—now, you can find plenty of options with spreadable, buildable textures and tints that offer a stunning glow.
One of the most popular crowd-pleasers of late is the sunscreen serum: Light in consistency, practically weightless on the skin—and this summer's wave of new launches are brimming with extra-targeted skin care ingredients. When you think of the latest and greatest in sun care, the sunscreen serum has quickly reached stalwart status. But does it offer optimal protection?
Advertisement
This ad is displayed using third party content and we do not control its accessibility features.
Below, derms weigh in on how to use these SPF/skin care hybrids.
Benefits of sunscreen serums. 
In terms of texture, sunscreen serums are much more lightweight than their standard lotion counterparts. Perfect to layer under makeup, for sure, but the "serum" part of the equation refers to more than just consistency: "They often contain more active ingredients at higher concentrations to address different skin issues," notes board-certified dermatologist Hadley King, M.D. In other words: Sunscreen serums do double duty.
As board-certified dermatologist Dendy Engelman, M.D., once told us, "Serums are light, thin skin care products filled with active ingredients." In the case of sunscreen serums, the main active ingredient is, well, sunscreen (zinc oxide, titanium dioxide, etc.), coupled with a host of other skin-supporting players. Think niacinamide to balance oil production and fade dark spots, tea tree to keep pores clear, or hyaluronic acid to hydrate and plump the skin.
Advertisement
This ad is displayed using third party content and we do not control its accessibility features.
How to apply them correctly. 
All this raises the question: Should you apply the product like a serum (post-cleansing, pre-moisturizer) or like a standard sunscreen (usually the last step of your routine)? The answer, I'm afraid, isn't so cut and dried.
"I would recommend applying after cleansing, before moisturizing," says King (aka, treat it like a serum). That way, all those active ingredients can easily penetrate the skin and treat those targeted concerns. However, if your serum contains physical blockers—like zinc oxide or titanium dioxide—it may make more sense to apply it last, especially if you've already applied a favorite serum during your treatment step. Essentially, it all comes down to user behavior.
But perhaps more important than the when is the how much: Since a sunscreen serum has a thinner consistency than a lotion, how much product should you use to ensure you're getting maximum protection? According to King, you should still use a nickel-sized dollop of sunscreen to achieve the advertised SPF on the label, no matter the type of product—serum, tinted moisturizer, what have you.
"Unless you're going to use this much of the serum, then think of it more as a way to layer SPF," she adds. "It's a fine way to start, but make sure to follow with additional SPF steps to ensure good protection." For example, you could use the sunscreen serum after cleansing, then follow with a lotion at the end of your routine. Or if your sunscreen serum contains a color-correcting tint (some options toe the line between skin care and makeup), you can layer it on top of your lotion for a subtle glow.
And let's not forget, proper sun protection extends much further than sunscreen: Even if you pile on SPF, you still need to be smart about your time under the sun.
Shop these products:
The takeaway. 
Sunscreen serums are loaded with skin care ingredients to simultaneously treat concerns while protecting from sun damage. However, like any sunscreen product, the way you use it will determine how much protection you actually achieve. But so long as you're still smart about sun care, sunscreen serums make a fabulous (read: glowy) addition to your regimen.