The Skin-Smoothing Face Oil Everyone Is Buzzing About

Contributing Wellness & Beauty Editor
By Lindsay Kellner
Contributing Wellness & Beauty Editor
Lindsay is a freelance writer and certified yoga instructor based in Brooklyn, NY. She holds a journalism and psychology degree from New York University. Kellner is the co-author of "The Spirit Almanac: A Modern Guide to Ancient Self Care," with mbg Sustainability Editor Emma Loewe.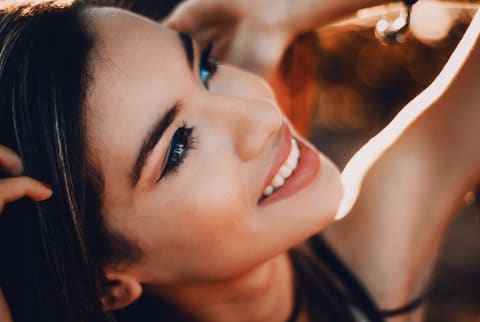 Photo by Marcelo Matarazzo
December 18, 2017
Everyone in the beauty world is buzzing about squalane oil—the plant-based, multipurpose personal care oil that can do so many things, it may just take the place of coconut oil in your beauty routine.
One of the reasons the skin loves squalane is because the human body makes it naturally. In fact, squalane makes up 13 percent of our "sebum," which hydrates the skin. It's clear, lightweight, and odorless, making it the perfect oil for people with an aversion to oils. It even feels more like a watery gel than an emollient, making it a great starter oil too.
Advertisement
This ad is displayed using third party content and we do not control its accessibility features.
Why is squalane popular now?
Squalane had been used in beauty products for decades, but until recently, the main source of squalane oil came from shark livers. "However, the popularity and use declined significantly in the U.S. in 2006 when companies decided to stop using squalane since most of it was sourced from shark liver oil and harming their survival," said Teresa Lo, senior director of marketing at Biossance.
Now that naturals are going mainstream and oils in particular have enjoyed a resurgence, companies like Biossance, who built an entire range from squalane oil, as well as an increasing number of indie beauty companies are introducing a plant-derived version to consumers. "Plant-derived squalane has since been on the rise in popularity and use in beauty products in the U.S. 2017 saw an explosion of growth with brands like Biossance coming to the market with 100 percent squalane oil," Lo said.
Currently, Biossance's squalane is created by using a biofermentation process with sugar cane, but several other companies use squalane derived from olives.
What's the difference between squalene and squalane?
Tricky! Squalene is close but not the same. Often squalane started as squalene and then is hydrogenated (a fancy word for adding hydrogen to the molecule) to become squalane. "One thing I love about squalane is that it's extremely moisturizing and doesn't oxidize—the hydrogenation process is like a built-in preservative," said holistic makeup artist Katey Denno.
Advertisement
This ad is displayed using third party content and we do not control its accessibility features.
How do you use squalane?
"It's a phenomenal base before you put foundation on—it's light and sinks in right away. You only need a few drops on slightly damp skin—it leaves the skin feeling kind of velvety," Denno recommends. She also noted that many other face oils have the unfortunate side effect of slip and slide, but squalane does not. Squalane oil is great for all skin types (yes, even oily), is noncomedogenic, fast-absorbing, and can be applied to almost any body part. In fact, Denno mentioned that her hairstylist colleagues who generally shy away from hair oil say squalane is the one to use because essential oils can be drying and other hair oil blends simply sit on top of the hair shaft.
Denno loves Biossance's original, 100 percent squalane oil, derived from sugar cane. Another phenomenal option (fun fact: It currently has exclusively five-star reviews across the internet) is Indie Lee's squalene facial oil. If the price tag is too high, try The Ordinary—this company makes a plant-derived squalane oil for under $10.
Did you know that coconut oil could be clogging your pores? Plus, here's how to get your natural foundation looking flawless every time, even if you use face oils.
Advertisement
This ad is displayed using third party content and we do not control its accessibility features.