These 8 Clean-Burning Soy Candles Are Like A Spa Day For Your Nose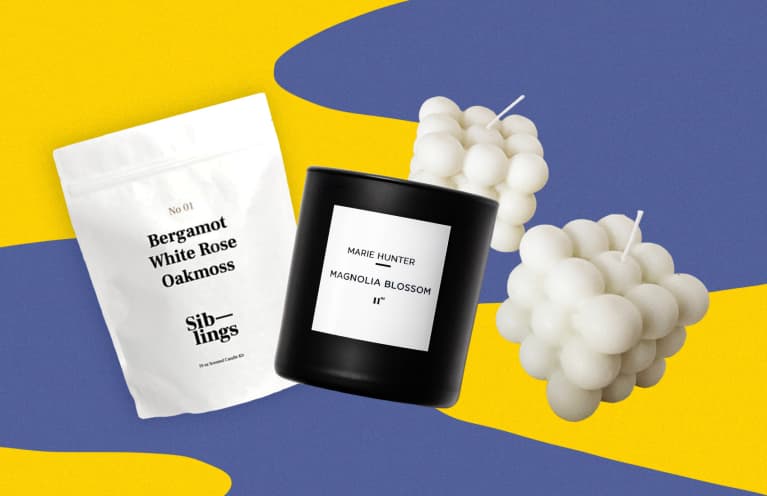 Our editors have independently chosen the products listed on this page. If you purchase something mentioned in this article, we may
earn a small commission
.
For the conscious candle burner, soy wax is a standout. The natural material doesn't come with the same air-quality concerns as paraffin wax, a petroleum byproduct. It's also long-lasting with a similar burn time to beeswax, and completely vegan. Here are eight soy and soy-blend candles that are really lighting our fire right now. They range in price, but each one packs a little extra something: a funky shape, a cool reusable vessel, or a scent that could inspire a waitlist. (If only this article was scratch and sniff...)
1. Siblings Scent No 01
Pouring your own candle is idyllic in theory—messy in practice. That is, unless you're using Siblings. They'll send you a bag of scented coconut-soy wax that you simply microwave for a few minutes and pour into the vessel of your choosing for a DIY-ish candle. It's an easy way to reuse any chipped mugs or glasses, or you can opt in to receive a new ceramic container with your order.
Siblings Scent No 01 ($24)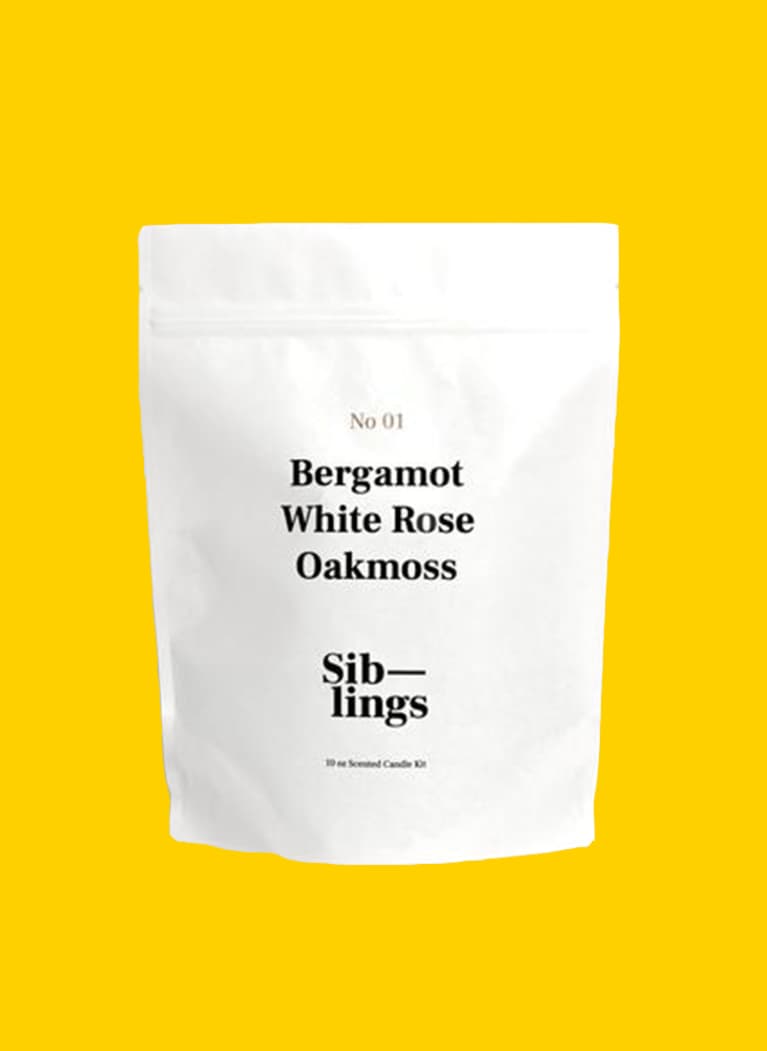 Siblings Candles
2. The Birthdate Candle
This one would make a great gift for a candle or astrology lover in your life (that encompasses most people, right?). Birthdate Co. has a custom scent for every birthday—yes, that's 365!—inspired numerology, astrology, and tarot. Each soy-coconut candle comes in a glass jar covered in insights into that day of the year.
The Birthdate Candle ($38)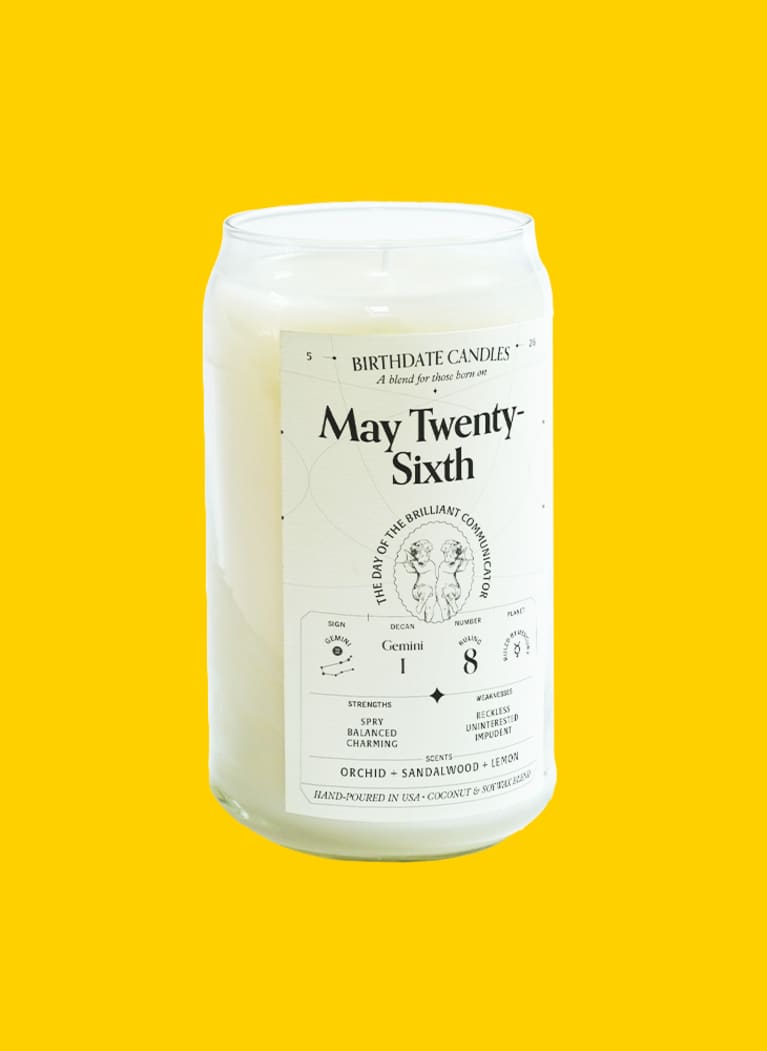 Birthdate Candles
3. Paddywax Yin & Yang Candle
Nashville-based Paddywax is home to all sorts of whimsy-themed candle collections, and this new one has "spa night" written all over it. Its yin and yang sides each have their own scent (green tea and aloe, for example) and can be lit solo or in tandem for a richer fragrance blend. Once the last of the soy wax burns down, the vessel makes for a nice place to store jewelry, spices, or knickknacks.
Paddywax Green Tea & Aloe Yin-Yang Candle ($33)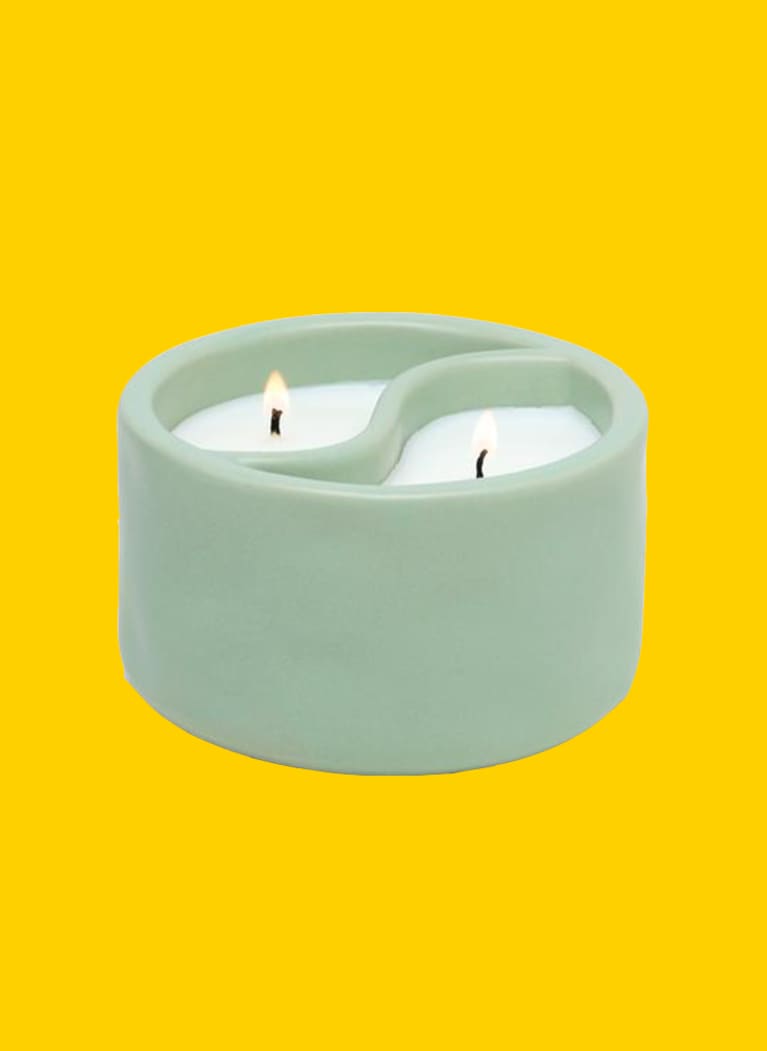 Paddywax
4. Brooklyn Candle Studio Italia Escapist Candle
This candle is clean in every sense of the word: Healthy ingredients, minimalist packaging, and streamlined (but addicting) scents are what Brooklyn Candle Studio is all about. Their Escapist collection is especially fitting for the landlocked age, each one inspired by a certain destination. First stop: Italy.
Brooklyn Candle Studio Italia Escapist Candle ($38)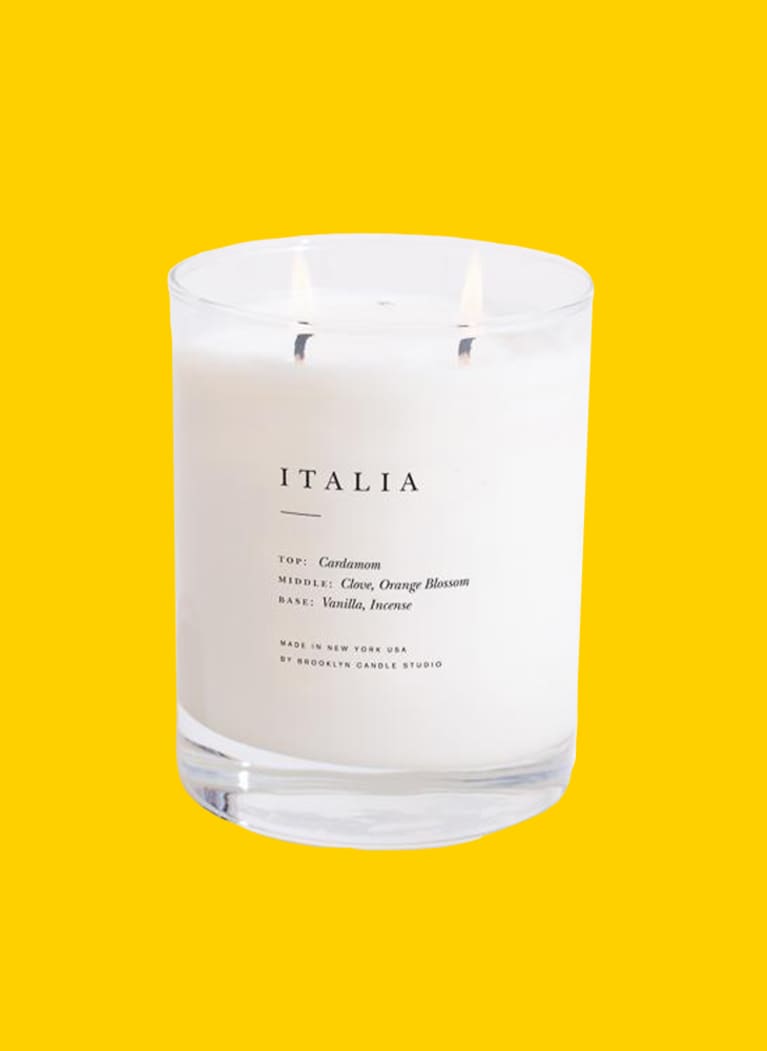 Brooklyn Candle Company
5. Marie Hunter Magnolia Blossom Signature Candle
This soy-coconut blend from BIPOC-owned Marie Hunter Beauty comes in a luxe black vessel and has received rave reviews for its scent: a subtle (but still, you know, there) smell of floral sweet magnolia, white sandalwood, and soft amber, inspired by France.
Marie Hunter Magnolia Blossom Signature Candle ($42)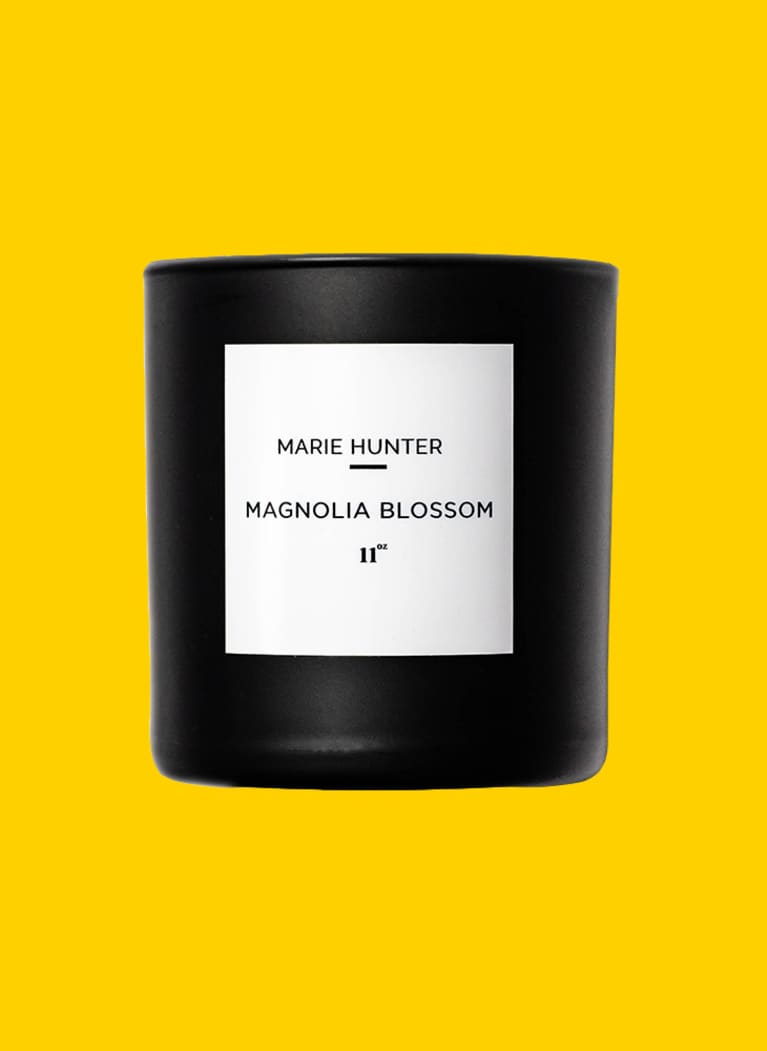 Marie Hunter Beauty
6. Colorful Squiggle Candle
Candles with playful shapes have been having a moment during quarantine—their refusal to stay straight a fun little refute of monotonous times. These Etsy squiggles are some of the few you'll find made out of soy wax instead of paraffin, and they come in dozens of scent options (including my personal favorite, Random!)
Etsy YuiBrooklyn Colorful Squiggle Candle (starting at $16)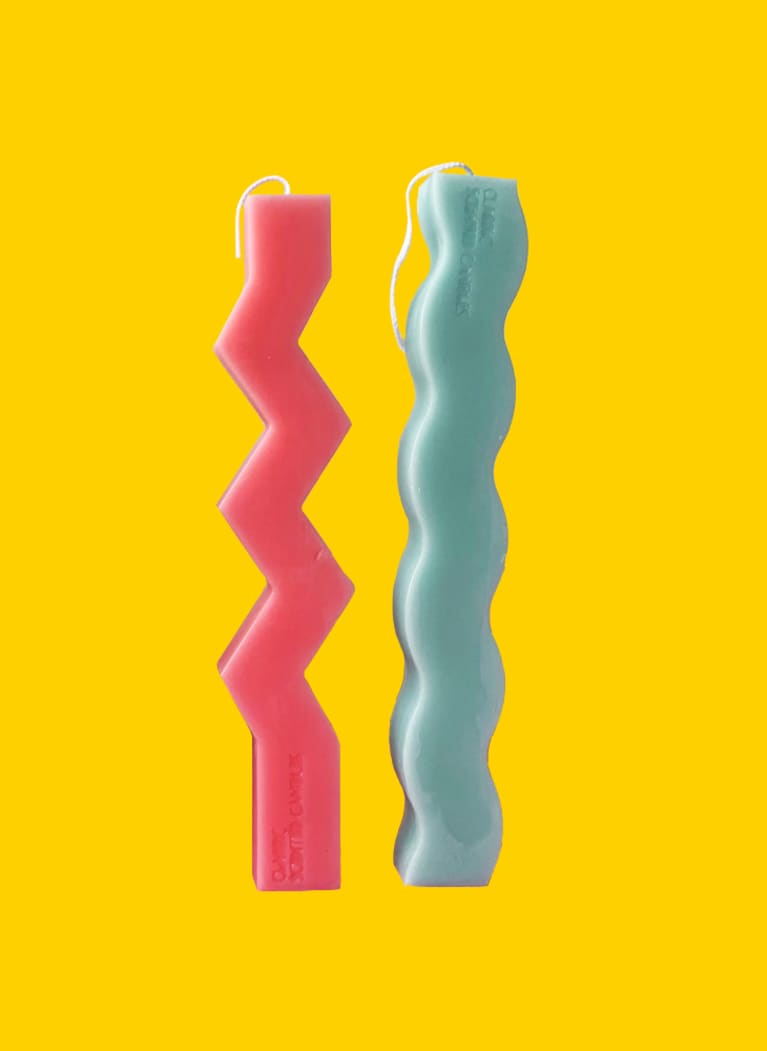 Etsy
7. Minimalist Bubble Cube Candle
"Bubble cube" is another candle shape giving the classic cylinder a run for its money. This hand-poured soy bubble is unscented and would make for an artsy addition to any display shelf, lit or not.
Moon Avenue Minimalist Bubble Cube Candle ($17)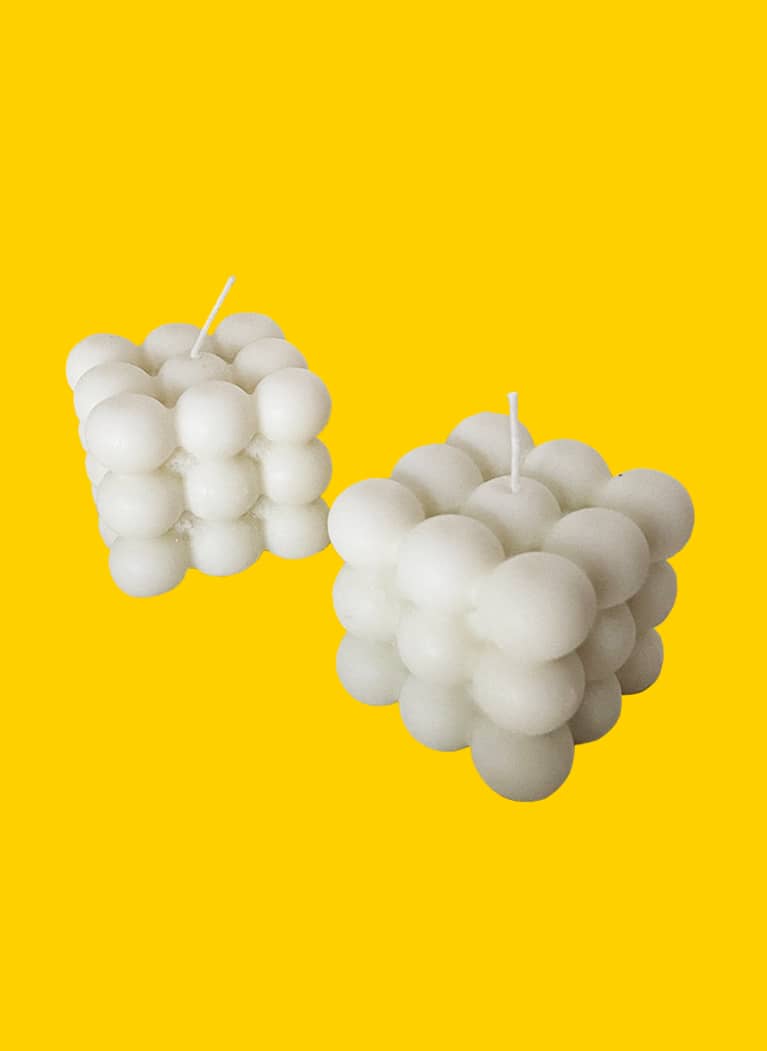 Moon Avenue
8. Parks Project Zion Sweetgrass and Amber Candle
Outdoorsy folks can bring nature home with Park Project's Zion-themed soy candle. Bonus: Proceeds from each blend (of willow wood, amber, sweetgrass, sage, and campfire ember) go toward the park's Junior Ranger program to support the next generation of outdoor explorers.
Parks Project Zion Sweetgrass and Amber Candle ($34)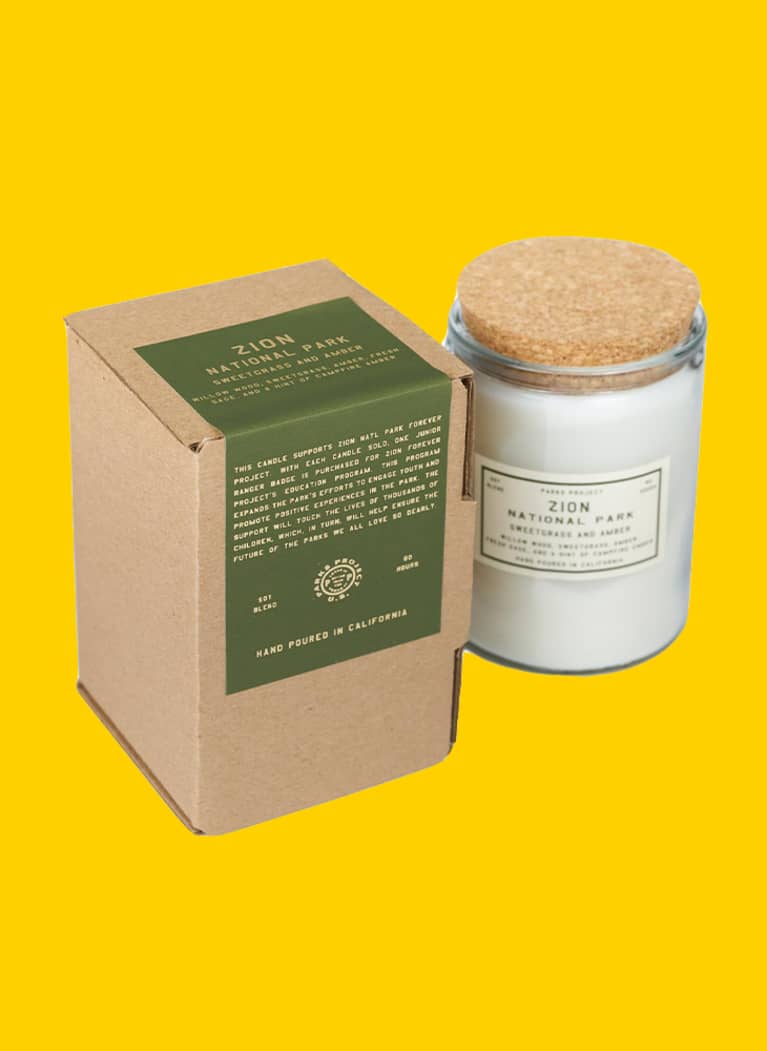 Parks Project