Sleep Experts Spill 5 Must-Have Tips For Feeling Less Drained This Winter

mbg Senior Sustainability Editor
By Emma Loewe
mbg Senior Sustainability Editor
Emma Loewe is the Senior Sustainability Editor at mindbodygreen and the author of "Return to Nature: The New Science of How Natural Landscapes Restore Us."

Expert review by
Ashley Jordan Ferira, Ph.D., RDN
mbg Vice President of Scientific Affairs
Ashley Jordan Ferira, Ph.D., RDN is Vice President of Scientific Affairs at mindbodygreen. She received her bachelor's degree in Biological Basis of Behavior from the University of Pennsylvania and Ph.D. in Foods and Nutrition from the University of Georgia.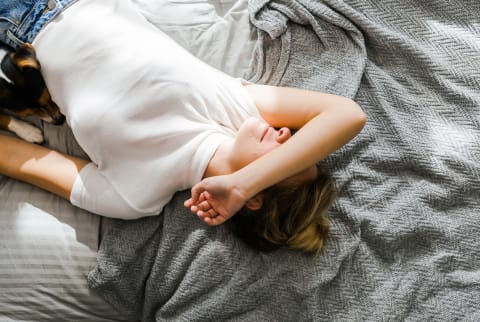 Image by Lumina / Stocksy
Our editors have independently chosen the products listed on this page. If you purchase something mentioned in this article, we may
earn a small commission
.
Last updated on February 28, 2022
Our sleep is far from static, tending instead to ebb and flow throughout the year. Some might find it easy to snooze through long days of summer, while others might treat winter as their personal hibernation period.
Everyone's different, but if your sleep and energy levels could be better right now, you're certainly not alone. Experts agree that this season presents a special set of barriers to rest. For starters, clinical psychologist and author of Sharing the Covers: Every Couple's Guide to Better Sleep Wendy M. Troxel, Ph.D., explains that even quieter seasons like winter can still be jam-packed with responsibilities and social obligations. "All of this can add up to stress and worry, with little time to relax and unwind, which can be the enemies of a good night's sleep," Troxel says.
Advertisement
This ad is displayed using third party content and we do not control its accessibility features.
Functional medicine expert Stacie Stephenson, D.C., CNS, adds that since shorter, colder days tend to keep us inside, the winter can disrupt the body's circadian rhythm, or inner clock, throwing off our timing and making sleep more erratic.
For anyone struggling to sleep through this demanding season, here are some strategies that Stephenson and Troxel say may help:
While it's tempting to crank up the heat and get cozy on cold nights, Stephenson reminds us that the ideal temperature for sleep is around 65 degrees Fahrenheit. Setting the thermostat much higher than that can disrupt rest and dry out the air, aggravating sinuses and potentially causing respiratory irritation (which then disrupts sleep even more).
As such, her first suggestion is to "simply turn down the heat at night. If you can keep your bedroom around 65 degrees (nice warm blankets are fine), you may sleep a lot better."
2.
Schedule 15 minutes of "worry time" every day, at least one hour before bedtime.
If a mile-long to-do list is what's keeping you up at night, Troxel says this counterintuitive exercise may help you find some peace. It simply entails setting aside time to think about everything on your plate—and feel all the fear and anxiousness it provokes—every day. Once the time is up and the stress subsides, you might find yourself feeling a bit lighter and better able to focus on the tasks at hand (sleep included!).
"This practice can teach your brain that there is a time and a place for worry, that is definitely not at 2 a.m. while you are trying to sleep," Troxel explains. Just be sure to do it at least an hour before bed to give your brain time to recover.
Some more of Stephenson's favorite ways to clear the mind before a winter snooze include taking a hot shower, reading, meditating, praying, spending time with loved ones, cuddling with a sweetheart or pet, writing in a journal, listening to relaxing music, doing some easy yoga, and taking a sleep-supporting supplement.* Aim to do your practice of choice at around the same time every night to help your body get into an easy sleep rhythm.
Advertisement
This ad is displayed using third party content and we do not control its accessibility features.
3.
Keep a consistent wake-up time.
In addition to a steady bedtime, waking up at around the same time every morning is also helpful. "Wake-up time is a critical factor that sets our internal biological clock, otherwise known as the circadian rhythm, which in turn, governs our sleep-wake cycles," says Troxel.
4.
Get outside in the morning.
Another way to support a healthy circadian rhythm and the steady sleep that comes with it, recommended by Stephenson and Troxel, is getting outside on winter mornings when possible. When it's not, looking out the window or at a sun lamp can work, too.
Once you get your light exposure during the day, keep things dark at night. "Be sure not to look at blue light from screens for at least an hour or two before bedtime," Stephenson says, as this light spectrum can send the signal that it's earlier in the day than it actually is.
Advertisement
This ad is displayed using third party content and we do not control its accessibility features.
Lastly, a good mood sets you up for good sleep. This season, get in the habit of thinking about a few things that you're grateful for each night, to get yourself in the right state of mind before bed. "Research shows that practicing gratitude can benefit sleep, reduce stress, and improve mood," Troxel shares, helping us fall asleep more easily and wake up energized and ready to share all that positivity with the world.