By Debra Haugen
mbg Contributor
Debra Haugen is the founder of Gemstone Organic. She has a masters in geological engineering from University of Minnesota.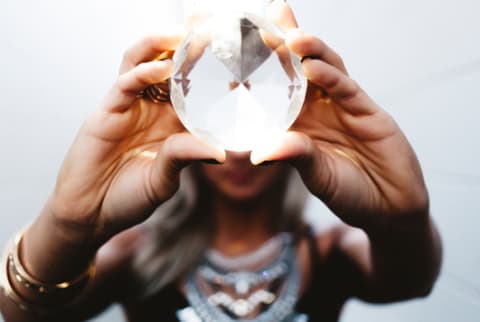 July 11, 2016
Crystals can be used in several ways to improve your health and well-being. They can be worn, carried in pockets or purses, placed in your home, and placed in water or food to bring their healing properties into your aura and into your body. I use gem essences in the creation of my crémes to add the healing properties of the gemstones to your skin and energy body.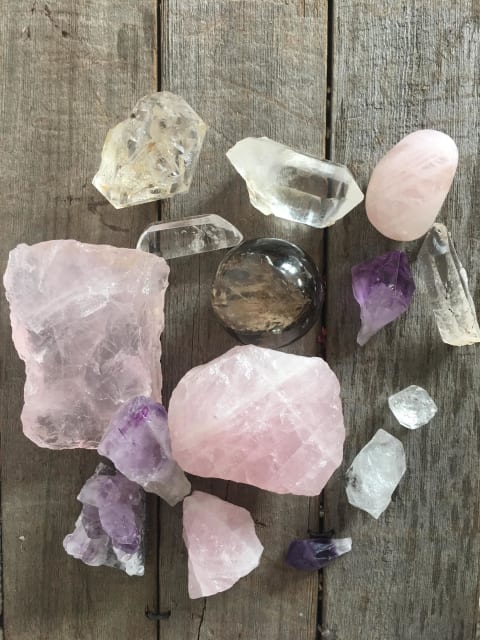 Because water is highly conductive, it is a powerful way to harness the healing properties of the crystals. Drinking these waters will give you the ability to carry their properties into your system, similar to homeopathic methods. You may find that water blended with crystals will taste sweeter, softer, or even fresher. But even if you don't have those sensations, you can be assured that the water is altered.
Here are a few very gentle and effect gem essences that can be used to improve life in oh such a sweet way.
Water Method
Place the gemstones in a clear glass jar, and then place the jar into a glass or ceramic bowl filled with the distilled/reverse osmosis/high-alkaline water. Then find a spot in your home or outside where it can be energized under the sun/moon for 24 hours (be sure that no metal comes in contact with the water).
Waters placed out during the new and full moons are amplified, but waters can be created all month long with lovely results. The high vibrational water can then be used for:
Drinking daily: Take sips each day until it is gone.
Add some to your tea or cooking water.
Use in ceremony.
Feed it to your plants.
Add some to your pet's water.
Use it as a room spray to freshen and move the energy.
Use it on your skin (if you are using the water for your skin, using the reverse osmosis water is best, as it is more acidic and matches your skin's pH).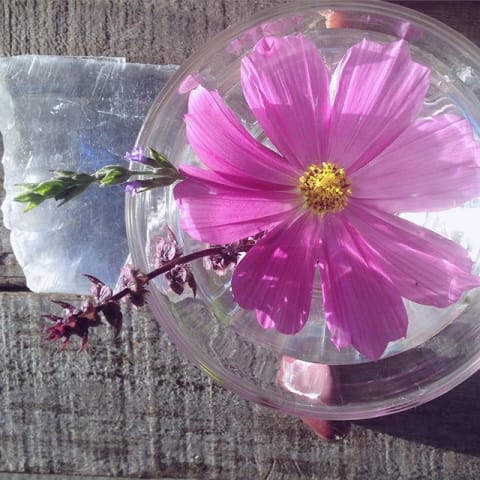 Rice Method
This is a great way to cleanse your crystals while also energizing your rice! Place your crystals into the rice for 24 hours and then use the rice for your next meal—you will love the sweetness it brings to mind and senses.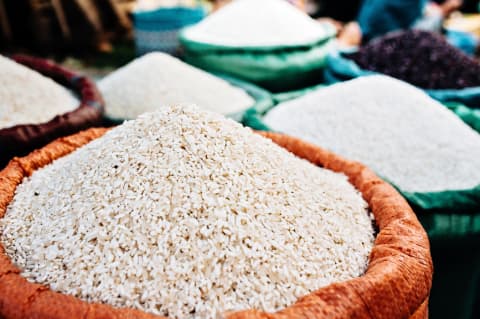 Here are a few of my favorite gemstones:
Clear Quartz: This gemstone is a magical, mystical wonder! These crystals are great for bringing in clarity and awareness and are great for distributing energy. It is harmonizing to the brain and nerves. Good for skin, hair, and nails.
Rose Quartz: This beauty can help you to identify your personal needs and brings warmth, love (self/universal), joy, and oneness. Strengthens the heart, circulation, and reproductive organs. Great for softening skin.
Smokey Quartz: calming, great for relaxation, helps one with fears. Good for digestion and intestinal problems. Supports weakened immune systems and is good for strengthening the nerves.
Amethyst: good for concentration and clarification. Supports inner peace to help you deal with sorrow and conflict. Great for the brain, lungs, eyes, and skin.
Aventurine (heart): improves attitude and helps one accept life's circumstances. Aids in recovery, and promotes healthy sleep. Good for sunburn, allergies, and inflammations.
Moonstone (Third Eye): calming, balancing, harmonizes hormonal emotions, heightens intuition, encourages one to remember dreams, connects you to your divine feminine. Water is magnified during the full moon!
Last, please remember to place your intentions into the gemstones and water to transfer the desired energies you are looking for. You want to create something especially for you, and it will amplify the healing properties. I find these high vibrational waters magical and healing. I hope you do too.
Debra Haugen
Debra Haugen is the founder and "Chief Alchemist" of Gemstone Organic, where she develops their advanced earth-based formulas. In her devotion to holistic healing Haugen also found her love for science and mathematics, leading her to pursue a degree in geological engineering. She received her masters from University of Minnesota. Haugen is also a engineering consultant, a Shamanic Reiki Practitioner and a skilled leader inside ceremony.