Set Your Skin Up For Success: 3 Skin Care Habits To Start Right Now — Before Summer Hits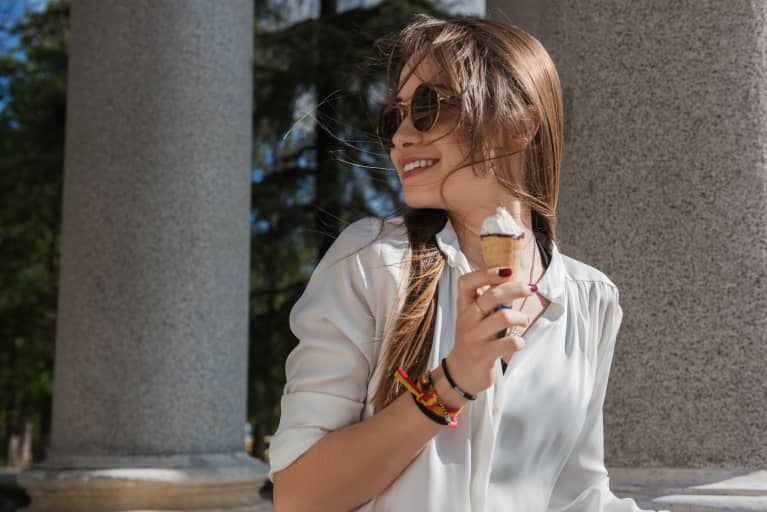 It's in the air, no? By "it" I mean the breathless anticipation of summer and all that it brings. For me, the first batch of warm weather means I start rolling out all my summer favorites, so I am ready to jump into the season at a moment's notice. But like any season, spring and summer come with their own set of changes that require a revamp. Yes, your skin included. Personally, I know as I emerge from this long—long—winter, I'm looking forward to the sprawling days outdoors. And I want my skin to be equal parts glowing and protected.
Here are three steps to take right now so your skin is ready for some spring and summer fun:
1.
Invest in a smart skin care supplement.
Getting brighter, more luminous skin starts internally—this we know to be true. One way to optimize your skin health is through smart skin care supplements that combine actives to support your longevity, cellular health, barrier strength, and manage oxidative stress. mindbodygreen's nr+ does this with nicotinamide riboside (which enhances cellular energy), phytoceramides (to support hydration and barrier function), and rhodiola (a potent adaptogen that keeps oxidative stress under control).
Not to mention, you can help skin deal with UV damage internally as well. While SPF is vital (see the next point—we'll get into it), you can also help support your internal defenses against photodamage. Most notably with the antioxidant astaxanthin. As one scholarly review of the antioxidant explained that numerous comparative studies of astaxanthin and other antioxidants showed it was the superior antioxidant in promoting dermal fibroblasts (or what helps make skin cells, elastin, and collagen).* To give you an idea of just how powerful, the free-radical-fighting effect of astaxanthin is up to 1,000 times higher than that of many of its fellow antioxidants.*
2.
Build up your sunscreen wardrobe.
Not all sunscreens are made the same, nor are they for the same purpose. In fact, I recommend building out your SPF wardrobe for all the various reasons you may need sun protection. You'll have your go-to for your face that you can apply every day. This one should feel effortless and wearable and perhaps even have some antioxidant additions for compounded skin care benefits. You'd also likely fare well with an option that you enjoy reapplying throughout the day, like a sunscreen mineral powder (Colorescience Sunforgettable Total Protection Brush-On Shield is an elegant option that comes recommended by many derms.)
And you should also have options for your body. If you just need a casual option for sitting in the park, you'd likely rather enjoy a silky number that absorbs easily. For the beach or an athletic endeavor, however, you'll want something that can better withstand the sweat and water. Then there are the surprising body parts you may forget to pay attention to: lips, hands, scalp.
All in all, you'd do well to accrue a collection of options that suit your needs. And now's the time to be on the lookout for some that you like.
3.
Keep your skin hydrated.
As winter weather departs, many are tempted to lighten up on the hydrators—and go full tilt into exfoliators, brighteners, and treatments to get our complexions to peak dewiness. And listen: We're not going to tell you to skip exfoliation (personally, I love a good lactic acid serum as much as the next beauty editor), but do pace yourself. Stripping your skin of its precious moisture barrier will only set you back on your skin care goals, as it can cause inflammation, irritation, and dehydration. One of the best things you can do for your skin as we enter a new season is to keep nurturing the skin barrier so it appears supple and soft. Look for ingredients like aloe, squalane, jojoba oil, and biome-friendly actives.