Silk PJs Are Fantastic For Sleep: Our 8 Favorite Pairs + How To Care For Them

By Julia Guerra
mbg Contributor
Julia Guerra is a health and wellness writer reporting for mindbodygreen, Elite Daily, and INSIDER.
April 30, 2022
Our editors have independently chosen the products listed on this page. If you purchase something mentioned in this article, we may
earn a small commission
.
Creating the ultimate serene sleep space involves more than picking out the right bedding, turning the lights down low, and setting your thermostat to cool. What you wear to bed can also affect your sleep quality one way or another, and we're not just referring to the style of pajamas. There's also a hierarchy of sleepwear fabrics, and silk pajamas reign supreme.
Advertisement
This ad is displayed using third party content and we do not control its accessibility features.
Why silk pajamas?
Silk is made from natural protein fiber, is sultry-smooth to the touch, and emits a kind of luster that comes from the fabric's triangular prism structure. Not to mention, silk is one of the most durable textiles, so even though it's a splurge, you're paying for something that will last you a long, long time. In that sense, silk is also a sustainable pick.
And certified sleep consultant and founder of Live Love Sleep Kaley Medina says that the bedroom is where silk does its best work. "Finding the right sleepwear is one of many components for a good night's sleep and sleep hygiene, as being comfortable will help you fall asleep faster at bedtime and stay asleep for long periods throughout the night without wakings," Medina tells mbg.
She's one of many sleep experts who recommend treating yourself to a pair (or two!) of silk pajamas.
Advertisement
This ad is displayed using third party content and we do not control its accessibility features.
The best silk PJs for sleep.
The best pajamas, Medina explains, are comfortable, nonrestrictive, and loose-fitting. Silk checks all three boxes, and then some. It's also very breathable (a plus for hot sleepers), temperature-regulating, and cool. "As adults, most of us sleep best in a cool room with the temperature between 60 to 67 degrees and pajamas that keep our skin warm," Medina explains. "Silk can help your body get warmer or cooler as needed throughout the night."
So what are the best silk pajamas to promote sleep in 2022? We've gone down a rabbit hole of obsessing over customer reviews on comfort, fit, and look, analyzing sustainability commitments and reading up on material sourcing to bring you this list of the crème de la crème of silk PJ sets that you can feel great about falling asleep in this year and beyond.
Advertisement
This ad is displayed using third party content and we do not control its accessibility features.
Best overall: Lunya Washable Silk Sleepwear Set
Lunya prides itself on offering shoppers the "anti-old shirt"—you know, the cropped band-tee or oversize top adorned with the logo of your alma mater you sleep, exercise, and clean the bathroom in. Its products aren't the type of sleepwear you just throw on; each piece is intentionally made to be intentionally worn, resulting in an ultra-luxe lounge-to-sleep (and vice versa) experience.
The brand's Washable Silk Set is its bestseller. It's available in seven colors (two of which are special-edition) and comes in a wide range of sizes, from XS to 2X. It's made from 100% washable silk and made colorful with bluesign-approved dyes (guaranteeing the pieces are safe for dyehouse workers, those wearing them, and the Earth), are thermoregulated to support your slumber, and feature low-back ventilation for extra comfort. Plus, the set has received 2,066 reviews on the Lunya website, adding up to an average of 4.5 out of a possible 5-star rating from wearers who confirm it's comfortable, breathable, and—dare we mention—a "sexy self-care addition" to your pajama drawer.
Lunya Washable Silk Set ($188)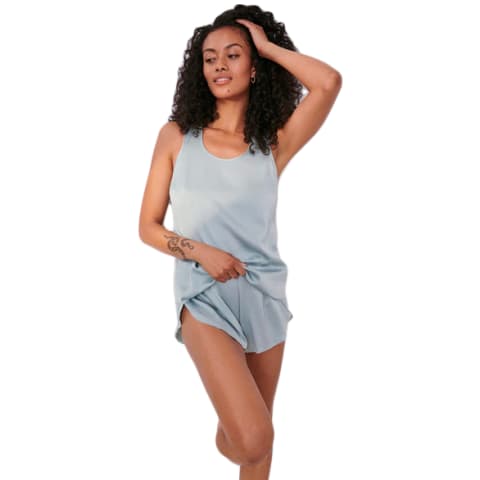 mbg Creative / Lunya
Best sleep dress: Soma Washable Silk Chemise
Take it from this writer who swears by all things Soma-made, the brand's silk chemise is well worth its just-shy of $170 price point. It's available in sizes XS up to XXL and comes in a beautiful creamy beige hue. It's also machine washable, ensuring easy care, and features adjustable back straps to ensure your optimal comfort through the entire night. My only caveat with the silk gown is it doesn't come in more colors. Otherwise, it's breathable, comfortable, and oh-so-elegant. It's a must for your grown-up PJ collection.
Soma Washable Silk Chemise ($168)
mbg Creative / Soma
Best washable: Quince 100% Washable Silk Tank & Shorts Pajama Set
Fans of a classic tank and shorts pairing, look no further than Quince's 100% Washable Silk Pajama Set. One reviewer raves "they're easy-breezy and feel good to my skin," while another adds, "I get sad when they're in the wash and I have to wear something else."
The brand, which, like Lily Silk, sells styles for both men and women, created this set with 100% Mulberry silk, some of the finest silk in the world. It offers wearers the benefit of thermoregulating technology, which helps keep you cool throughout the night, plus the amino acids in silk fibers are nourishing to the skin so you'll wake up feeling refreshed. The set is also machine washable in a cold or delicate setting with like colors (preferably in a garment bag).
However, the garments should not be tossed into the dryer but rather hung to dry.
Quince 100% Washable Silk Tank & Shorts Pajama Set ($79.90)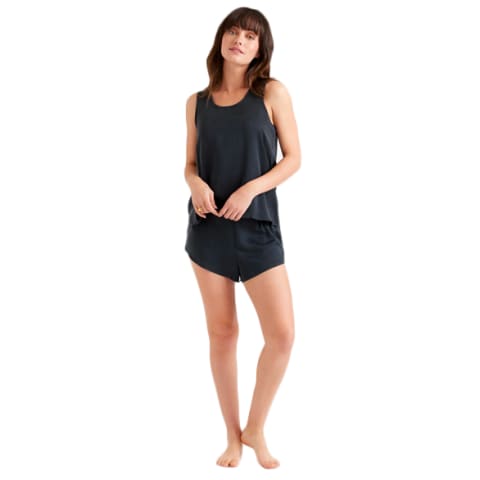 mbg Creative / Quince
Advertisement
This ad is displayed using third party content and we do not control its accessibility features.
Best affordable: Intimissimi Short Sleeve Silk and Modal Top
Searching for a sleep-supporting silk pajama that won't break the bank? Enter the Intimissimi Short Sleeve and Modal Top. Paired with a simple boyshort (or this matching, lacy pair from the brand), this Kimono cut top with elbow-length sleeves is sure to keep you feeling cool throughout the warm summer months. Special features include side vents and a rounded boat neckline, plus the silk satin top is loose-fitting for optimal airflow. And the best part? The Italian label makes PJs and intimates for men and women, so if you love their garments, you can recommend them to anyone and everyone to enjoy.
Intimissimi Short Sleeve Silk and Modal Top ($59)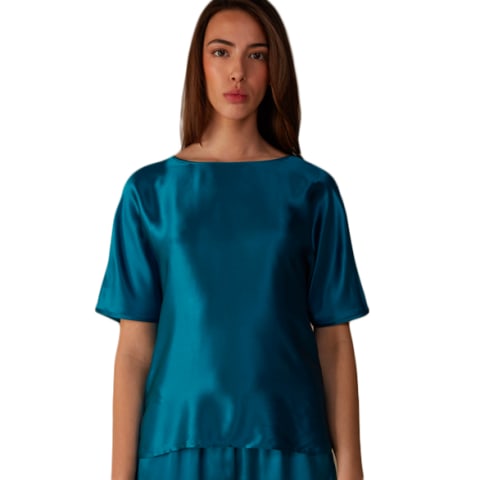 mbg Creative / Intimissimi
Softest set: Lily Silk 22 Momme Laced Silk PJ Set
It would not be a complete list of the best silk pajamas without a mention of Lily Silk. The brand makes pajamas for both women and men, and both this writer and her husband can attest to their fine quality. As can the 13,000-plus reviewers who've given the set an average 4 out of 5-star rating on Trustpilot. Their consensus: Lily Silk is worth the price as its products are high-quality, luxe in feel and aesthetic, and incredibly breathable.
This specific set is made from incredibly soft 22 momme laced silk and comes in sizes XS to XXL, as well as in a whopping 14 beautiful colors, including avocado green, blue haze, and claret. While technically machine-washable, hand-washing or dry-cleaning are the preferred care methods.
Lily Silk 22 Momme Laced Silk PJ Set ($189)
mbg Creative / Lily Silk
Best splurge: NK Imode Larena Evening Lounge Silk Set
There's no denying the NK Imode Larena Evening Lounge Silk Set is expensive, but if you have the means (and the desire to spend), we guarantee you won't be disappointed by the investment.
First, this set would make a gorgeous addition to any wardrobe, with its lace-trim detailing and majestic Crystal Teal colorway. Not to mention, the garment is primed for comfort, with adjustable straps, natural bust support, and an easy fit. Plus, the set is made from OEKO-Tex Certified, 100% silk charmeuse, and nontoxic dyes to ensure your safety, as well as the planet's.
NK Imode Larena Evening Lounge Silk Set ($350)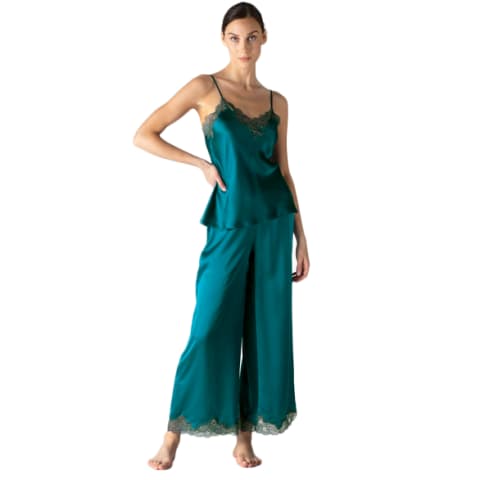 mbg Creative / NK Imode
Advertisement
This ad is displayed using third party content and we do not control its accessibility features.
Best design: Nordstrom Washable Silk Pajamas
Oftentimes you'll find silk available in solid colors, but what we especially love about Nordstrom's washable silk pajamas set is it comes available in fun patterns, with names like Purple Bloom Golden Hour and Pink Chalk Blossom Botanical. But beyond its interesting hues, this sleepwear option (available in sizes XS to XL) is menswear-inspired, meaning it's roomy and comfy and everything you could want from a pajama top and bottom duo.
What's more, described as "whisper-light," the fabric is airy and incredibly breathable, plus 100% machine-washable and dryable, on a tumble setting. The top features a button closure, while the pants have an adjustable drawstring so you can wear them as snug or as loose as you'd like. Reviewers are in agreement that the material is cool, smooth, and made with quality construction that is not prone to snag.
Nordstrom Washable Silk Pajamas ($71.60)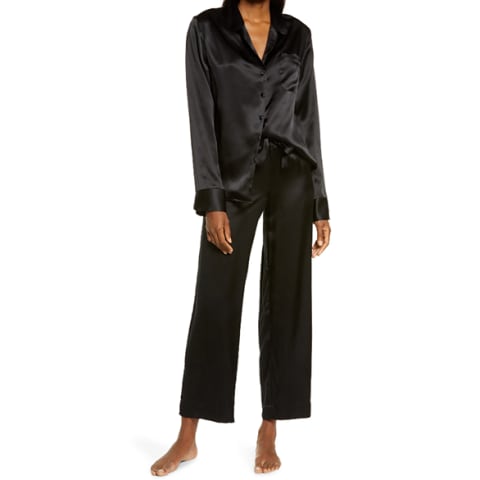 mbg Creative / Nordstrom
Best sustainable: eberjey Inez Washable Silk Printed Short PJ Set
Another fun printed silk pajama set option comes from eberjey. It's a short-sleeve and shorts combo, with a notch collar, button-down top, and relaxed-fit bottoms with an elastic waistband. Pattern options include Botanico Champagne/Rose Cloud, Scarf Dots Delphinium/Champagne, Mink Puff/Bone, and Petite Batik Indigo Blue/Bone, and come in sizes from XS to XL (depending on availability). But the brand's true claim to fame is its washable silk material that has a momme grade of 16 and a fiber grade of 6A. Translation: It's a high-quality, lightweight fabric, and it just so happens to be as luxurious as it is biodegradable.
eberjey Inez Washable Silk Printed Short PJ Set ($248)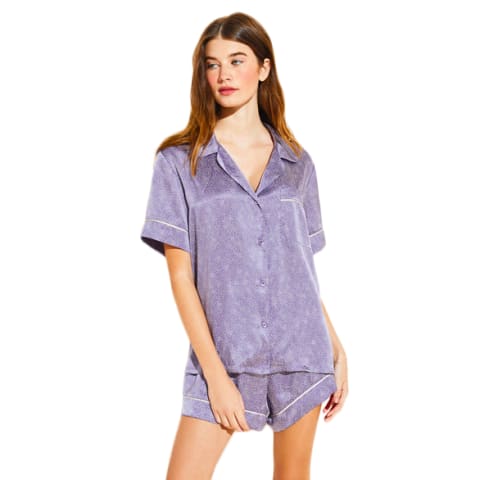 mbg Creative / eberjey
How to wash silk pajamas.
Like any clothing item, the key to prolonging a garment's shelf life lies in how you care for it. Silk, especially, is such a delicate, luxurious fabric, so how long your silk pajamas stay beautiful and durable will ultimately reflect how you wash and dry it. However, some silk is machine-washable, while others require hands-on treatment. It's important to know which category your set fits under and how to properly launder them.
Washable silk: According to Bailey Hagen, Eberjey's product development manager, washable silk should be washed in cold water, with a delicate detergent, and with like colors. If you go the machine route, you want to choose a gentle setting, and washing inside out in a mesh washing bag is strongly recommended. Hand-washing, Hagen tells mbg, is also an option. "If you have a spill," Hagen adds, "use gentle stain removers and detergents that are safe for silk fabric."
Straight silk: Diana Alvarez, concierge for NK Imode advises straight silk should be hand-washed in cold water with mild soap. After the first round, leave the silk in the sink, drain the water, and fill again (with cold water), adding 1 teaspoon of white vinegar to help remove any remaining soap residue. From there, Alvarez instructs to rinse once more under cold running water. To dry, "gently wrap the silk in a dry towel and loosely roll it to remove moisture," Alvarez explains via email. "From there, roll out the silk and softly straighten. Once dried, use an iron at the coolest temperature setting and iron your silk inside out to create a seamless shine."
The takeaway.
When you've tried every sleep-promoting product in the book, from weighted blankets to noise machines and sleep masks; when you've switched up your bedding from cotton to silk sheets and pillowcases and still can't fall asleep, slipping into a pair of the best silk pajamas might be the solution you've been looking for. These gorgeous sleepwear options are luxurious to the touch and gorgeous on. But, more importantly, they're breathable and great for the skin—a trifecta of benefits that all lead to the good night's rest you deserve.

Julia Guerra
Julia Guerra is a health and wellness writer reporting for mindbodygreen, Elite Daily, and INSIDER. Formerly the beauty editor for BestProducts.com, she's contributed to Women's Health, Cosmopolitan, PopSugar, and more. A book worm and fitness enthusiast, her happiest moments are spent with her husband, family, sipping tea, and cuddling with her Tabby cat, Aria.