Close Banner
Advertisement
This ad is displayed using third party content and we do not control its accessibility features.
I Was Never A Bath Person — Until I Tried One That Put Me To Bed Instantly
mbg Beauty Director
By Alexandra Engler
mbg Beauty Director
Alexandra Engler is the beauty director at mindbodygreen and host of the beauty podcast Clean Beauty School. Previously, she's held beauty roles at Harper's Bazaar, Marie Claire, SELF, and Cosmopolitan; her byline has appeared in Esquire, Sports Illustrated, and Allure.com.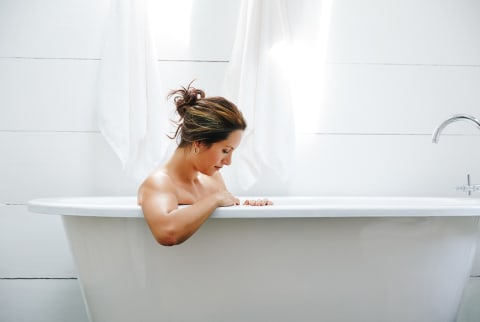 Image by Trinette Reed / Stocksy
The west coast of Ireland is spotted with a collection of spas that range from small bed-and-breakfast types to full-blown luxury establishments. If you didn't think of Ireland as a spa destination, one dip in a seaweed bath will have you changing your mind: Those who make the voyage sing of the skin-healing and body-soothing effects.
Well, the ritual is making its way stateside. It's no doubt connected to the popularity of seaweed in the wellness space writ large: Healthy snackers have long since been crunching on seaweed chips. Clean skin care gurus have been slathering on seaweed extract in serums and creams—seaweed is hailed for its anti-inflammatory qualities, especially for those with sensitive skin. And now, it's here to replace your bath tinctures, foaming bombs, and salt mixtures (well, not replace—but act as an additional body-soothing treatment).
What's a seaweed bath?
If you make the trek to a spa, a seaweed soak is quite literal. You lie in a hot bath while piles of harvested seaweed are all around you, leaving you looking something like a marine monster. The ones that you can order for your home use—the ones increasing in popularity here—are much simpler and more contained. It varies slightly from brand to brand, but the general idea is that you'll get a medium-size cloth bag (linen, or something equally thin and porous) stuffed with dried seaweed. Then you simply drop this in, like a tea bag for brewing, and let it do its magic.
"Seaweed baths are the right thing for now: Not only do I have customers coming in looking for ways to deal with stress better, but seaweed is better for our planet. There's a tenuous balance of our coastal ecosystems, and seaweed is a critical part of maintaining their health," says Dara Kennedy, who owns the boutique clean beauty retailer Ayla. They occasionally create their own sets and products, and this fall they debuted Sea Soak, a salt and sea kelp mix. But Ayla doesn't harvest their ingredients from the coast of Ireland; the distinctly California company keeps things close to home with giant kelp: "Of all the seaweed varieties that grow off the California coast, it's not only the one we can most sustainably harvest, but it's the one with most benefits; it's particularly abundant in stimulating iodine, purifying chlorophyll, and anti-inflammatory fucoidan to give you an intense yet relaxing experience," she says. The harvesting ritual sounds quite relaxing itself: Foragers go out off the coast of Santa Cruz, where it grows in abundant underwater forests, carefully trimming off pieces with a kitchen knife so it can continue to grow and flourish. It's then sun-dried in the desert before being packaged for use.
But they're not the only ones in the seaweed bath space: Most notably there's The Seaweed Bath Co., who makes clean beauty products other than their famous Whole Seaweed Detox Bath. Their hero seaweed is the bladderwrack. The brand says they chose it for its incredible health benefits: It's nutrient-rich with 65-plus vitamins, minerals, and amino acids that help moisturize and balance the skin. They also point to the high iodine levels in bladderwrack seaweed, which help the skin's natural detoxification process to flush environmental toxins.
Shop These Products:
What does it feel like, and what does it do?
Ayla's included instructions will recommend you fill your tub with very hot water, sprinkle in the entire container of sea salt, pour the kelp mix into your cotton bag, and drop the bag into the bath to let it steep for 10 minutes. Fill the rest of the tub with warm water, and soak for 20 to 30 minutes.
This is where I point out that I am not a bath person. Like running, foot massages, and Bloody Marys, it's something I've always wanted to like but just never could get into. I want to like it because I support the idea of baths as self-care: It's the simple act of taking care of your body, a time to really connect to yourself. That just sounds delightful! But five minutes into any bath I've brewed, I'll decide that's enough and hop out.
This felt different. As I lowered myself into the tub, it was almost like I could feel my body melting. My tense, terrible, posture liquidated. It was as though my body had become compacted through daily stressors and the pressures of New York life, and all of a sudden, it had been unfolded and laid out. They also tell you that you'll sweat more than normal—I did—much like you would if you took an Epsom salt bath.
After about 20 minutes (you can go for as long as 30), I basically crawled out of the tub. It was like I had had a full-body massage, sauna visit, and weightlifting session in one pass: I was like jelly. I was also very much ready for bed. After drying myself off, slathering on body cream, and chugging two glasses of water, I curled up next to my phone ready to send off a text or two (I know, that's terrible, and I shouldn't keep my phone in my bed). But I didn't even make it to the "send" button before I was out. I regularly wake up throughout the night and almost always remember my dreams. But this put me into such a deep sleep that the next thing I remember was daylight. I hadn't slept like that in years—and I haven't slept like that since.
I don't have a scientific answer as to why this gave me the best sleep of my life—there's not a ton of research out there on seaweed baths, specifically. But anecdotally, people praise the treatment for doing so, and it likely has to do with the same reason that people praise salt baths for better sleep.
I also woke up to soft, smooth, hydrated skin. As a beauty editor, this is the area I can speak to a bit more easily: Seaweed has been shown to reduce symptoms1 of inflammatory skin conditions, as well as being incredibly hydrating for compromised skin barriers. Just make sure to layer on some sort of occlusive agent post-bath to keep it all in, or the water will evaporate post-bath and could potentially make you drier than before.
Now, if I could just get something to turn me into a running person.
Want to turn your passion for wellbeing into a fulfilling career? Become a Certified Health Coach! Learn more here.
Alexandra Engler
mbg Beauty Director
Alexandra Engler is the beauty director at mindbodygreen and host of the beauty podcast Clean Beauty School. Previously, she's held beauty roles at Harper's Bazaar, Marie Claire, SELF, and Cosmopolitan; her byline has appeared in Esquire, Sports Illustrated, and Allure.com. In her current role, she covers all the latest trends in the clean and natural beauty space, as well as lifestyle topics, such as travel. She received her journalism degree from Marquette University, graduating first in the department. She lives in Brooklyn, New York.